The Effects of New York's Restrictive Voting Laws
The Empire State's strict registration rules have already tripped up Donald Trump's kids—but they might hurt Bernie Sanders the most.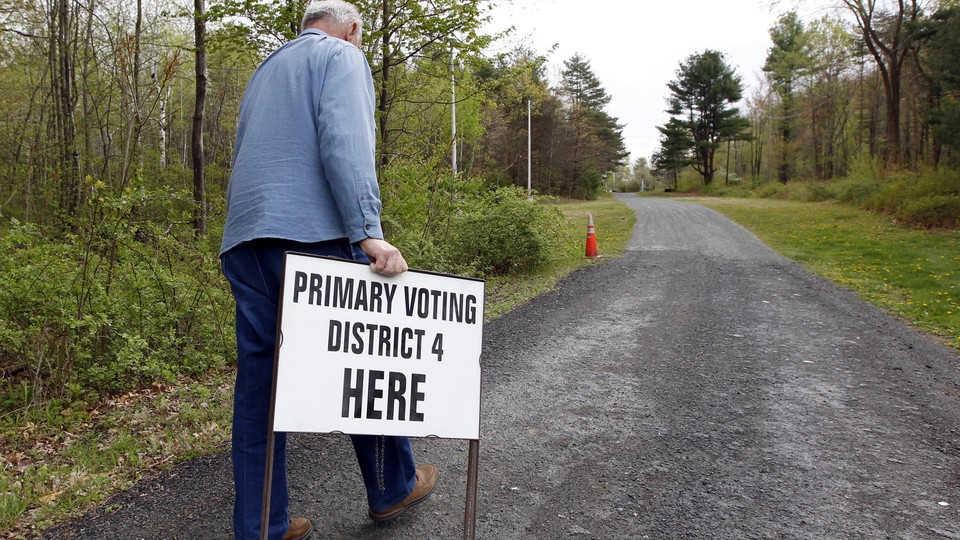 When Donald Trump confirmed to the hosts on Fox & Friends on Monday that two of his adult children, Ivanka and Eric, would not be able to vote for him in the New York primary, it seemed like one more head-smacking blunder by a disorganized campaign.
How could Trump's own kids forget to register in a state that has become crucial to his bid for the Republican nomination?
Their lapse may be easy fodder for Trump's rivals, but Ivanka and Eric's plight is engendering far more sympathy from election reformers who are much more familiar with New York's notoriously restrictive voting laws. "They're just like a lot of people whom we're hearing from on a regular basis," Susan Lerner, the executive director of the state's Common Cause affiliate, told me. Voting in New York is for early planners, not procrastinators. And that's especially true for primaries.
The Empire State has no early voting and no same-day registration. Party primaries are open only to registered Democrats or Republicans, and new voters must register at least 25 days in advance in order to participate. What if you were already registered but wanted to change your party registration to vote in a particular primary? Unless you did so by October 9 of last year—more than six months before the April 19 primary—you're out of luck.
"The unfortunate thing is we are expecting a large number of people to be quite unhappy on April 19 because they won't be able to vote for the candidate of their choice," Lerner said.
A reliably blue state in November, New York has been basking in the national political spotlight as a result of its most competitive presidential primary in a quarter century. But the state's sudden relevance has sparked a crush of angry phone calls to the offices of Common Cause, the League of Women Voters, and other organizations from people who didn't realize they needed to get their act together sooner. And these aren't only first-time voters, Lerner said, but independents and party-switchers as well. "We're hearing from a lot of really well-engaged, well-informed people who were not aware that the deadline was last October 9," she said. "It's the earliest one in the country, and there's no justification for it."
With polls giving him a comfortable lead on the GOP side, Trump might not need the two votes from his children. But the dynamic is a particular threat to Bernie Sanders, who needs to upset Hillary Clinton to keep alive his slim hopes for the Democratic nomination. He's also handily defeated her among independents and younger, first-time voters in most of the primaries and caucuses. Sanders has not spoken about New York's voting laws during his campaigning so far, said spokesman Karthik Ganapathy, who noted that the campaign had staff and volunteers registering Democrats in advance of the deadline for new voters.
But according to state Board of Elections data, just 14,000 new Democrats registered out of nearly 6 million voters statewide between November and April. "That's not a lot," said Barbara Bartoletti, the legislative director for the League of Women Voters of New York State.
New York is far from the only state with a closed primary; most of the remaining states also shut out independent voters. And it's not the only state to forbid same-day registration. But the sheer number of restrictions, along with the extremely early deadline for changing parties, are a big reason why the nation's third most-populous state is annually at or near the bottom in voter turnout, according to advocates for election reform.
And while Governor Andrew Cuomo has embraced certain proposals for reform, like limited early voting and automatic registration through the DMV, major changes face little chance of passage in the state legislature. "Elected officials don't want to change something they've gotten elected by, and they like that status quo," Bartoletti said.
Republicans in the state Senate are particularly hesitant to embrace changes that might threaten their narrow majority. But Jackie Salit, the president of IndependentVoting.org, said Democrats are equally to blame for antiquated laws aimed at preserving the two-party system. "The political parties in New York have the state on lockdown, and they're very committed to protecting that," Salit said.
Salit and other election reform groups are planning to protest at New York's City Hall on Thursday on behalf of the 3.2 million independent voters who will be excluded from the April 19 primary. Salit, who managed former Mayor Michael Bloomberg's campaigns on the Independence Party ballot line in New York, has said she would vote for Sanders if she could. She noted that 37 percent of voters under the age of 30—the Vermont senator's core group of supporters—aren't registered to a political party in New York City. But she acknowledged that Sanders might not be well-served by complaining about it.
"Bernie is in something of a bind here," Salit said. He was elected as an independent in Vermont and has a lot of support among independent voters, but, she said, "if he were to strongly advocate for the rights of independent voters and for example criticize the closed primary system, he would leave himself open to being accused of not being a loyal Democrat." Clinton has, in fact, already hinted at that line of attack in recent days by repeatedly reminding interviewers that Sanders "has never actually been a Democrat." Clinton has consistently outpaced Sanders among party stalwarts.
As for Trump and his procrastinating kids, the Republican front-runner joked on Fox that he would strip Ivanka and Eric of their allowance because they forgot to register to vote in time. "They feel very, very guilty," Trump said. They may be guilty, but in New York, they're certainly not alone.