Voting Fumbles Hit New York
Residents reported myriad problems while trying to vote. They aren't the first to confront obstacles this cycle.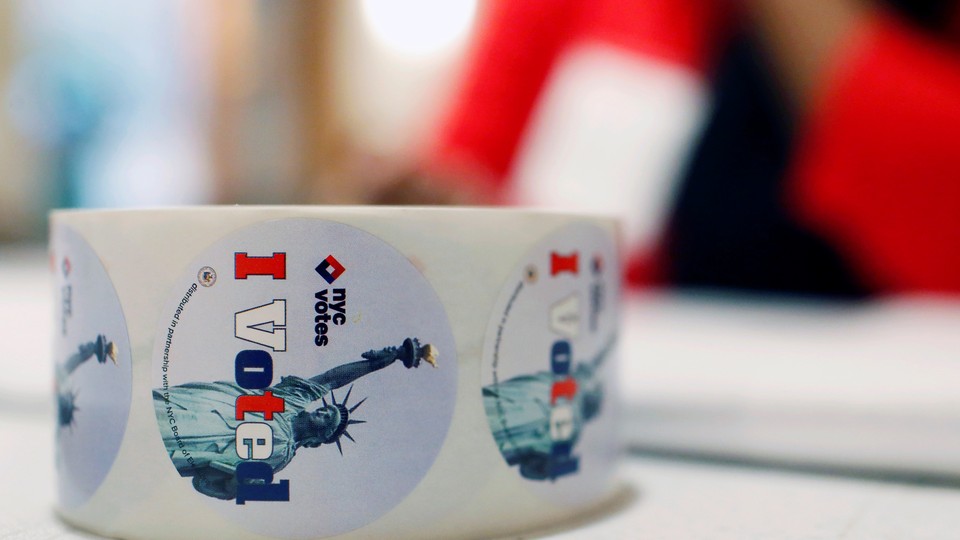 The polling difficulties in New York City started early on Tuesday. Morning voters showed up to their assigned sites only to find no workers there to help. Others waited hours for their locations to open up. Reports of technical issues and inept staffers came in steadily throughout the day. And, most damningly, tens of thousands of Brooklynites learned they'd simply been purged from the voter rolls altogether.
And that was just the primary.
New York City's struggles are troubling. They raise the question of what the general election—eight short months away—will look like in the biggest city in the country. But New York isn't the only location where voters have reported obstacles this year… or last cycle… or the one before that. New York, which has faced its share of electoral "snafus" before, simply gets outsized attention since it's a media and population hub. New York City's comptroller, Scott Stringer, said Tuesday that the city's voters have "lost confidence" in local officials' ability to administer elections. Of course, that feeling is not restricted to New York.
This campaign cycle, barriers to easy voting throughout the United States have fallen along a spectrum: from the technical and human-error ridden to what some voters and activists see as deliberately difficult. Outdated or broken ballot machines have baffled voters and poll workers alike. (Poll workers, it should be noted, only man these beasts a few times a year.) Precincts across the country—from the first contest in Iowa to Tuesday's in New York—seemed to run out of ballots at every turn. And, after the Brooklyn purge, voters' distrust has only ticked up: According to New York City Board of Elections' Michael Ryan, roughly 125,000 Democratic voters were stripped from the BOE's voter lists—because they hadn't voted in recent cycles or responded to notices, they had moved, or mailings to their homes were returned to sender. "We're not finding that there were issues throughout the city that are any different than what we experience in other elections," Ryan told CNN, though he was apologetic in an interview with The New York Daily News. Certainly the Brooklyn debacle isn't routine.
State and local statutes have thrown up barriers as well. Voter-ID laws—like the ones tested for the first time in Wisconsin and New Hampshire this cycle—have gotten some attention this year after marginalizing voters at the polls. And in Arizona, officials slashed the number of polling locations in the state's most populous county, leading to hours-long waits in line before thousands were ultimately turned away. As a result, the Democratic National Committee and the two Democratic presidential campaigns are currently suing the state for voter suppression.
In the case of New York, its voter-registration laws received sharp criticism before voting was even underway. The state holds closed primaries, which means only registered Democrats and Republicans can vote and only for their own party. There's also no early or same-day registration, so voters looking to change parties would have had to do so back in October. Ahead of the contest, Bernie Sanders lamented that some of his core voters wouldn't be able to cast their ballots—unless they'd been really prepared. "We have a system here in New York where Independents can't get involved in the Democratic primary," Sanders said earlier this week, "where young people who have not previously registered and want to register just can't do it." It's not a partisan problem: Two of Republican candidate Donald Trump's children, notably, couldn't vote for their father Tuesday because they are registered Independents—not Republicans. (Ivanka Trump, for one, denounced the state's voting rules as "onerous.")
New York City officials, meanwhile, seemed to focus mostly on administrative complaints Tuesday as they rushed to echo their constituents' concerns. Their ire was directed at the Board of Elections, a bipartisan body long accused of mismanagement. Stringer announced an audit of the board but with no clear parameters and with a deadline still TBD—all as the June federal primary looms nearer. Stringer, a Democrat who has been in office two years, told me he witnessed a "sense of chaos" at the polls, in which voters were sent to the wrong locations or did not receive adequate help from workers. Mayor Bill de Blasio has also called for "major" reforms to the Board of Elections. (De Blasio could not be immediately reached for comment.)
The fallout from Tuesday has been undoubtedly negative. But New York is just the latest, and loudest, example of primary-day voting trouble this cycle. City officials, however, did dodge at least one proverbial bullet: If the outcome of either party's race had been close, especially on the Democratic side, voters would be even angrier than they already are. And even more worried about what will happen in November.