More Than Just a Symbol
Millennial women resent being told to vote for Clinton because she's a woman. That's why they should look at her career fighting for women.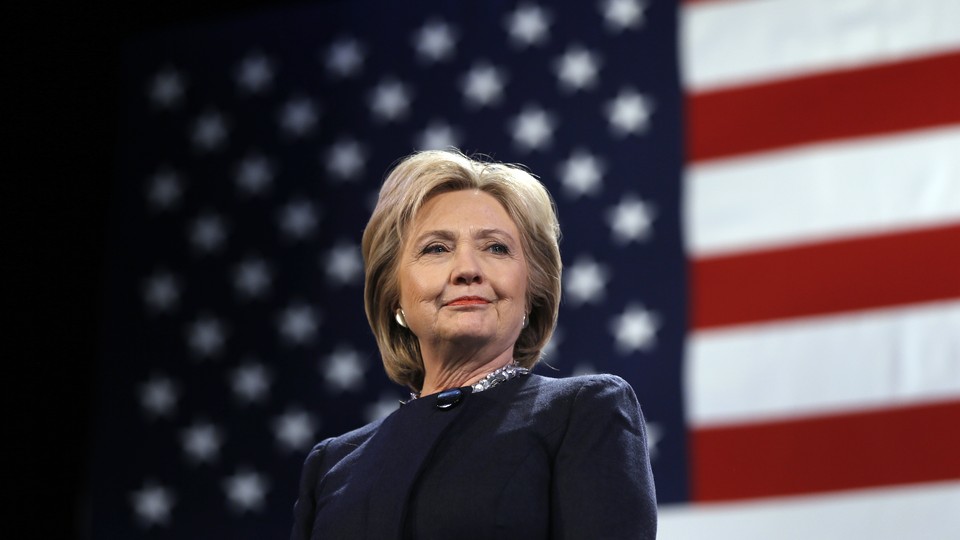 National polling, primary results, and numerous articles have highlighted the unexpected gap in support that Hillary Clinton is seeing among young women—a demographic that had once been favored to help her clinch the 2016 election. While many of this group's questions about Clinton's candidacy focus on an array of issues similar to those brought up by the broader electorate—including her connections with Wall Street and a thorny email investigation—a particular view has emerged among young women: While they are excited about a female president, they want somebody who is more than just a symbol.
At a February rally for Bernie Sanders in New Hampshire, actress Emily Ratajkowski said just that when explaining her support for the Vermont senator: "I want my first female president to be more than a symbol. I want her to have politics that can revolutionize." In a piece by my colleague Molly Ball, one woman interviewed about Sanders took this position one step further, saying Sanders is "'more pro-woman' than Clinton." And in a recent Politico article, Molly Roberts lamented that, for Millennials, Clinton's gender is "simply not enough to make her a groundbreaker."
The argument is that young women don't want to support Clinton, or be told they should, solely on the basis of gender, namely because doing so would be reductive. In a New York Magazine story, for example, Carly Gilmore, a Wesleyan University freshman, said: "The idea of voting for a woman purely for the fact that she's a woman—that's really almost the opposite of what we're talking about in our feminist movement." In a Los Angeles Times piece, college student Meg Renzelman echoed this sentiment: "There is this assumption that if you are a woman, you should support Hillary Clinton because she is a woman … But I feel like Bernie is going to support women in the same way."
Given this perceived framing of the conversation—that young women should vote for Clinton simply because she's a woman—Gloria Steinem and Madeleine Albright's now much raked-over remarks didn't do much to help. Instead, Steinem and Albright seemed to suggest that, yes, they were telling women how they should think and act, based on a responsibility to their gender. (This is troubling because it reinforces long-held biases that there is a right and wrong way for women to behave.)
But are Millennials really being asked to support Clinton for no reason other than to shatter the glass ceiling? Unfortunately, because that message has been repeatedly linked to Clinton's campaign—yet never directly espoused by it—its noise obscures the deeper reasons that young women should support Clinton. It's not just that she's a woman; it's that she has fought for women her whole career.
For decades, Clinton has prioritized bills and policies promoting reproductive rights, equal pay, and family leave—far more so than Sanders. This is not to say that Sanders has not supported such legislation or practices. The key difference is that, for him, they simply haven't been as much of a priority.
This very distinction is the reasoning that Planned Parenthood and NARAL Pro-Choice America offered when they endorsed Clinton as the Democratic candidate earlier this year—while still acknowledging that both she and Sanders have held strong positions and voting records on abortion rights. As noted by Kaylie Hanson, the NARAL Pro-Choice America national communications director: "His voting record is sufficient, but it doesn't make him a champion for women. That champion is Hillary." And while this perspective may seem like a matter of opinion—especially from organizations that Clinton has long had close ties to—it's further evidenced by the way each candidate has run their campaigns and addressed the issues. A January Time article describes the Clinton campaign as making reproductive rights the centerpiece of her policy plans, while Sanders has been criticized by the president of Emily's List, Stephanie Schriock, for neglecting to "mention anything about abortion, contraception, or reproductive care anywhere in his entire health plan."
A similar dynamic is apparent on the issue of equal pay. While she was a senator, Clinton spearheaded the development of the Paycheck Fairness Act (introducing three versions of it during her time in Congress), and she was also part of the original set of cosponsors of the Lily Ledbetter Fair Pay Act, both of which are aimed at achieving equal pay for women in the workplace. Again, Sanders backed both bills, but he was not part of the group of lawmakers that developed them or the one leading the charge. He and Clinton share extremely consistent voting records on equal pay, yet her approach to the problem has been significantly more proactive. While he has often helped provide invaluable support to the cause, she's the one who has put the issue front and center.
On the subject of family leave, too, Clinton has consistently been at the helm of its advancement. As first lady, she was a powerful advocate for the Family and Medical Leave Act, which became one of the first that Bill Clinton signed into law as president in 1993. The act was among the earliest federal laws to require companies to offer 12 weeks of unpaid leave to parents and caregivers. And in 2007, paid family leave became a cornerstone of Hillary Clinton's first White House campaign. More recently, Clinton and Sanders both rolled out plans for a 12-week paid family-leave program, but they disagree on how to finance it. Sanders proposes a nominal tax on all households, and Clinton argues that only wealthier households should cover the costs.
Sanders is currently a cosponsor of the Family and Medical Insurance Leave Act, introduced by Senator Kirsten Gillibrand, which includes the tax-based plan—and he has taken Clinton to task for her lack of support for the legislation. Arguably, Clinton still needs to refine her approach and response. That said, her leadership on the topic, and past work ensuring it was a key part of the congressional agenda, spans more than 20 years. The possibility of paid family leave today—which Clinton has been criticized for calling "politically challenging" based on her past experiences—only exists because of the stepping stones that she helped establish with the Family Medical Leave Act more than two decades ago. Interestingly, her contributions on this front are also emblematic of the broader results she has delivered on a host of issues, laying the groundwork—some would say "incrementally"—for more revolutionary policies to ultimately flourish.
The theme that comes up again and again across all these areas isn't that Sanders doesn't back policies that benefit women; it's that, for him and his campaign, they are what they've always been—one more issue on the docket, not a key focal point. On many of these topics, he's a strong ally, but not an active initiator of change. This recurring pattern becomes even clearer when examining the bills that Sanders's campaign cites on FeeltheBern.org as positions he has taken to address women's issues, including his involvement with the Freedom of Choice Act. For all of the examples listed, he is either a cosponsor or someone who has voted in support of a policy, rarely the one who introduced or initiated legislation. In some cases, he's one of hundreds of members of Congress who cosponsored a bill. Such a trend helps bolster his reputation as a friend to women's causes, but it underscores his lack of leadership on the topic, too.
Clinton's leadership and active advocacy for women's issues, on the other hand, is a common thread that is present throughout her time in public life. While at the State Department, she established the first federal Office of Global Women's Issues to ensure that gender equality is a cornerstone of international-relations practices, including through partnerships with local entrepreneurship programs across Africa and Southeast Asia aimed at helping women's businesses succeed as well as plans to engage women in diplomacy and community-building in places like Burma and Afghanistan. Her efforts to support women's rights domestically and globally are no ancillary concern: They are intrinsically tied to the core of the work she does.
In her own Senate office—where Clinton was known for aggressively ensuring that the men and women who worked for her were equally paid and were offered family-leave time—this underlying thread is especially apparent. The public release of Clinton's email tranches revealed numerous occasions when members of her staff were granted extra vacation days around the holidays to spend more time with their families. And when Anne-Marie Slaughter, the department's policy planning director, suggested Clinton do the same to let employees know it was all right, Clinton did just that, leading by example. As Slaughter said at an Atlantic Live event earlier this year: "I knew Hillary Clinton cared. I talked to her about having kids when she hired me." What's more, during her time as senator, Clinton hired twice as many women as men to work in her office—a proportion that upends the overwhelming trend in Washington.
There are, however, many prevailing questions that Clinton still needs to answer. Take, for example, her minimum-wage proposal: Clinton advocates for $12, while Sanders argues for $15. An increase could have a significant impact on improving conditions for minimum-wage workers overall, two-thirds of whom are women. Clinton must continue to explain the more measured approach she is taking. Thus far, The New York Times has found little empirical support for her claim that businesses wouldn't be able to afford the hike.
Clinton has also been criticized on numerous occasions for her lack of commitment to "intersectionality"—the concept that several forces perpetuate inequality and compound one another, including systemic discrimination on the basis of gender, race, income, and sexual orientation. By placing an emphasis on gender, critics have claimed that Clinton disregards the other factors that contribute to inequality. College student and feminist activist Jazmin Martinez laid out some of her concerns in an article for The New York Times:
Clinton's feminism will supposedly fight for women, but what kind of women is she about? Does she include women who work in the fields and grow her food? Women living in fear of being deported or having broken families because of deportation? Indigenous women and black women? Or is her feminism just about white women trying to make it in the corporate world? Women doesn't just mean white, middle-class and educated, but her brand of feminism makes it feel like it does.
As an affluent, white woman, Clinton is seen as representing a kind of feminism that is narrow and dated. It's a view that partly conflates her personal identity with the actual actions she has taken, but it also holds her accountable for policies and views that aren't intersectional—like her support for President Bill Clinton's 1994 Violent Crime Control Act, now considered one of the largest contributors to the nation's increasing rates of mass incarceration, and her once-lukewarm support for gay marriage. Clinton has since stated that she has learned from these decisions and that they were mistakes, but many wonder if such seemingly politically expedient pronouncements are enough.
As reported by my colleague Clare Foran, in response to concerns about Clinton's commitment to intersectionality, the campaign has recently focused its message on spotlighting the relationships across and between issues—a step that could be seen as an insincere ploy but perhaps should be seen as an acknowledgment that she needs to improve her approach to these disparities. While it's vital to call Clinton out on the areas where she falls short on intersectionality, it's also important to note how often she doesn't. After all, components of the idea have long been part of her legislative platform. She has advocated extensively to protect the health insurance of low-income children, playing a pivotal role in establishing the State Children's Health Insurance Program, and she was one of two cosponsors on the Safe, Orderly, Legal Visas and Enforcement Act, which pushed for comprehensive immigration reform in 2003. Plus, Clinton's use of the term "intersectionality" itself marks one of the first times a major political candidate has explicitly referenced the concept in a broad public conversation—certainly a meaningful step toward increasing general awareness and application of it. As is so often the case with her candidacy, there is much Clinton must answer for—but there is also much she has achieved.
Reckoning with the contradictions that she embodies is one of the toughest challenges that Clinton faces. But to call her just a "symbol" is a major discredit to the concrete progress she has made and to the qualifications she possesses. Talk about reductionist. Like any candidate, Clinton needs to be asked tough questions and pushed for answers. But to suggest that Millennials are being asked to vote for her simply because she is a woman, and not because she would be good for women, is foolhardy and dismisses Clinton's deep experience championing and prioritizing women's issues domestically and globally. In fact, contrasting Clinton's and Sanders's approaches, it's clear that she's not simply a supporter of policies for women; she's a leader.