Mike Lee Isn't Going Anywhere
The Utah politician didn't get the Senate leadership position he wanted. But he's still hoping to be seen as one of the chamber's influential policymakers.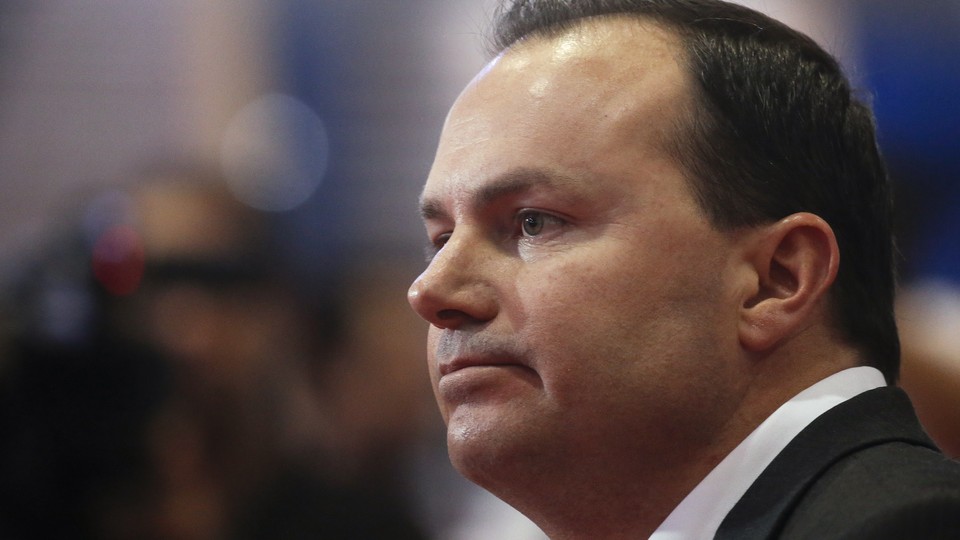 Mike Lee thought a change in Senate leadership—specifically, him becoming a member of it—would provoke energetic policy discussions in the upper chamber. That was his justification earlier this month when he campaigned to replace Senator John Barrasso as the chair of the Republican Policy Committee, whose seat, Lee thought, was opening up. Lee has carefully worked to shift his reputation in recent years from Tea Party hell-raiser to serious ideas guy. He seemed to see the committee chairmanship as an opening to give his reformist agenda more prominence and leverage in the Senate.
The position "involves preparing white papers, providing members with research, so you can discuss these issues in an open forum and you can help members make decisions that benefit them and their constituents," Lee told The Washington Examiner after announcing his bid.
But Lee, and his ambitious policy aspirations, will have to wait.
On Monday, one week after announcing his interest in Barrasso's position, the Utah senator dropped his efforts, which hadn't seen much support. Mitch McConnell and others had rejected Lee's argument that Barrasso's seat would be vacant at the end of the year because of term limiting. It was all a bit of an internecine debate: If they'd concluded that Lee's bid was valid, it would've had consequences for other high-ranking members who'd assumed leadership positions at the same time as Barrasso. Lawmakers didn't want to shake things up in an election year. Instead, they insisted, Barrasso should be able to serve in the Senate's fourth-highest position until 2018.
Lee didn't seem to fight back. Perhaps that's because the two-term senator doesn't want to burn any more bridges. When Lee came to the Senate, he had a reputation for challenging the political establishment. One of the first Tea Partiers to ascend to power, Lee beat a GOP-favorite incumbent back in 2010, and Washington was wary of his priorities. "His predecessor had been considered a constructive, thoughtful guy on policy issues, and the thinking was that Mike Lee was just not going to be a terribly constructive force," National Review executive editor Reihan Salam told my colleague Michelle Cottle last year. He was viewed as Ted Cruz's "sidekick" by non-Tea Partiers, Cottle wrote, after helping Cruz rally support during the 2013 government shutdown.
But within just a few years, Lee seemed to reorient himself: Policy took primacy, and fellow senators rallied around his ideas. In 2014, the conservative Washington Free Beacon called him a "one-man policy shop for Republicans on Capitol Hill," noting that he's "steering" the GOP agenda toward working-class people. Earlier this year, a column in The Week highlighted Lee's tax plans and focus on criminal-justice reform. That piece praised his "very sharp conservative mind" and claimed he can "spend the next few decades shaping the direction of American government by becoming a new intellectual statesman on the right."
Though he did endorse his friend Ted Cruz for president in March, Lee has kept his attention on the Senate throughout this divisive campaign year. Earlier in 2016, he launched the Article One Project, which seeks to weaken the executive branch's lawmaking authority and promote Congress's supremacy. Lee seems to be modeling his aspirations on Paul Ryan. The House speaker has said he wants his chamber focused on its agenda, and not the day-to-day happenings on the campaign trail. Since assuming the speakership, Ryan has rolled out multiple policy platforms for his conference and has responded to Donald Trump's trail antics with annoyance.
For now, Lee will have to exert his influence without the policy committee chairmanship. But he could always make a go at the position again, even if his first try did rankle some members. While he's up for reelection in November, he doesn't have a primary challenger and Utah is traditionally red. The political evolution of Mike Lee will probably continue on six more years.