Michelle Obama in the Fourth Quarter
The First Lady is speaking out against injustice in increasingly bold terms, as her time in the White House draws to a close.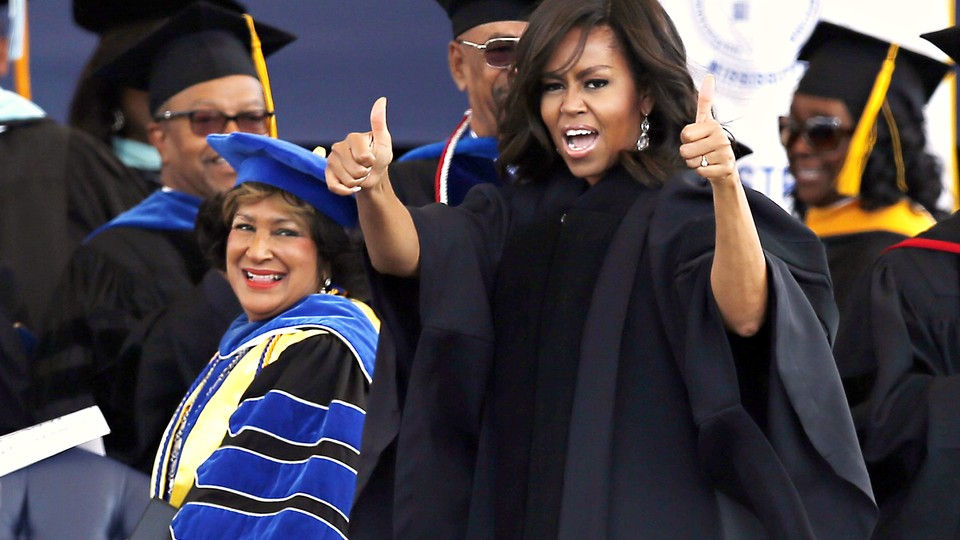 Despite the festive occasion, Michelle Obama was getting worked up. In her commencement speech Saturday at Jackson State University, a historically black school in Mississippi's capital city, the First Lady assured graduates that she knows how tough it can be to "rise above the fray" in these overheated times. Her voice grew increasingly passionate as she cited "the countless times when that language gets personal and is directed at my husband. Charges that he doesn't love his country. The time he was called a liar in front of a joint session of Congress. The nonstop questions about his birth certificate and his belief in God!" Her dry laughter conveyed less amusement than dismay.
A few minutes later, Obama flared again as she addressed the lingering "shadows" of racism. She began with the individual: getting pulled over for "driving while black," being watched ever so closely while shopping, having pedestrians cross the street to avoid you. Then she edged into the big-p political: "Maybe it's when the early voting location in your neighborhood just happens to be closed, or law after law is passed about the kind of ID you need to cast your vote. Maybe it's all those schools that, despite the laws, are still very much separate and unequal. Or the criminal justice system that still doesn't provide truly equal justice for far too many!"
Obama pled with the graduates not to meet such hurdles with rage or despair, but to take a page from Barack's playbook: "As he says, 'When they go low, I go high.'" And, whatever else you do, she said, vote. "You can hashtag all over Instagram and Twitter, but those social-media movements will disappear faster than a Snapchat if you're not also registered to vote, if you're not sending in your absentee ballots. Statehouses will continue to roll back voting rights and write discrimination into the law. We see it right here in Mississippi, just two weeks ago, how swiftly progress can hurtle backwards—how easy it is to single out a small group and marginalize them for who they are or who they love," she said, referring to the state's new "religious-freedom" law that gives legal protection to people who refuse to provide services based on a moral objection to gay marriage, out-of-wedlock sex, or transgender identity. "So we've got to stand side-by-side with all our neighbors," proclaimed Obama, "straight, gay, lesbian, bisexual, transgender, Muslim, Jew, Christian, Hindu, immigrant, Native American. Because the march for civil rights isn't just about African Americans. It's about all Americans!"
Translation: Chew on that, Donald Trump, Ted Cruz, and all you other mouth-breathing, knuckle-dragging demagogues.
Meet the fourth-quarter Michelle Obama. She looks and sounds a lot like the First Lady we've watched for most of the game. She still hits many of the same themes about overcoming personal challenges, ignoring the naysayers, and answering "the doubters and the haters" with excellence. But as her time in the White House runs down, she is gradually loosening up—venturing into trickier terrain and getting more pointed in her commentary.
Take her March 23 speech to high school students in Buenos Aires, which featured this bit about her youthful brushes with sexism:
Teachers who didn't think that I was smart enough, and would call on the boys in class instead of the girls, even though the girls had better grades. People who thought a girl shouldn't have ambition, and they would ask my brother what career he planned to have, but would ask me what kind of man I wanted to marry.

As I got older, I found that men would whistle at me or make comments about how I looked as I walked down the street as if my body were their property, as if I were an object to be commented on instead of a full human being with thoughts and feelings of my own. I began to realize that the hopes I had for myself were in conflict with the messages I was receiving from people around me—messages that said that, as a girl, my voice was somehow less important; that how my body looked was more important than how my mind worked; that being strong and powerful and outspoken just wasn't appropriate or attractive for a girl.
Stories about overcoming low expectations and double standards are not new for Obama. But her jab at the ongoing objectification and dismissal of women was more aggressive and explicit than usual. And criticizing men for wolf whistling at the ladies was tantamount to painting a bulls-eye on her chest for anti-PC conservative critics.
Likewise, Obama's Jackson State speech went over some oft-covered ground for her: reflections on the South's Jim Crow past, her intimate grasp of casual personal bigotry. (She ran through these same topics, in fact, in her commencement speech last year at Tuskegee University.) But her criticism of efforts to curtail voting access and of continued resistance to criminal-justice reform were uncharacteristically political. Even more in-your-face: Calling out state legislators over a freshly passed, highly controversial law seen by many as ratifying bigotry.
This is not an abrupt shift for Obama. Like her husband, the First Lady has seemed somewhat freer since his reelection. During the past three years, she has waded into the hyper-inflammatory gun-control debate and been increasingly outspoken in support of LGBT rights, including her got-your-back tweet to the NBA's Jason Collins when he came out in 2013. Not six months after her husband's second inaugural, the First Lady made news by getting feisty with an LGBT activist who heckled her at a DNC fundraiser. And one of her newest initiatives, Let Girls Learn—launched last year as an outgrowth of a USAID program aimed at improving educational opportunities for adolescent girls around the globe—has Obama talking constantly about sensitive gender issues. (Witness the Buenos Aires speech.)
This loosening up is to some degree common among First Ladies. Lame-duckness aside, by a second term, most presidential wives have figured out how to navigate this oddest of political roles. Even the ultra low-key Laura Bush began hard-core globe-trotting during W.'s second term, promoting HIV/AIDs awareness and the rights of women and girls in close to 70 countries. During a 2007 trip to Burma, she spoke out in support of pro-democracy forces and urged the government to end its violence against the movement. That said, it was not until after Bush 43 left office that Laura openly acknowledged disagreeing with him on the hot-button social issues of abortion and same-sex marriage. The freedom of even a late-term First Lady goes only so far.
Which is why I am so very excited to see what Michelle Obama says and does once the East Wing is officially in her rearview mirror. Like Hillary Clinton, Obama is a woman accustomed to speaking her mind. She is also, like Hillary, a woman clearly impatient with the nutty, often conflicting public expectations placed upon all First Ladies—let alone the first-ever black woman to hold the post. In her speeches, Obama often shares how she has long grappled with other people's perceptions of her, from teachers who saw girls as second-class students to political pundits who have charged her with being, on the one hand, too angry/loud/emasculating/intimidating and, on the other, of not using her First Lady pulpit to tackle controversial issues head on. (I once wrote a piece exploring the latter brand of criticism, and Obama's friends and defenders went absolutely ballistic.) The president may be one to shake off the haters and the liars and the dirty, dirty cheats, but the First Lady remembers.
Unlike Hillary, however, Michelle harbors no obvious political ambitions of her own. This means that, come January 20, she has total liberty to use her celebrity however she sees fit. If the drift of her comments in recent years is any indication, she has definite views about the class-, gender-, and race-based injustices she has witnessed over much of the past decade. After years of her pulling her punches, she has earned the right—perhaps even the responsibility—to come out swinging.