A Tainted Execution in Georgia
The U.S. Supreme Court declined to halt an execution on Tuesday despite a juror's racial slurs against the inmate.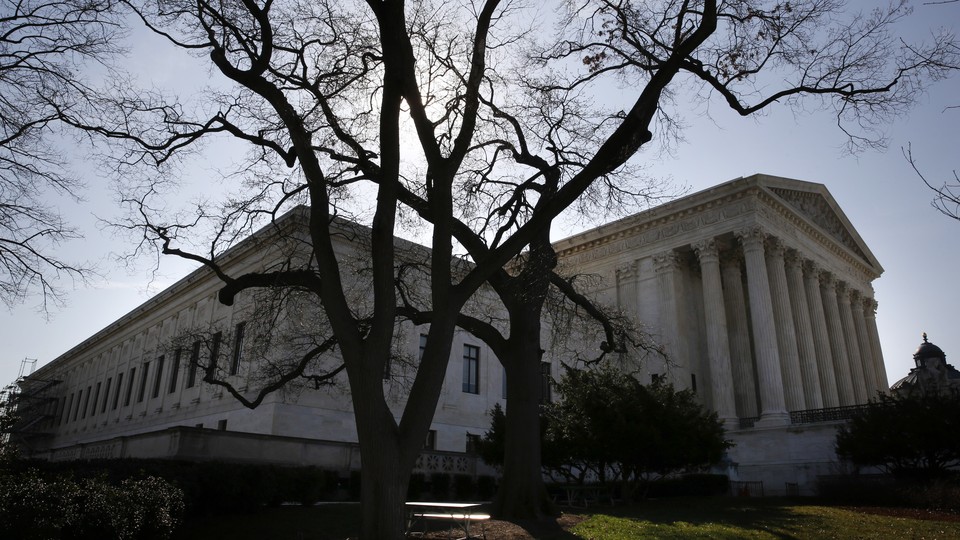 Updated at 7:55 p.m. on April 12
The U.S. Supreme Court declined to halt the scheduled execution of a Georgia man convicted of murder on Tuesday despite evidence his sentencing jury had been tainted by racism. Thomas Buffington, a juror in the 1997 trial of Kenneth Fults, signed an affidavit in 2005 saying "that's what that nigger deserved."
Georgia executed Fults by lethal injection at 7:37 p.m. local time, according to a statement from the state attorney general's office.
The Georgia Board of Pardons and Paroles denied a request for clemency on Monday, leaving the high court as his last remaining chance at avoiding lethal injection. Fults filed an eleventh-hour request last week for the U.S. Supreme Court, which denied previous petitions to hear his case, to directly intervene.
Fults' execution Tuesday night will come almost 20 years after the original crime. Fults, a black man, pled guilty to the January 1996 murder of Cathy Bounds, his white neighbor, after shooting her five times in the back of the head during a series of burglaries. The jury sentenced him to death in May of 1997.
After sentencing, Fults' case began the complex appeals process that accompanies any death-penalty case. First, the Georgia Supreme Court affirmed his conviction and sentence on direct review in June 2001. From there, Fults then sought a separate habeas review in the state courts in 2003 and in federal courts in 2009.
While his lawyers gathered evidence for the state habeas review, one of their investigators interviewed Buffington, who served on the jury that sentenced Fults to death. Buffington had told the court during jury selection he held no racial biases. Eight years later, his answer changed.
"I don't know if [Fults] ever killed anybody, but that nigger got just what should have happened," the 79-year-old man said in a sworn affidavit in April 2005. "Once he pled guilty, I knew I would vote for the death penalty because that's what that nigger deserved."
Buffington later died without further involvement in the case. Two other jurors subsequently signed statements condemning his remarks and questioning the fairness of his jury service. "It is my personal opinion, a person with this mentality cannot sit in judgment of others," said Ryan Archer, the jury's foreman. Another juror, Mary Bunn, said she was "deeply troubled that Mr. Buffington was allowed to sit in judgment of Mr. Fults since he considered Mr. Fults to be less of a human being."
In response to Fults' petition to the Court, the state of Georgia said in a footnote it "obviously does not dispute that this is a highly offensive racial slur." But the state argued Buffington's statement should be ignored on procedural grounds. Because Fults did not raise a juror misconduct claim while his case was on direct appeal—which concluded four years before the affidavit was signed—he was barred from raising it on habeas review, Georgia's lawyers contended. The Georgia Supreme Court and the federal Eleventh Circuit Court of Appeals sided with the state.
Fults' current lawyers countered there was no way of knowing about the juror misconduct during that appeal. They also blamed inadequate counsel during Fults' trial and direct appeal—an understatement, to say the least. Johnny Mostiler, the public defender of Spalding County, Georgia, routinely fell asleep while representing Fults at trial and died of a heart attack during his direct appeal. Mostiler also had an overwhelming caseload, a cozy relationship with county prosecutors, and a penchant for telling racist jokes. While representing Curtis Osborne for a double homicide in 1991, he turned down a plea bargain for a life sentence without informing his client; Osborne received the death penalty and was executed in 2008. A white client recounted how Mostiler, in reference to Osborne, told him "that little nigger deserves the chair."
The Supreme Court denied Fults' petition last year, and Georgia set an execution date last month. But his lawyers asked for a new stay of execution after the Court agreed earlier this month to review Pena-Rodriguez v. Colorado, a case also concerning racist remarks by a juror. In that case, the Court will consider whether the no-impeachment rule, which protects jurors from answering questions about their deliberations in many jurisdictions, should apply to evidence of racial bias.
Fults' lawyers argued he should not be executed until after Pena-Rodriguez is decided, citing parallels with their case and the potential for a favorable outcome. (One major difference: the racist juror in Pena-Rodriguez made his remarks during deliberations, not afterwards, allowing other jurors to quickly notify the judge.) But the Court denied the stay request Tuesday afternoon, roughly five hours before his scheduled execution. None of the justices offered public dissents.