The Senate Goes Home Without Funding Zika
Lawmakers are still split on how the administration's viral offensive should be funded, and by how much.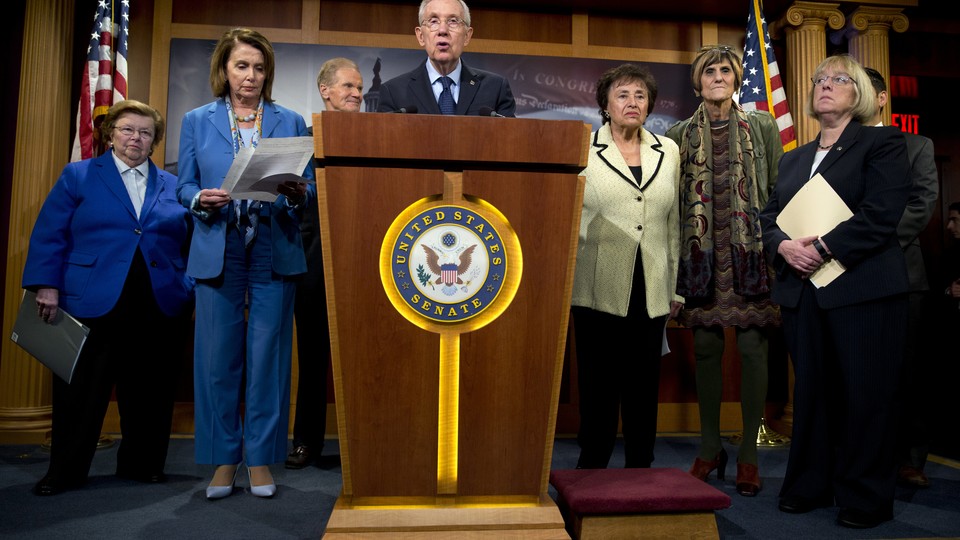 The U.S. Congress doesn't look any closer to funding anti-Zika efforts now than it did last week. If anything, lawmakers appear to have taken steps back.
After hours of speeches on Zika from the Senate floor on Thursday, lawmakers adjourned for a week-long recess still fundamentally divided on how best to combat the virus. It was an anticlimactic end to this week's Zika debate, which was perhaps the most dramatic since the Obama administration sent lawmakers an emergency funding request two months ago. As late as Thursday morning, Senate Minority Leader Harry Reid was insisting the Senate not break until lawmakers move on Zika. His demands came even as a previously in-progress deal hadn't materialized, and as Republican lawmakers continued to balk at a bill that would fully finance a White House funding request.
"We shouldn't be taking 10 days off as a dangerous virus threatens this nation," Reid said. "And it is threatening us."
How the administration's Zika offensive should be funded, and by how much, has broken down mostly along party lines. Generally speaking, Senate Democrats have supported separate, emergency funding for the virus, while Republicans have not. Some congressional GOP leaders insist on considering the money as part of the ongoing 2017 appropriations process, which would mean taking funds away from other parts of the budget to pay for Zika. In that case, funding would also not be available until October when the new fiscal year begins, months after Congress first received a funding request from the White House.
In early February, the Obama administration asked Congress to quickly pass nearly $1.9 billion in emergency funds. It trotted out public-health officials to explain what they knew about the virus's potential effect in the Americas, and what they needed to develop: a vaccine, top-flight diagnostic tests, rapid-response teams for any Zika clusters that pop up in the United States, among other measures.
So far, Congress hasn't allocated any new money. The White House grudgingly repurposed about $600 million in Ebola funds for Zika earlier this month, at House Republicans' urging, but the administration and public-health officials maintain much more is needed. The number of cases in the continental United States and in the territories continues to grow. Scientists have confirmed the virus causes the birth defect microcephaly and the immune disorder Guillain-Barré, and are investigating a link between Zika and brain and spinal-cord infections. Officials are also concerned about the coming warmer months, particularly in warm-weather states. "Everything we look at with this virus seems to be a bit scarier than we initially thought," said Anne Schuchat, the CDC's principal deputy director, at a White House briefing two weeks ago.
Congressional Republicans have said for weeks now that their questions on Zika funding haven't been answered—an allegation the White House and Senate Democrats have refuted. Specifically, Republicans say they need to know how much money is needed before the 2016 fiscal year ends in late September; how much is needed in fiscal year 2017; and, of course, how exactly it'll be spent. John Cornyn, the Senate Majority Whip, cautioned Thursday against writing a "blank check" to the administration without hearing the Zika "plan of attack."
Democrats have condemned the standstill. "Too many of my colleagues on the other side of the aisle still don't seem to see Zika as an emergency," Senator Patty Murray, the ranking member on the Senate Labor/HHS subcommittee, said Thursday. Some Republicans think it can wait "weeks, or even months," she added. "Republicans in Congress might be able to wait that long—but families across the country simply can't."
Members of the House GOP have been especially, and predictably, hawkish about how money is doled out. House Majority Leader Kevin McCarthy has said the administration has enough money for Zika as it is. Some have suggested more money can be gleaned from Ebola coffers, and House Speaker Paul Ryan has said the White House has "a bit of a track record of over-requesting what they need." Representative Tom Cole seemed to push back Thursday on the notion that Republicans are unnecessarily blocking funds. "I want to remind the White House, it was a Republican Congress that appropriated everything and more to combat Ebola just last year," said Cole, the chairman of the House Appropriations subcommittee that finances public-health agencies, in a statement. "It was a Republican Congress that provided double the increase in funds for the National Institutes of Health requested by the White House. And it was a Republican Congress that appropriated more for the Centers for Disease Control than the White House requested."
The debate in the Senate didn't look so dire last week. After months of no movement, lawmakers appeared to have a modest breakthrough: Senate appropriators announced at a markup meeting that they were closing in on a Zika deal. But the chief negotiators, Murray and Missouri Republican Roy Blunt, still needed to accomplish two difficult tasks: settling on an exact dollar figure and determining how to get the funding through Congress. Behind closed doors, though, some Democrats said any lower-dollar deal would be insufficient, CNN reported earlier this week:
But when Democrats huddled in their weekly policy lunch in the Capitol Tuesday rank-and-file senators pushed back against the emerging deal and pressed their leaders to go back the table and insist Republicans approve Obama's full request, according to multiple sources familiar with the discussion. Those Democrats argued that any deal eventually cut with House Republicans would likely pare back Obama's original request even further so Senate Democrats should fight to preserve as much of it as they can in the Senate bill now.
The same day, Senate lawmakers were publicly disagreeing on how far along the deal had gotten.
A bill proposed by Florida Democrat Bill Nelson, which called for full funding of the White House's $1.9 billion request, has perhaps an even bleaker outlook. Reid has repeatedly insisted that he won't support anything less than the full $1.9 billion. Nita Lowey, the top House Democratic appropriator, has suggested the same; she introduced a supplemental funding bill this week. Blunt, speaking on the floor Thursday, said there's "almost no chance" the Senate would pass that amount, and it "absolutely" wouldn't squeak by the House. "This is something we can work out, I believe we will work out," Blunt said from the floor. "But the goal is not for the Senate to pass a bill. The goal is for the Congress to pass a bill and the president of the United States to sign that bill and I believe that will happen and many people, including me, are working to see that that happens."
On Thursday, as it became clear no funding would be passed before the recess, a succession of Democratic women were joined by Senator Marco Rubio in venting their frustrations from the chamber floor. Murray claimed that "extreme right-wing" conservatives have "beaten back" colleagues more willing to work on funding. Never one to mince words, Massachusetts Senator Elizabeth Warren accused Republicans of "failing" Americans and shirking their governmental duty to protect "from serious threats." Rubio, Warren's ideological opposite, seemed to agree with her. "The money is going to be spent," said the Florida senator, who broke from his caucus on Zika funding earlier this month and who—it's worth noting—isn't running for re-election. "And the question is, Do we do it now before this has become a crisis, or do we wait for it to become a crisis? And maybe that crisis happens in August, when everyone is back home doing their campaign stuff, or maybe it happens on Monday" when lawmakers are on recess.
It's entirely possible that informal talks will continue while lawmakers are away; the House is in recess, too. Democrats are no doubt hoping their Republican counterparts get an earful from constituents back home. But the public won't know the product of those discussions until Congress is back May 9.