Gaffe Track: John Kasich Has Some Advice for You Ladies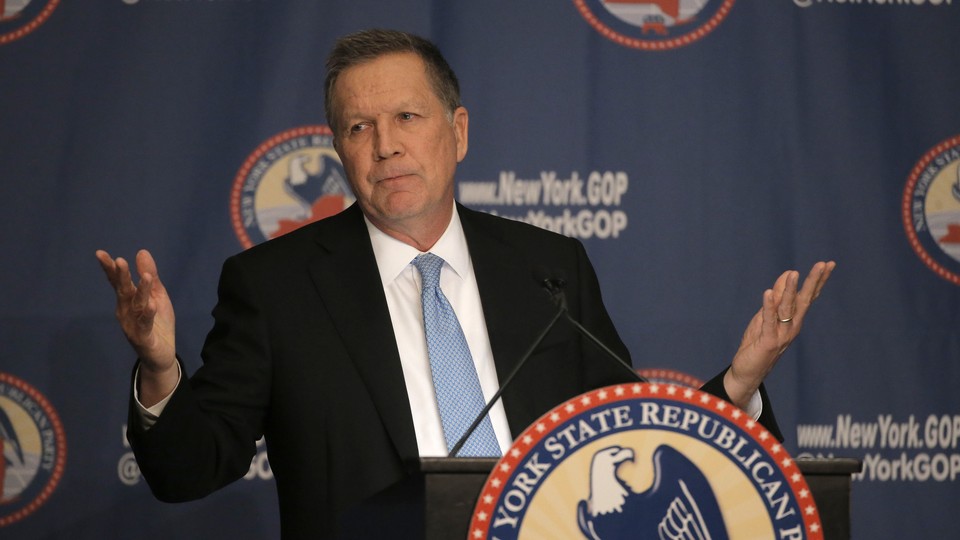 Editor's Note:
This article previously appeared in a different format as part of The Atlantic's Notes section, retired in 2021.
The candidate: John Kasich. Yes, he's still here!
The gaffe: The Ohio governor is making his possibly-last-ditch effort in New York, and on Friday, he spoke at St. Lawrence University, where a woman asked him how he would help her "feel safer and more secure regarding sexual violence, harassment, and rape." Kasich started out well, talking about access to rape kits, confidential reporting, and other counseling. He said the issue is important to him because he has 16-year-old twin daughters. And then he couldn't help himself, and added: "Well, I would give you, I'd also give you one bit of advice. Don't go to parties where there's a lot of alcohol. OK? Don't do that."
The defense: At least he didn't say they should wear head-to-toe robes or only socialize with men to whom they are directly related.
Why it matters (or doesn't): Kasich wants to portray himself as the moderate alternative to Donald Trump and Ted Cruz—you know, the one who won't turn away women from the GOP in droves, the way they will. But that's harder to do when he can't stop making exceptionally awkward comments involving women, like when he bragged about women leaving their kitchens to campaign for him in 1978, or told a college student that he didn't have Taylor Swift tickets for her, or, as in this case, suggested that a reasonable precaution against rape for college women is to avoid parties where alcohol is being served. That's a little like telling them to avoid classes where textbooks are assigned. And as many people pointed out, it sounds a lot like blaming women who go to such parties for being raped. (Later on Friday, Kasich moved to tamp down anger, tweeting, in part, "Only one person is at fault in a sexual assault, and that's the assailant."
The lesson: When your campaign's on the rocks, don't tell young women to be tee-totalers.