The Edge: Veep Veep Here Comes Carly
Ted Cruz selected former presidential candidate Carly Fiorina as his running mate.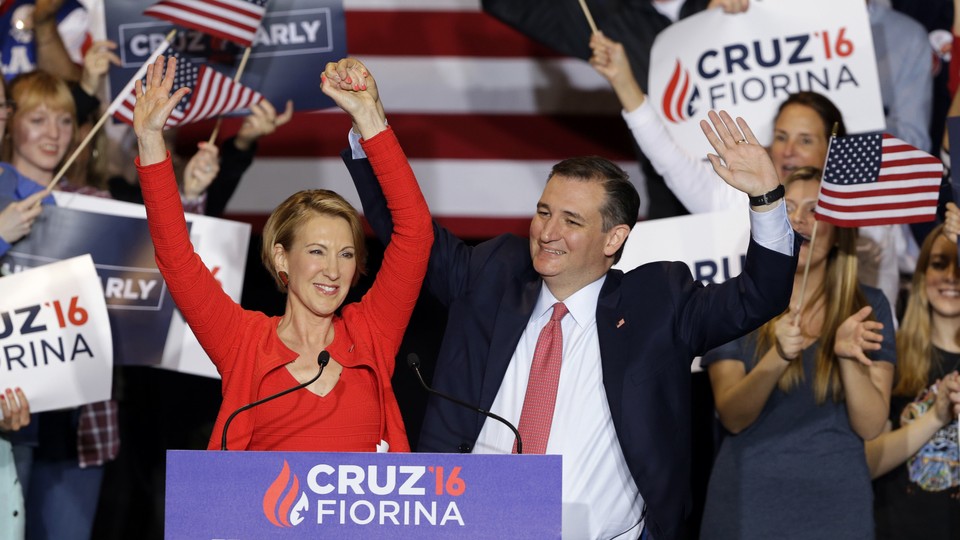 Today in One Paragraph
Ted Cruz named Carly Fiorina his running mate. Donald Trump pledged to put 'America first' in an uncharacteristically formal address on foreign policy. Bernie Sanders's campaign started laying off members of its staff in the wake of a series of defeats in the Northeast. Dennis Hastert, the longest-serving Republican speaker of the House, was sentenced to 15 months in prison for a bank fraud case linked to sexual-abuse allegations. The U.S. Supreme Court appears to be leaning toward overturning former Virginia Governor Bob McDonnell's corruption conviction. And the White House announced that President Obama will visit Flint, Michigan, next week.
---
Top News
Cruz Picks His Running Mate. Ted Cruz announced former presidential candidate Carly Fiorina as his vice presidential pick, calling her "a woman of extraordinary intelligence" and "deep principle." Cruz also touted Fiorina's respect for the Constitution and her understanding of the threats facing the United States. (Jonathan Karl, Jessica Hopper, Ben Gittleson, and Veronica Stracqualursi, ABC News)
Trump Promises 'America First.' Coming off a five-state win in Tuesday's primaries, the Republican front-runner laid out his foreign policy agenda in Washington, where he called for a stronger U.S. military, blasted President Obama's nuclear deal with Iran, and vowed to put "American security first." Trump's prepared remarks, which were a departure from his usual off-the-cuff speeches, will be the first in a series of policy addresses. (Jeremy Diamond and Stephen Collinson, CNN)
Sanders Campaign Takes a Turn. The Vermont senator's campaign began letting field staff go after Tuesday's primaries left him trailing Hillary Clinton by an even greater margin. "We're 80 percent of the way through the caucuses and primaries and we make adjustments as we go along," said Sanders's campaign communications director Michael Briggs. "This is a process that we've done before of right-sizing the campaign as we move through the calendar." (Gabriel Debenedetti, Politico)
Former House Speaker Sentenced. A federal judge sentenced Dennis Hastert to 15 months in prison, along with a $250,000 fine and two years of supervised release after violating bank regulations in an attempt to cover up allegations that he sexually abused teenage boys during his tenure at Yorkville High School. "Nothing is more disturbing than having 'serial child molester' and 'speaker of the House' in the same sentence," said the judge. (Aamer Madhani, USA Today)
SCOTUS Hears McDonnell Appeal. The Supreme Court appeared to be considering reversing the corruption conviction of former Virginia Governor Bob McDonnell. During oral arguments, several of the justices seemed unsatisfied with the standard to use when deciding whether political actions are corrupt or routine. The justices will vote on the case Friday, and a ruling is expected in June. (Nina Totenberg, NPR)
Obama to Visit Flint. White House officials announced that the president will travel to Flint, Michigan, on May 4 to "hear firsthand from Flint residents about the public health crisis, receive an in-person briefing on the federal efforts in place...and deliver remarks to community members." (Todd Spangler, The Detroit Free Press)
Tomorrow in One Paragraph. Ted Cruz is campaigning in Indiana. John Kasich will be in Oregon. And Donald Trump will campaign in California.
Follow stories throughout the day with our new Politics & Policy page. And keep on top of the campaign with our 2016 Distilled election dashboard.
---
Top Read
---
Top Lines
'Commonwealth in Crisis.' Puerto Rico's debt now totals over $70 billion and Congress does little. The Atlantic's Vann Newkirk writes that "no state has recently faced such dire straits as Puerto Rico, even during the Great Recession." Will Congress help them?
Meet Melania. Donald Trump's wife, an ex-model from Slovenia, moved to New York City to make it big, but her next stop might be even bigger: the White House. (Julia Ioffe, GQ)
---
Top Views
Re-evaluating the White House Race. Check out these delegate charts to see where each presidential candidate stands after Tuesday's nominating contests. (Kevin Schaul and Samuel Granados, The Washington Post)
We want to hear from you! We're reimagining what The Edge can be, and would love to receive your complaints, compliments, and suggestions. Tell us what you'd like to find in your inbox by sending a message to newsletters@theatlantic.com.
-Written by Elaine Godfrey (@elainejgodfrey)