The Fallout From Arizona's Primary
After long lines and waits, the Democratic Party and both the Hillary Clinton and Bernie Sanders campaigns plan to sue the state.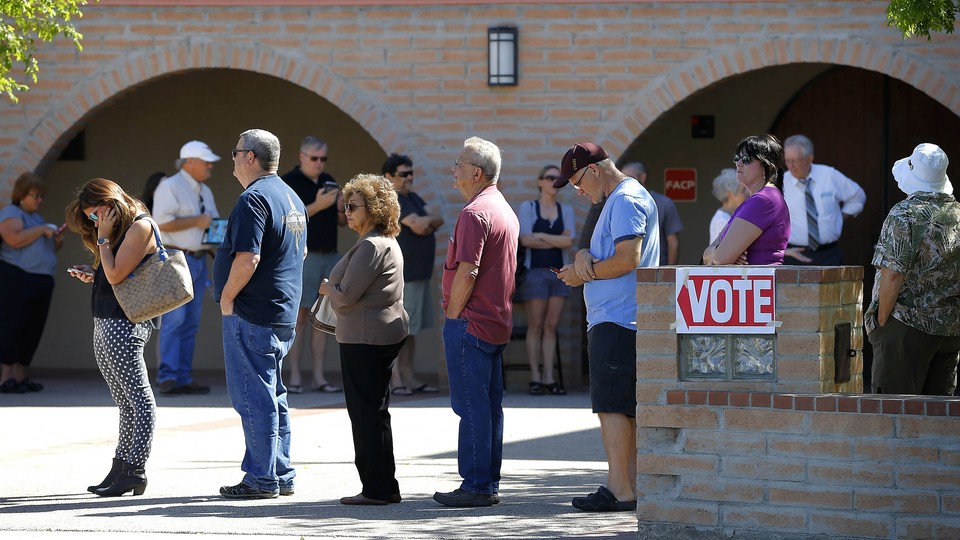 A little less than a month after long lines—and waits—defined the Arizona primary, the Democratic Party, and both the Hillary Clinton and Bernie Sanders campaigns, will sue the state over the insufficient number of polling locations, according to The Washington Post.
The lawsuit, which calls for the U.S. District Court of Phoenix to review voting plans ahead of the November election, will be filed on Friday. "[Arizona's] alarmingly inadequate number of voting centers resulted in severe, inexcusable burdens on voters county-wide, as well as the ultimate disenfranchisement of untold numbers of voters who were unable or unwilling to wait in intolerably long lines," according to the lawsuit.
The lawsuit will be brought "on behalf of the Democratic National Committee, the Democratic Senatorial Campaign Committee, the Arizona Democratic Party, and several Arizonans." Democratic officials told the Post that the Clinton camp plans to join after it's filed, as will Sanders, according to one of his senior aides.
Why the lawsuit now?
The November election is seven months away, but preparation is undoubtedly underway and the lawsuit may very well be a part of it.
The lawsuit places an emphasis on Maricopa County, one of the state's most populous counties—and one of the nation's: Maricopa is ranked the fourth-most populous county in the United States. In 2012, Maricopa County offered more than 200 polling places. That number dropped drastically this year to just 60—the effects of which became abundantly clear during the primary on March 22. Long lines formed, leaving hundreds of people waiting as the polls closed. Why the sudden change in such a populated region? The Maricopa County Recorder's Office contends that fewer people were expected to show up to the polls due to early voting. And, of course, fewer polling places also saves money.
The lawsuit highlights minority voters, who, as a result of fewer voting places, were allegedly even more negatively impacted. Those communities, the lawsuit points out, are also more likely to vote Democratic. What's more, this isn't the first time the county has drastically decreased the number of voting places. In 2008, the county operated 400 voting places until razing that number to roughly 200 four years later. Add another four years, and now there are a mere 60.
While still a largely white state, Arizona has an increasingly diverse electorate. According to the Pew Research Center, 22 percent of the state's eligible voters are Hispanic, making it one of the country's largest "Hispanic statewide eligible voter populations." The lawsuit would be a boon for the Democratic Party if it results in more polling locations for the November election, particularly in counties where black and Hispanic voters make up the majority.
Maricopa County Recorder Helen Purcell apologized for the long waits. "We certainly made bad decisions, and having only 60 polling places, didn't anticipate there would be that many people going to the polling places," she said. "We were obviously wrong—that's my fault."