A Cruz-Kasich Alliance to Stop Trump
The Texas senator and the Ohio governor team up against the Republican front-runner in three upcoming states.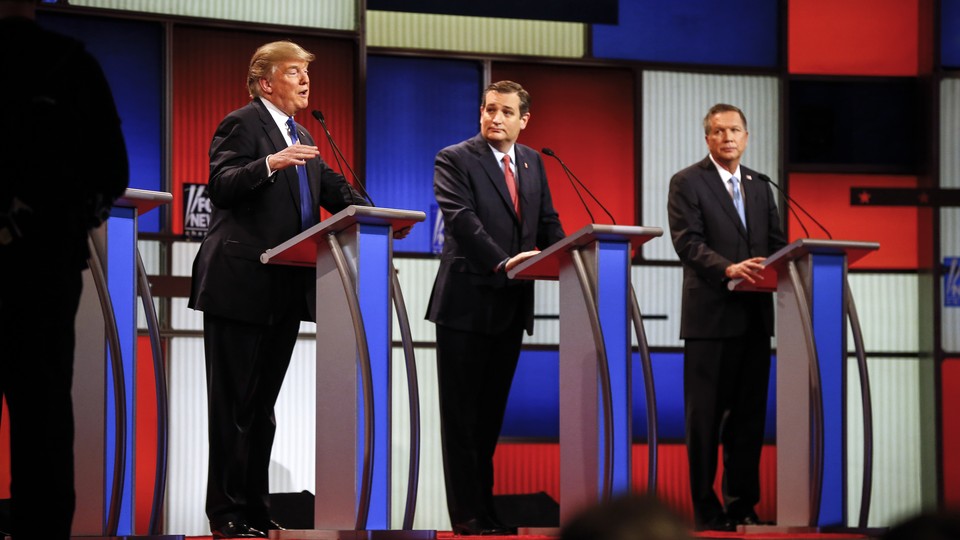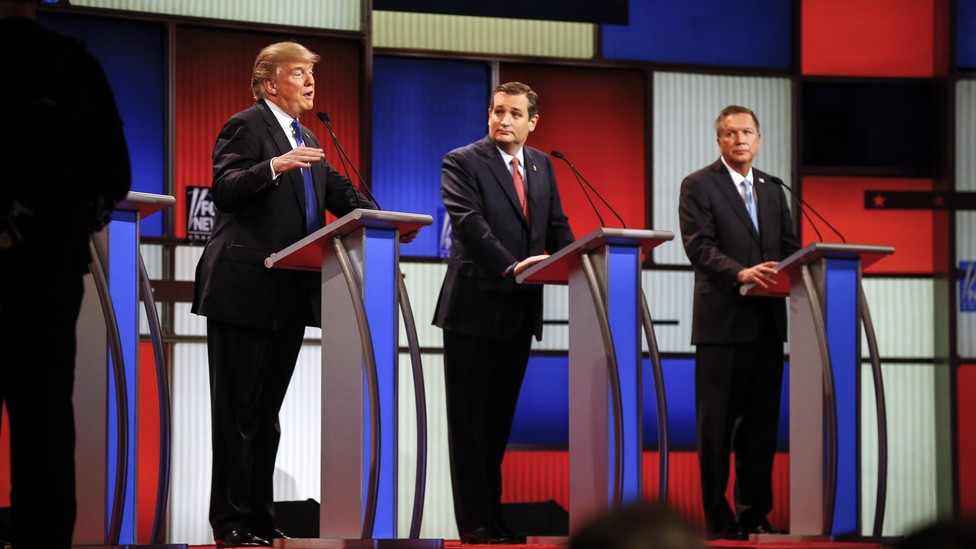 Updated on April 25 at 1:16 a.m.
Texas Senator Ted Cruz and Ohio Governor John Kasich announced plans Sunday night to collaborate against Donald Trump in three upcoming state primaries, formalizing an 11th-hour effort among some Republicans to deny their party's front-runner the nomination through a contested convention.
First, the Cruz campaign said in a late-evening press statement it would abandon its efforts to win the Oregon primary on May 17 and the New Mexico primary on June 7.
"To ensure that we nominate a Republican who can unify the Republican Party and win in November, our campaign will focus its time and resources in Indiana and in turn clear the path for Gov. Kasich to compete in Oregon and New Mexico, and we would hope that allies of both campaigns would follow our lead," Cruz campaign manager Jeff Roe said.
The Kasich campaign then issued its own statement announcing it would cede the May 7 Indiana primary to Cruz, citing the winner-take-all system of delegate allocation there. "We are very comfortable with our delegate position in Indiana already, and given the current dynamics of the primary there, we will shift our campaign's resources West and give the Cruz campaign a clear path to Indiana," Kasich campaign chief strategist John Weaver said.
On Twitter, Trump responded to his rivals' announcements in his usual manner.
Wow, just announced that Lyin' Ted and Kasich are going to collude in order to keep me from getting the Republican nomination. DESPERATION!

— Donald J. Trump (@realDonaldTrump) April 25, 2016
Both campaigns cited the need to block Trump from amassing enough delegates he needs to win the party's nomination on the first ballot. Anti-Trump conservatives have repeatedly urged other Republican candidates to coordinate their efforts against the real-estate mogul since his victories on Super Tuesday.
But the two camps fell far short of a formal alliance in Sunday night's statements. Cruz's team suggested their collaboration might not extend beyond the three contests named on Sunday. "In other states holding their elections for the remainder of the primary season, our campaign will continue to compete vigorously to win," Roe said.
The current delegate math offers both promise and peril for all three candidates. To win the Republican nomination, one of them needs the support of at least 1,237 delegates during the July convention in Cleveland.
Trump has the upper hand for the first ballot at the convention. He currently holds a substantial lead in delegates, with 847 pledged to support him according to the AP's estimate. And neither Cruz nor Kasich can win enough of them in the remaining contests to reach the magic number.
But Trump's advantages fade with each successive ballot, thanks to the GOP's complex state-by-state rules for pledged delegates. The Washington Post's Ed O'Keefe explains the process:
When the presidential nomination vote is held at the convention, 95 percent of the delegates will be bound to the results in their states for the first vote, giving Trump his best shot at securing a majority.

But if Trump falls short, the convention will cast a second ballot in which more than 1,800 delegates from 31 states—nearly 60 percent of the total—will be unbound and allowed to vote however they want. By the third round, 80 percent of the delegates would be free, sparking a potential free-for-all that could continue for several more rounds.
With large segments of the Republican Party either uneasy with Trump's candidacy or openly hostile to it, Cruz and Kasich each hope to persuade those delegates, as they come unbound, to nominate them instead.