The Increasing Irrelevance of the Congressional Black Caucus
The group has failed to connect with young voters, which is not a good sign for its future.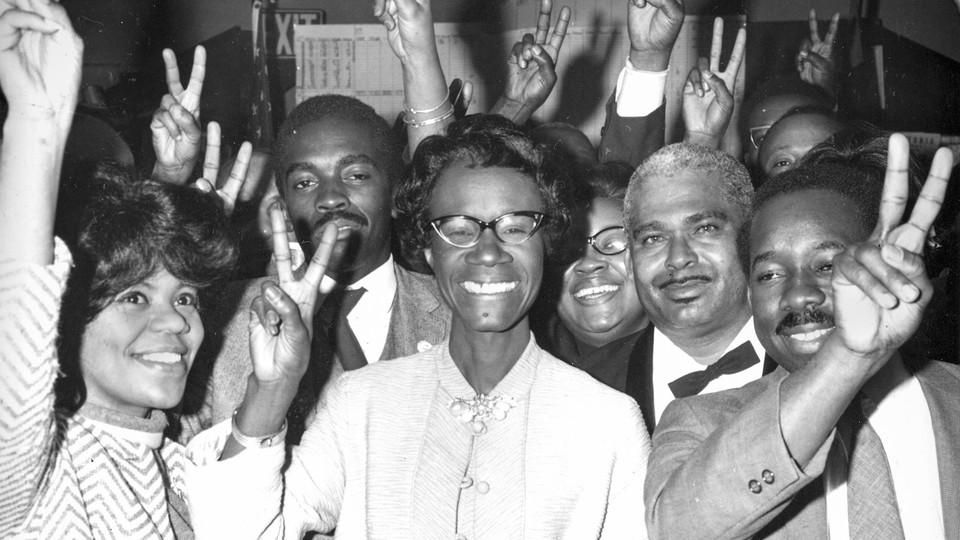 On January 25, 1972, Shirley Chisholm, the first black woman elected to the United States Congress, announced her candidacy for president in a stump speech that sounded very much like those of today's presidential candidates. She told the Brooklyn crowd, "I am not the candidate of any political bosses or fat cats or special interests. I stand here now without endorsements from many big name politicians or celebrities or any other kind of prop." She also stood there without the support of the Congressional Black Caucus, which she helped found the previous year. The reason? Some of the CBC's members thought Chisholm's focus on gender and outreach to other groups subverted the caucus's mission and explicit focus on race.
Four decades later, Representative Donna Edwards sought to become the first black senator from Maryland and only the second black woman ever elected to the body. Like Chisholm, she also did not enjoy the explicit support of the CBC. Edwards confronted CBC members, and they cited her "difficult nature" and failure to establish good relationships as reasons for not endorsing her. On Tuesday, Edwards lost her bid for the Senate seat in a close primary race that may have turned out differently if she'd received the endorsement from more members of the nation's most powerful body of black legislators.
Among young African Americans, there is a growing sense that there are significant generational differences with the CBC and that the organization may have lost its conscience. Hillary Clinton has taken heat for the 1994 crime bill that led to the disproportionate incarceration of black people, but the bill was only assured passage once the CBC withdrew its opposition. CBC members have clashed with Black Lives Matter protesters. And activists have criticized the CBC Political Action Committee, a separate but associated group, for the board's ties to private prisons and big tobacco.
While some of these criticisms are valid, there is little question that the CBC is of immense value to African Americans and the nation at large. For decades, it's been the organ through which the concerns of black Americans have entered the halls of Congress and the means by which policy victories have been delivered for disenfranchised minority communities. There is simply no doubting that the interests of black America remain central to the caucus's aims. But there is also little doubt that the black electorate is changing, and the CBC will have to keep pace with this evolution if it wants to remain relevant to black Americans.
The Congressional Black Caucus was formed as a nonpartisan body in early 1971 to rally the collective influence of its 13 members and ensure that issues facing African Americans were raised and debated in Congress. Its guiding principle, set forth by Representative Bill Clay of Missouri, was direct and concise: "Black people have no permanent friends, no permanent enemies … just permanent interests."
It didn't take long for the group to make national headlines. When President Nixon refused to meet with black legislators, they boycotted the State of the Union. The caucus declared that Nixon's unwillingness to meet with black members of Congress was emblematic of his disinterest in the concerns of African Americans. Shortly thereafter, the president conceded to a meeting, and the CBC received extensive media attention for its victory.
Protest is very much a part of the CBC's character—many of today's CBC members are contemporaries of the civil-rights movement. It would seem that today's protest movements would be fertile ground for CBC goals. But many of today's black activists are not as interested in what they see as respectability politics or dressing in their Sunday best for protests like their civil-rights-era predecessors. They are taking the stage whenever they choose and demanding that presidential candidates hear them. They are challenging leaders from previous generations, and some of those leaders don't necessarily like it. In the black community, where eldership is revered, the boldness of today's protesters has rubbed some CBC members the wrong way. Many black activists don't care; they are less concerned with paying homage to elected officials and more interested in expedient policy outcomes.
If the CBC is to remain the voice of black America, it must find a way to incorporate these new leaders into its work and do a better job of hearing and addressing the concerns of young black Americans, including and especially Black Lives Matter protesters. This should not be difficult; the organization has successfully employed this strategy in the past. In the latter part of the 1970s into the late '80s, the CBC helped orchestrate the Free South Africa Movement protests. The movement included sit-ins and student protests, and was even featured on popular television shows such as A Different World. The group combined these popular efforts with a successful legislative strategy, leading the passage of sanctions on South Africa and defeating President Reagan's ensuing veto. This is the power and value of the caucus.
But political circumstances have changed. African Americans are still an electoral monolith, tending to vote in predictable ways that are similar to others in their demographic group. But they are also increasingly politically diverse. This is a function of expanding intra-racial inequality and a wider variety of lived experiences among blacks, including disparate health outcomes and susceptibility to violent crime. But the CBC can be resistant to the changing politics, lives, and preferences of black America. The caucus has high incumbency rates, and it's part of an institution where seniority is a qualification all its own. It is also closely tied to party priorities—it has effectively become the most reliably Democratic entity in Congress.
This stifles debate about policy options. Studies show substantive and significant differences emerging between economic classes of blacks on issues like government spending on crime-reduction and anti-poverty programs. As a group, African Americans consistently rate education as a top concern, but have varying opinions on how to secure solid schooling for black children—whether through increased investments in the public-school system or more school-choice options for black parents, including private-school scholarships or homeschooling. The latter are programs favored by Republicans, like Senator Tim Scott and Representative Mia Love, but anathema to the Democratic policy platform. The CBC should be a venue for debate about these approaches. The caucus wants the best outcomes for black children, but it should champion good ideas regardless of which party favors a certain policy. If partisan allegiances undermine this flexibility, the CBC cannot effectively fulfill its mission. While individual members have responsibilities to their constituencies and their party, the CBC does not.
Shedding this veil of partisanship is critical because it will help the caucus improve its image as an honest broker for policy deliberations. Membership in the CBC is open to all black members of Congress. But of the seven black Republicans who have served in Congress since the CBC's creation, only three have joined. Only one of the three currently serving black Republicans are members. And though the CBC PAC aspires to "increase the number of African Americans in the U.S. Congress," if its expenditures are any indication, this only holds true for black Democratic candidates and not Republicans like Will Hurd, the 2014 congressional candidate Erika Harold, or even Representative Love, who is a current CBC member.
The caucus also misses out on an opportunity to expand its influence by excluding white representatives with substantial black populations in their constituencies. Steve Cohen represents a Tennessee Congressional District that is 60 percent black and includes parts of Memphis, which has the sixth-largest black population out of all American cities. But because he not black, he cannot be part of the CBC. His record, however, shows he has the interests of his black constituents at heart—take, for example, his introduction of and leadership in passing a House resolution that apologizes to African Americans for slavery. While most CBC members have not endorsed black Republicans or even some of its Democratic members like Donna Edwards, they have endorsed Cohen over black candidates challenging his seat in congressional primaries. Yet they can't officially welcome him into their ranks.
The Congressional Black Caucus remains black America's best hope for having a voice in Congress. No matter what person or party occupies the Oval Office, controls Congress, or the demographic makeup of the Supreme Court, the CBC will be the primary mechanism through which black people can be heard. But this will only be true if the CBC resolves not to become mired in the partisan politics that have stalled Congress, instead giving primacy to the interests of black Americans. The caucus has proven its ability to deliver on policies, but it will need to evolve if it is to usher the nation towards the place where equality and opportunity are available for all. The criticism it receives for not supporting women like Chisholm and Edwards will likely pale in comparison to the damage that's done by losing the support of the next generation of black Americans.