Can the Front-Runners Sweep the East?
Hillary Clinton and Donald Trump could win all five states that vote on Tuesday, including Pennsylvania and Maryland.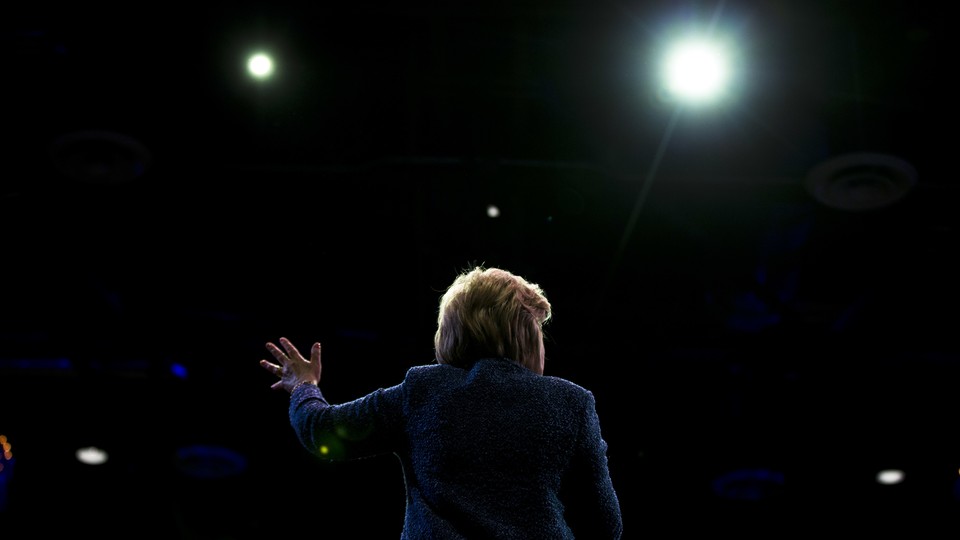 When Hillary Clinton delivers her primary-night remarks on Tuesday after five Eastern states have voted, she'll be speaking from the Philadelphia Convention Center, a key staging ground for the Democrats' nominating convention that will occur exactly three months from now. It won't be the same stage where she expects to formally accept the Democratic nomination—that's the Wells Fargo Center a few miles away—but it's close enough for a practice run.
The location and the evening's results, Clinton hopes, will amplify a signal her campaign has been sending for the last week: The primary race with Senator Bernie Sanders is over, and it's time to focus on the general election. Clinton is strongly favored to win the two biggest states that will vote on Tuesday, Pennsylvania and Maryland, and to grab a majority of the 328 delegates at stake between them. Sanders could fare somewhat better in Connecticut and Rhode Island, polls show, and it's anyone's guess how tiny Delaware will vote. Barring a major surprise, Clinton will end the night closer to clinching the nomination, and Sanders's already infinitesimal odds of catching her will grow slimmer.
How will Sanders react? The Vermont senator isn't expected to concede regardless of Clinton's margin, but Democrats will be watching closely to see if he dials back his attacks on the front-runner as she widens her lead. His advisers have appeared publicly torn over what Sanders should do. The campaign manager, Jeff Weaver, has talked about an all-out effort to finish strong in the primaries and then persuade hundreds of superdelegates to flip their allegiance heading into the convention in Philadelphia. Another senior adviser, Tad Devine, has repeatedly hinted that Sanders might "reevaluate" his position after the Eastern states vote on Tuesday. Whatever Sanders does, expect Clinton to skip any criticism of her primary rival and focus her attacks on Donald Trump and Ted Cruz.
While the same five states are holding Republican primaries on Tuesday, the GOP candidates have already begun to look beyond the Northeast and toward the winner-take-all Indiana primary on May 3. In part, that's because Trump is heavily favored to sweep on Tuesday, with polls giving the front-runner a large lead over Cruz and John Kasich in Maryland, Pennsylvania, and Connecticut. But it's also because there aren't as many delegates up for grabs as you would think. Pennsylvania has 71 delegates, and all but 17 of them will go into the convention unbound regardless of who wins on Tuesday.
The big news on Monday was the announcement of a deal in which Kasich agreed to divert resources from Indiana in exchange for Cruz forgoing an aggressive push in Oregon and New Mexico later in the spring. The stop-Trump pact could help Cruz overtake Trump in Indiana, but it comes long after GOP bigwigs like Mitt Romney urged the candidates and their supporters to act strategically instead of allowing Trump to divide and conquer his way to the nomination. Nevertheless, Trump reacted angrily on Monday, first by accusing his rivals of "collusion" and then by making fun of the way Kasich eats.
The presidential contests on Tuesday will get most of the attention, but the more dramatic races are playing out in Democratic primaries for the Senate. In Pennsylvania, Katie McGinty has the support of the entire party establishment, including an endorsement from President Obama. But she is struggling to hold off the better-known former congressman, Joe Sestak, who defeated the late Senator Arlen Specter in a 2010 primary before losing to Pat Toomey. McGinty and Sestak are battling to take on Toomey again in a race that is key to the Democrats' chances of retaking the Senate.
In Maryland, Representatives Chris Van Hollen and Donna Edwards have been running against each other for nearly a year in a campaign to replace the retiring Senator Barbara Mikulski. Ideologically, the race is a reflection of the Clinton-Sanders fight. Edwards is a favorite of progressives while Van Hollen has a longer record of deal-making and is close not only to the Obama White House but to party leaders like Minority Leader Nancy Pelosi, a Baltimore native. The president hasn't endorsed in the race, but the White House intervened to defend Van Hollen against a super PAC ad that suggested he was soft on gun control. Polls since that flap have shown him pulling into the lead, so an Edwards victory on Tuesday would be a surprise. Whoever prevails is expected to capture the Senate seat easily in November, given Maryland's blue tilt.
As establishment favorites, both McGinty and Van Hollen should be helped by the strength of Clinton in Pennsylvania and Maryland—two big, diverse states that have favored her over Sanders and his grassroots army. The Republican establishment, on the other hand, should have a more disappointing night with the likelihood of a Trump sweep. On both sides, Tuesday's Eastern Primary is looking like a front-runners' night.