A Democratic Showdown in Brooklyn
Hillary Clinton and Bernie Sanders square off ahead of the crucial New York primary.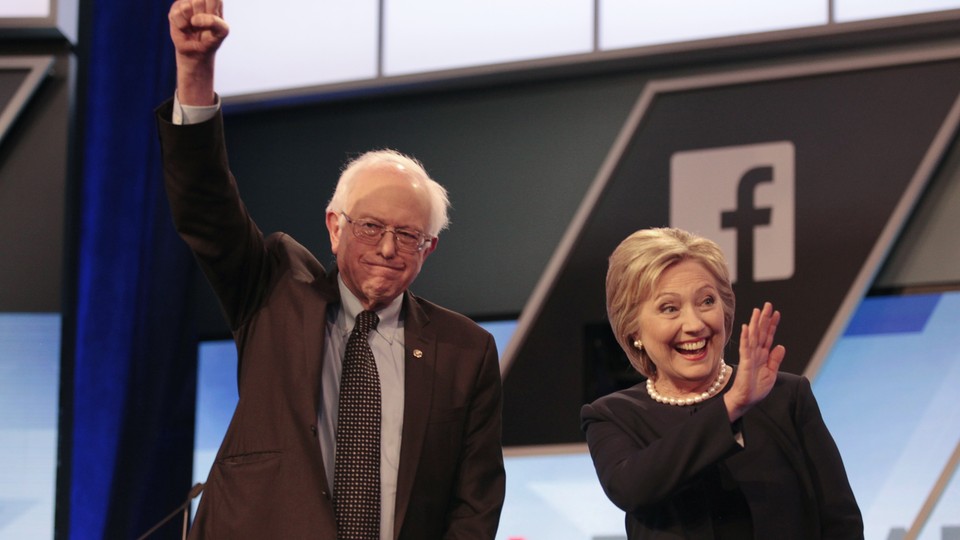 Expect a contentious debate on Thursday when Hillary Clinton and Bernie Sanders go head-to-head in Brooklyn in the wake of what may be the most intense sparring of the Democratic primary to date.
The debate is an opportunity for the rivals to make an impression on voters before the Empire State picks a Democratic winner in its primary on April 19, a critical contest given the vast number of delegates at stake (247 for Democrats, to be precise). Clinton and Sanders both have a claim to the state, Clinton as a former New York state senator and Sanders as a Brooklyn native. As a result, the candidates will likely trot out their ties to the state in hopes of endearing themselves to voters. (The dynamic prompted Time to ask: "Who is More New York: Hillary Clinton or Bernie Sanders?")
The debate—airing at 9 p.m. ET on CNN—could also get vicious. Tensions are running high between the two campaigns after a scuffle over who is more qualified to win the White House. It started when Sanders appeared to falter during an interview with the New York Daily News editorial board when pressed on policy specifics, including questions over how he would break up big banks. In the wake of that, Clinton was asked on MSNBC if Sanders is "qualified and ready to be president" to which she replied that the interview "raised a lot of really serious questions," adding: "You can't really help people if you don't know how to do what you are campaigning on." Sanders shot back in Philadelphia, saying: "I don't believe that she is qualified." As my colleague David Graham notes, Sanders's critique was more semantic than substantive since it rested on criticism that Sanders has leveled at Clinton for a while. Still, the comments put a far sharper point on the case Sanders has been making against Clinton, and demonstrated his willingness to escalate the attack.
Democratic debates have remained far more civil than the fight among Republicans. But there is real concern on the political Left that if the Democratic primary grows increasingly contentious it could prove difficult for the party to knit itself back together during the general election. The tone of Thursday's debate could indicate how far the candidates are willing to take their fight.
Sanders takes the stage on the heels of a string of recent primary wins, including victories in Wisconsin and Wyoming this month. Even so, the Vermont senator still lags behind Clinton in the all-important delegate race. He also faces a tough battle in New York where he trails Clinton in the polls. Thursday's debate could be Sanders's last chance to change that trajectory, arguably making the stakes for the evening considerably higher for him than for his rival.
For the most part, Clinton just needs to avoid making mistakes. But Clinton also has something to prove after coming under fire for a racially-charged skit she participated in with New York City mayor Bill de Blasio. Clinton has tried to cast off blame, but may be asked to answer for the controversy on stage. The incident is a reminder that any careless misstep could quickly put Clinton on the defensive, even with her polling and delegate lead, and powerful, New York establishment allies in her corner.
The amount of time Clinton devotes to attacking the Republican field, and in particular Donald Trump, will also be telling. Team Clinton undoubtedly wishes it could have dispatched with Sanders by this stage in the race in order to focus on the general election, but of course that hasn't happened. There are signs that the campaign is attempting a general election pivot anyway. In the lead-up to the New York primary, Clinton's campaign put out an ad hittin­­g Trump for his comments on Mexicans, Muslims, and women. The amount of time Clinton spends talking about her Republican rivals at Thursday's debate will shed light into how competitive her campaign views the Democratic primary at this stage in the race. It would also indicate that Clinton is increasingly setting her sights on the general election.