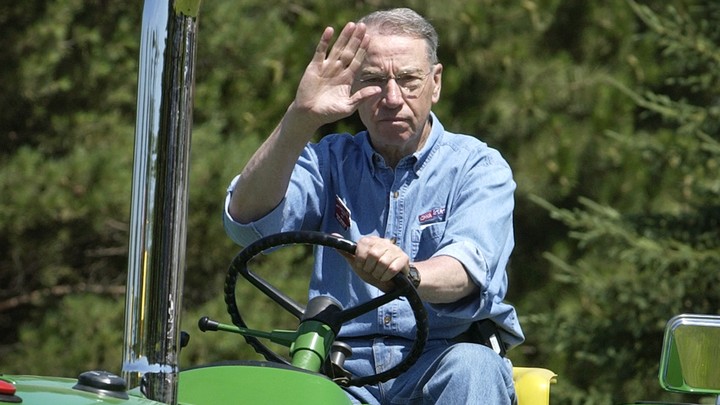 Republican Senator Chuck Grassley, Chairman of the Senate Judiciary Committee, met with President Obama's Supreme Court nominee Merrick Garland over breakfast in the Senate dining room on Tuesday, but it wasn't because he's had a change of heart. The purpose of the meeting, Grassley said, was to explain to Garland in person that he'd never get a formal job interview for the highest court in the land.
On February 13, hours after Justice Antonin Scalia died, Grassley joined Senate Majority Leader Mitch McConnell in pledging not to give a formal hearing to any Supreme Court nominee put forth by the president. "It only makes sense that we defer to the American people who will elect a new president to select the next Supreme Court Justice," he said. Ever since, Democrats have been haranguing him to change his mind. They think they can shame the traditionally moderate senator into flipping his position in the name of bipartisanship.
At the very least, they're hoping Grassley is damaged by the decision going into his November bid for re-election, where he'll be running against one of the four Democratic candidates currently vying for the chance to challenge him. The most well-known among them is Patty Judge, former lieutenant governor and state secretary of agriculture, who announced her candidacy largely as a response to Grassley's Supreme Court stance.
But Grassley has made it clear he isn't going to buckle on the issue, and it probably won't cost him the election, either.
Grassley thinks he can win in November because he's built up enough goodwill among Iowans. He's an 82-year-old Iowa fixture. He's held public office since 1959 when he was elected to the Iowa House of Representatives, and he's served nearly six terms in the U.S. Senate. This year he'll be running for a seventh. Grassley continues to be Iowa's most popular politician, earning between 65 and 70 percent of the vote in every single one of his re-election bids—an impressive feat in a state almost evenly split between registered Democrats, Republicans, and Independents.
"He's an effective senator, and traditionally he's also seen as more of a moderate," said David Peterson, a professor of political science at Iowa State University and the editor of Political Behavior. "He's not Ted Cruz. He's not [Oklahoma Senators] Coburn or Inhofe. He's generally seen as more thoughtful, less of a partisan, less of an ideologue."
Grassley hasn't missed a Senate vote since 1993, and he's known for responding to every letter, email, and phone call he receives. He's helped to pass several Farm Bills and been a fierce advocate for adjusting the federal farm payment program to support small farms, making him popular with conservative Iowa farmers.  He has a history of challenging executive agencies and advocating for transparency in government. In 1992, he wrote the production tax credit that jump-started wind energy in Iowa. Today, the Hawkeye State is the third-largest producer of wind energy in the country.
But perhaps even more importantly, Grassley has a reputation for being authentic. "He's got a folksy charm to him," Peterson said, "He's a relatively easy guy to like." Before this year, Grassley was known outside the state of Iowa mainly for his endearingly incoherent—and sometimes accidental—tweets, sent from an account he runs himself.
Work on farm Fri. Burning piles of brush WindyFire got out of control. Thank God for good naber He help get undr control PantsBurnLegWound

— ChuckGrassley (@ChuckGrassley) April 11, 2009
Fred and I hit a deer on hiway 136 south of Dyersville. After I pulled fender rubbing on tire we continued to farm. Assume deer dead

— ChuckGrassley (@ChuckGrassley) October 26, 2012
Windsor Heights Dairy Queen is good place for u kno what

— ChuckGrassley (@ChuckGrassley) November 3, 2014
(He later insisted he was talking about ice cream)
Grassley's constituents generally consider him to be something of an Iowan's Iowan. He's a lifelong corn and soybean farmer, and he spends several nights a week at his family farm in Butler County, regardless of whether the Senate is in session. Grassley mows his own lawn with a contraption he built himself by hooking three lawnmowers together to cover more ground. The man holds meetings in each of Iowa's 99 counties every year, a feat pundits have come to call the "full Grassley"—and a move Ted Cruz made a point to replicate before the state's presidential caucuses (which he won handily).
In 2014, Bruce Braley, a trial lawyer Democrat from Grinnell, Iowa, learned the hard way not to underestimate the senator's support. Braley ran against Joni Ernst for Iowa's open Senate seat after Democrat Tom Harkin's retirement in 2014. His campaign was a failure for many reasons —my colleague Molly Ball called it a "comedy of errors"—but Braley will be forever haunted by the remarks he made about Grassley during a speech to several out-of-state campaign donors. Braley said Grassley was unfit to serve as the chairman for the Senate Judiciary Committee, because he's "a farmer from Iowa who never went to law school." He subsequently lost to Ernst by 8.5 points, and 45 percent of Iowans pointed to the "farmer" remark as his biggest mistake.
Grassley isn't going to change his mind about Garland just because Democrats are demanding it. Rather, Grassley is going to stand firm, because he's much more afraid of taking heat from his fellow Republicans.
In 2008, an election year with another "lame-duck" president, Grassley argued against delays in the consideration of George W. Bush's nominees. ("The reality is that the Senate has never stopped confirming judicial nominees during the last few months of a president's term," Grassley said then.) But this time around, he can't operate on those same principles. "As long as the party is going to fight, that's [Grassley's] job as the committee chair," Peterson said. "It's hard to guess what his real preferences are when he's got to take this strategic position."
In 2009, he was part of the "Gang of Six" senators engaging in bipartisan discussions on healthcare reform. But he faced criticism for his efforts to reach across the aisle from other Republicans—both in the Senate and back home in Iowa. It was an election year, and he apparently decided he couldn't afford to be seen working with Democrats under the new Obama administration. By August, Grassley was telling constituents, "We should not have a government program that determines if you're going to pull the plug on grandma." In December, Grassley voted against the Affordable Care Act altogether.
He got a lot of flack from Democrats for the decision, and his approval ratings dropped to 54 percent in Iowa, not an objectively bad result, but the lowest of his career. But when November rolled around, Grassley easily hung on to his seat, with 64 percent of the vote.
Democrats could interpret this as Grassley buckling under pressure, but it seems more likely that the senator has learned that choosing party loyalty over bipartisanship turns out better in the long run.
And for the most part, that approach seems to have worked for him. A Des Moines Register poll taken from February 21 to 24, a week after Grassley announced he wasn't interested in holding hearings for any nominee for the Court, shows his approval rating at a solid 57 percent, with just 28 percent of Iowans saying they disapproved of him. It's not Grassley's highest rating, but it's well within his normal range.
"I don't sense that Republicans in general are turning away from Grassley, even if some of them disagree with him on this point," said Kathie Obradovich, a longtime political columnist for the Register. Even the oft-cited Joy Corning, a moderate Republican and a former Iowa lieutenant governor who has started an expensive ad campaign against the senator in the state, doesn't pose much of a threat. "She's hardly representative of Iowa Republicans in general," Obradovich said. "I imagine she has been disappointed in Grassley as often as she's been happy with him over the years."
Grassley also has the support of Iowa's Republican governor Terry Branstad, the longest-serving governor in American history who has been re-elected in the state for six-four-year terms. Branstad has been steadfast in his support of the senator, which is especially impressive given that Branstad and Garland are cousins. ("I'm proud of [Garland]," Branstad told the Register in March, "but I also respect and appreciate and support Senator Grassley in his position.")
Democrats will likely continue crying obstructionism and calling Grassley's actions "un-American." And it's true that Grassley will be facing a Democratic candidate in November who promises to offer him a run for his money—and will likely use his Supreme Court stance as a major point of attack. But the beloved Iowa senator isn't going buckle on this issue, because he's sticking with what he knows. And "if I were a betting man," Peterson said, "I would wager that he wins."
We want to hear what you think about this article. Submit a letter to the editor or write to letters@theatlantic.com.
Elaine Godfrey
is a staff writer at
The Atlantic
, where she covers politics.