County Jail, Inc.?
One sheriff's office is trying to make its holding facility run more like a corporation.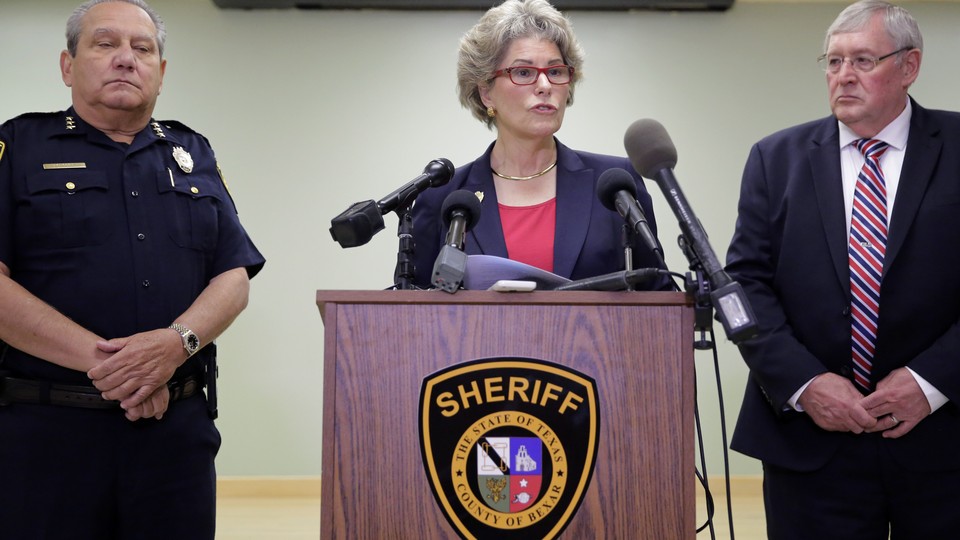 Running a jail is about much more than processing and housing people awaiting trial. At larger facilities, efficiency, personnel management, and resource allocation may mean the difference between swift and delayed justice. Now, some administrators are setting a new goal: making their jails run more like companies.
In Bexar County, Texas, home to San Antonio and the country's 16th-largest jail, Sheriff Susan L. Pamerleau is trying to do just that. "We were really in the stubby-pencil era, not only in terms of law-enforcement-records management, but also in basic pay and personnel issues," she said, recalling her post-election assessment of the organization she'd campaigned to lead. "They were still providing hundreds of paper checks for salaries to deputies and civilian employees." About 1,800 workers received their salaries "in little cubby holes, a sort of shelf unit, on the wall downstairs." Pamerleau became concerned about the potential for violating individual privacy and exposing the financial information of employees. "In two weeks, unless there was a very specific reason why not, every single person in the sheriff's office was getting a check direct deposited into their bank account," she said. The automated accounting system streamlined both payroll and recordkeeping.
What does having direct deposit have to do with running a jail? That initial change was easy and cosmetic, but it was just one of dozens of big and small adjustments Pamerleau set in motion to bring the organization up to date and improve how it served the county. This was a natural move for Pamerleau, who was the senior vice president of a Fortune 500 company and served in the Air Force for 32 years. But as Henry Reyes—the assistant jail administrator who has been with the sheriff's office for 16 years—put it, this "move towards professionalism … requires a shift in culture and a paradigm shift in how we run a jail." Pamerleau, Reyes, and other leaders in the department are "trying to teach our employees and the public that working in a jail or being in jail is not like what you see on television," Reyes said. "It's a career. We like our employees to stay here for the long term. When people are in our custody, we're not going to lock them up and throw away the key."
Operating the facility requires a complex and precise operation. On any given day, 3,600 adults are in custody, staying an average of 42 days; most leave within two years. With an annual operating budget of $135 million for 25 departments, the Bexar Sheriff's Office serves the fourth-largest county in Texas, which has 1.8 million residents. Its detention facility easily qualifies as a mega jail. It houses the equivalent of a small bank, which makes 200,000 transactions per year; a security-escort service, which transports 62,000 inmates between the jail and courts yearly; a 24-hour industrial diner, which serves more than 4.5 million meals per year to inmates and staff; a commercial laundry facility, which processes 43,000 items of clothing each year; a law-enforcement academy, which has graduated over 100 deputies; an archival library, which handled 325,000 phone calls in 2015 alone; and a part-time employment agency, which sent 2,500 to work in the laundry facility last year, for example.*
In 2014 the sheriff's office and county courts went through a review process, during which an independent organization looked at its pretrial processes, populations, and recidivism rates. The results were grim, including charges of "major bottlenecks in the booking after arrest processes," an "obsolete booking facility," failure to meet state guidelines on swift hearings, and deficient protocols for people with mental illnesses.
"They approached me to try to understand how to improve their pretrial services [and] intake systems," said Tony Fabelo, the research director at the Council of State Governments Justice Center, who led the assessment. "They have a different way of processing people than other counties. It makes them a lot less effective because they don't control the whole process." He said the initial study was just one part of an ongoing project to help improve operations. "We've been there four years, basically taking apart the system," Fabelo said. "We're in the midst of redesigning the whole intake process."
In 2015, the county government allocated $2.9 million for renovations, created a public defender's office, and established multiple specialty courts for arrested veterans, prostitutes, people who have drug or mental-health problems, and others. The number of incarcerated people declined. But, Fabelo said, there are "not a lot of people going through the specialty courts. The drug court is the biggest one, maybe 300 people per year." Crime rates stayed about the same as the previous year because the county's population grew significantly, according to Pamerleau, who responded to the increased number of crimes and car crashes by adding 22 patrol deputies. This year, the population in the jail has kept declining. "This is probably one of the lowest we have seen in a really long time," Reyes said. Part of the daily decline can also be attributed to the mental-health diversion initiative of the sheriff's office, which conducts mental-health screenings at the point of arrest and connects people with appropriate services instead of sending them to jail. "They were not screening people for mental health early in the process. They were missing thousands of people who could have been diverted into mental-health services," Fabelo said.
Quality of life in the jail has also improved. Guards got radios. Staffers set up for a bookless-library program for incarcerated parents to use with their children. Families will soon be able to visit inmates via video screens, and they can now make appointments in advance to cut down on wait times that sometimes stretch to eight hours, Reyes said.
Manuel Longoria, the second in command at the facility, said "technology, without a doubt" has created the most important changes. The county has spent $14 million dollars on hand-held and worn devices and two new patrol stations. He said response times have been cut from 13 to 10 minutes and hopes for more improvements. Body cameras have also "had a great impact," Longoria said. "We've been able to cut down on complaints on deputies. We have been able to document incidents to provide evidence in court in DWIs." The response from his team so far has been mixed. "Traffic deputies do like it. Some welcome it," he said. "Some are a little hesitant because they have not tried them."
In the midst of this push toward efficiency, the office has faced harsh critics who cite a decline in morale due to mandatory overtime for jail guards. Ahead of the November 1 elections, a deputies' association has called for a no-confidence vote in the sheriff, citing long workday hours for officers. Pamerleau has said she added 49 new detention officers in 2015, bringing the total to 869, and requested $500,000 from the county to pay for overtime that year. When she came onboard in January 2013, she said, "We were running 15 and 16,000 hours of mandatory OT a month." By the end of that year, the hours were down to about 7,000 per month. Her opponents, she told one newspaper, "just don't have the data."
There have also been public revelations of unlawful conduct among officers in the last two years. One deputy was arrested for credit-card abuse and theft after charging nearly $3,000 to an inmate's card without consent. Another was arrested for driving while intoxicated. One was charged with sexually assaulting a female inmate. A total of 14 detention officers were arrested in 2015. Twelve were terminated and two have not had a court hearing yet, according to the sheriff's office.
Despite the setbacks, the office is in the final stages of a complete update to its digital fingerprinting and facial-identification systems. In the past, officers would have recorded an incident in a Word document or a handwritten report. "Nothing went into a relational database from which we could do data analysis," Pamerleau said. "These incident reports, in triplicate, were piled up on the corner of a desk and had to be taken from the patrol substation on the south side of the county to our central records here." This caused unreasonable delays: An automobile accident report for an insurance claim would take as much as three weeks to process. If the criminal-investigation division was working on a case, or if patrol deputies saw a suspicious vehicle at the scene of a crime, they had no ability to check existing records while out in the field.
The Bexar County Sheriff's Office has set its sights on eventually earning American Correctional Association accreditation. "That's a long-term commitment, and we believe that that is the way to go," Pamerleau said. She has sent 21 detention lieutenants and captains to enhanced leadership seminars. Two lieutenants went to the FBI's national academy for specialized training. "The move toward professionalism affects the way our staff interacts with inmates and the way our staff interacts with each other," Reyes said.
As with any company, though, the true measure of the initiatives will ultimately be in the numbers. Can it continue decreasing the population of inmates? Can it lower the recidivism rate in the process? These measures will test whether a jail can successfully be viewed and managed as a service to a population, rather than a place for doling out punishment.
---
* This article originally misstated the number of meals Bexar County jail serves each year; the facility produces more than 4.5 million meals annually for inmates and staff. We regret the error.