The Future of Bernie Sanders's Grassroots Army
Will fans of the Democratic presidential candidate succeed in creating an enduring political movement?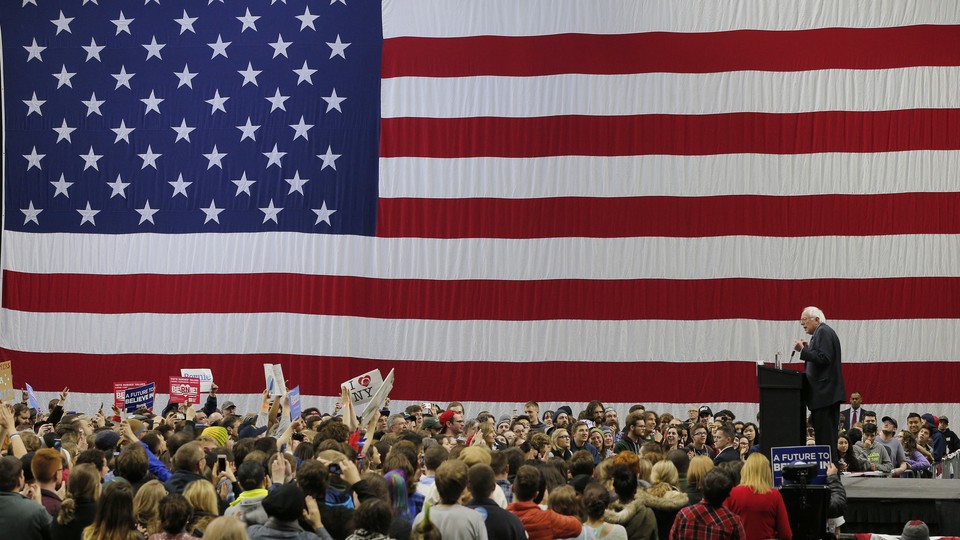 Bernie Sanders's fight for the White House is far from over. The Vermont senator has notched a series of state wins and vowed to stay in the presidential race despite trailing Hillary Clinton in an all-important battle for the delegates needed to secure the Democratic nomination. Even so, many of Sanders's loyal fans have started to contemplate what will happen when the campaign comes to an end.
Die-hard supporters are anxious to ensure that the grassroots army of volunteers and small-dollar donors mobilized by the campaign doesn't dissipate once the dust settles on the 2016 election. At least some are openly talking about what can be done to channel the enthusiasm whipped up by the campaign into a political movement with staying power.
"There is definitely a danger that people that are excited will lose momentum when we either win, or we don't win, so we need to start thinking about that now," said Maria Svart, the national director for Democratic Socialists of America, an organization that backs Sanders and has spent thousands of dollars to support him. "There needs to be something long-lasting that comes out of this. We just don't know what it will look like yet."
It won't be easy to keep people interested and engaged after the election. Laying the groundwork while the primary is still in full swing for political machinery that can push a progressive agenda might be the best way to capitalize on the success of the campaign.
If Donald Trump or Ted Cruz wins the White House, a well-organized contingent of progressive activists could act as an opposition force. If Clinton wins, the same political network could be activated to push her further towards the political left. Even in the long-shot scenario of a Sanders win, a strong grassroots movement might be needed to pressure Congress to embrace his agenda. No matter what happens, an engaged grassroots could help elect like-minded candidates in state and local races.
A conversation over the future of Bernie's grassroots army is already playing out in public view. Erik Forman, a Bronx high school teacher, union activist and Sanders supporter, recently published a letter on Medium urging the candidate to think about how to create a lasting political movement out of the campaign. More than a thousand people have so far signed on. "My hope is that this is the beginning, and not just a flash-in-the pan presidential campaign around one very adorable 74-year-old socialist," Forman said.
A number of progressive organizations backing Sanders are planning to convene a summit in Chicago this summer before the Democratic national convention in July. "When he is no longer competing for primary votes, when that happens, all the people who have been killing themselves phone banking and canvassing and donating, they're going to be like, 'okay now what?'," said Charles Lenchner, the co-founder of pro-Sanders group the People for Bernie Sanders. "I would like us to come out of that summit with a very clear idea of how we're going to push for concrete victories regardless of who the nominee is."
Still, any discussion of the future that plays out in public risks sparking disagreement that could fracture the movement. Efforts by Sanders allies to plan for what comes next while the campaign focuses on winning states and delegates could lead to a mutually-beneficial division of labor. But if the campaign feels that forward-looking talk is turning into a distraction, or dislikes the ideas put forward, that could cause friction. (The campaign did not offer comment for this story). It could also open supporters up to criticism that they aren't channeling every ounce of available energy into helping Sanders win the White House.
"I think there's a really interesting tension that is completely natural that you can already see between the Sanders campaign and the independent support for Sanders," Svart commented. "Bernie definitely supports a long-term movement, but when you're a candidate or working for a candidate you basically have one real core goal and that's to win."
Then there's the question of where Sanders fits into a long-term vision for the future. It's not clear that Sanders would want to act as a leader of any kind of institutional movement. The idea of the senator as a political powerbroker could also clash with his populist anti-establishment image.
It's hard to say how effective any political movement that emerges from the campaign would be without Sanders at the helm. Sanders insists that politics and elections should focus on the issues, and not on the personalities of the candidates. But the senator has nevertheless won converts by sheer force of personality, and it's not easy to lead a political revolution without a charismatic leader.
"You want to know that you're part of a big picture movement for the country. That's easy to explain when you have a presidential candidate at the top," said Charles Chamberlain, the executive director of Democracy for America, a progressive organization that emerged out of the ashes of the Howard Dean 2004 primary campaign and has endorsed Sanders. "Once there's no longer a presidential candidate at the top, it's going to become even more important that the revolution builds a strong community. "
In the end, many of the groups that have supported Sanders might prefer to forge their own path rather than be led by him. Still, it could be a difficult balancing act for some organizations to affirm support for Sanders, while at the same time explaining to the public that they stand in support of far more than a single candidate's presidential campaign. For now, many of the conversations among Sanders loyalists over what happens after the White House run ends—whether that's in victory or defeat—will likely take place out of the public eye. Some, however, will surely continue to spill out into the open.