The Beginning of the End for Bernie 2016?
"Hundreds of staff members" will reportedly be laid off by the campaign in the wake of recent primary-contest defeats.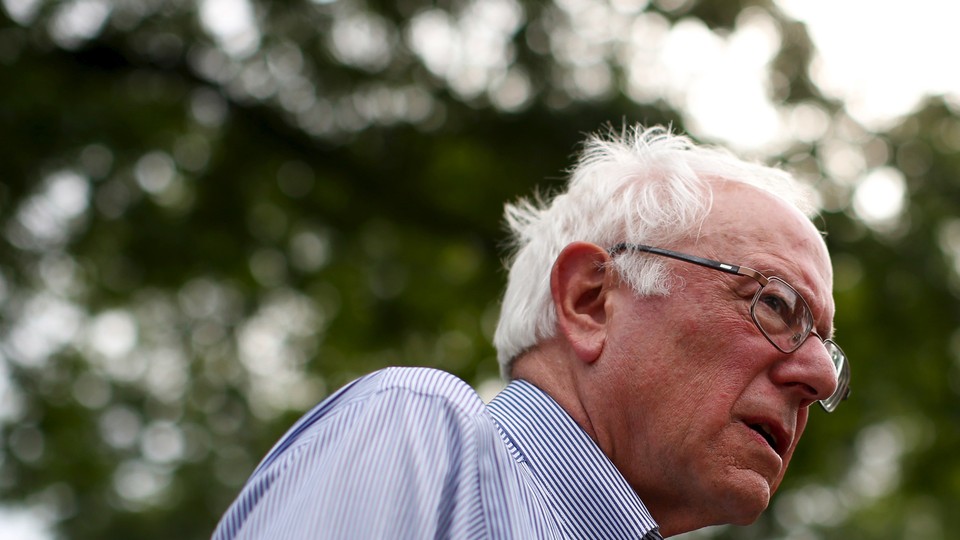 Things are looking grim for Bernie Sanders. The Democratic presidential candidate told The New York Times on Wednesday that his campaign plans to lay off "hundreds of staff members" as the campaign shifts resources to California, which holds its primary contest in June.
The news arrives less than 24 hours after Sanders suffered a series of defeats against Hillary Clinton in Northeastern primary contests. Any path to the nomination now looks highly implausible. As Sanders faces an ever more difficult fight, his fundraising may also start to dry up. In his interview with The Times, however, he said his campaign's fundraising is not suffering. "We are doing well, and it continues to be very strong," he said.
Sanders pointed out in the interview that a majority of states have already held primary contests, offering that as rationale for the layoffs. He also emphasized that the campaign plans to compete in remaining contests. "We want to win as many delegates as we can, so we do not need workers now in states around the country," Sanders said. "We don't need people right now in Connecticut. That election is over. We don't need them in Maryland. So what we are going to do is allocate our resources to the 14 contests that remain, and that means that we are going to be cutting back on staff."
In the wake of Tuesday's primary losses, the Sanders campaign signaled a shift in strategy. The senator vowed to stay in the race "until the last vote is cast" in a statement late Tuesday evening, but added that he will "fight for a progressive party platform" at the Democratic National Convention this summer. This seemed to suggest that Sanders's best shot at changing American politics is now pressuring the party to adopt his priorities, rather than winning the White House.
The campaign is doing its best to remain upbeat. "We are in this campaign to win," Sanders told an Indiana crowd on Wednesday, though he immediately acknowledged that it's possible he will not make it to the White House. "If we do not win, we intend to win every delegate we can, so that when we go to Philadelphia in July we are going to have the votes to put together the strongest progressive agenda that any political party has ever seen," he added.
A Sanders spokesman, Michael Briggs, suggested in a statement that the staff cuts are nothing out of the ordinary. "Our campaign has now completed 80 percent of the primaries and caucuses," he said, adding, "That means that we no longer require many of the loyal and dedicated state and national support staffers who helped us in places like New York, Connecticut, Rhode Island, Maryland, Delaware, Pennsylvania and other states where the nominating contests have been completed." The statement added that the campaign will "continue to have a strong and dedicated staff of more than 300 workers who are going to help us win in California and other contests still to come."
The Sanders campaign has proven remarkably successful in bringing in small-dollar donations over the course of the race. But it's easier to motivate donors when they believe their money will have a real impact. If it seems like the race is no longer competitive, those donations tend to run out, and that may be exactly what is starting to happen. The Sanders campaign did not respond to a request for comment on whether fundraising has taken a hit. Still, even if the layoffs are not an indicator of money troubles, it will likely be harder to raise money as the campaign's prospects grow increasingly dim.
Sanders has drawn massive crowds on the campaign trail and raised millions of dollars. If that support evaporates in the wake of primary-contest defeats, it will be much more difficult for the Vermont senator to translate the gains he has made on the trail into tangible influence on the Democratic Party or Clinton's eventual presidential platform. To do that, he'll need his loyal followers to stand by him. He'll need their money too.