Bernie Sanders Gets His First Senator
Jeff Merkley of Oregon gives the Democratic candidate his endorsement in the presidential primary race.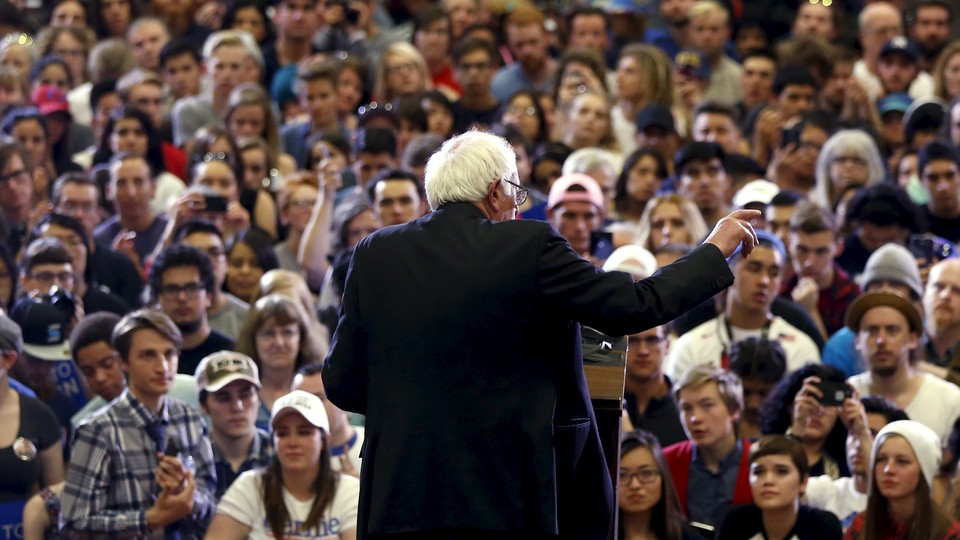 Bernie Sanders just got some good news from an unlikely place—the political establishment.
Senator Jeff Merkley, a Democrat from Oregon, endorsed Sanders's presidential bid in a New York Times op-ed on Wednesday. The endorsement makes Merkley the first U.S. senator to throw his weight behind the self-described Democratic socialist candidate. "It doesn't feel lonely, it just feels right," Merkley said of the endorsement in an interview. "Bernie Sanders has been a continuous, clear voice fighting for ordinary people," Merkley said, adding: "I think we need to fundamentally change the system that has been so deeply moving towards consolidation of power by the very few."
When members of the Washington political class endorse Hillary Clinton, it's expected. When it happens for Sanders, it's a surprise. Sanders trails behind Clinton in endorsements from members of Congress and governors, a FiveThirtyEight tally shows. Sanders loyalists argue that the lopsided count is proof of Clinton's cozy ties to the political establishment. Yet although Sanders fans might disparage Clinton's endorsements, they have loudly celebrated endorsements collected by Sanders, and are sure to cheer this latest show of approval from the ranks of official Washington. The endorsement also stands as a reminder that while Sanders may be a political outsider compared to Clinton, he, too, is part of the political establishment.
A relative lack of endorsements may even have bolstered Sanders's image as an upstart challenger in the Democratic race. "I suspect his team would say they would welcome more endorsements, but maybe there has been a silver lining there," Merkley conceded.
Clinton has locked up most of the Senate's political support. Slate's Josh Voorhees explains:  "Of the 44 Democrats in the Senate, 40 have already endorsed Clinton. (Sanders and Maine Sen. Angus King, both of whom caucus with Democrats, were elected as independents.) But Merkley, one of the most liberal members of the Senate, is not up for reelection again until 2020, which likely gave him a little more leeway to break with the pack and side with the clear underdog in the race."
There might have been more institutional support for Sanders if lawmakers had waited longer to endorse. "I think in this particular year, many political leaders endorsed very early before it became clear that Bernie Sanders was running a competitive, viable campaign," Merkley said, adding: "Had people waited until later in the year we might have seen a different distribution of endorsements. I think many people who felt that they resonated deeply with Bernie didn't anticipate that his campaign would become as successful as it has."
Sanders may have had less luck than Clinton in securing endorsements, but there's a handful of lawmakers who have backed his White House bid. Raúl Grijalva, a Democrat from Arizona, has been an outspoken defender of the 74-year-old senator. Representative Tulsi Gabbard, a Hawaii Democrat, made waves in February when she left her post at the Democratic National Committee to endorse Sanders. Merkley, Grijalva, and Gabbard, like other Democratic members of Congress, are superdelegates. Their support for Sanders not only conveys confidence, it also helps him narrow the gap with Clinton in the delegate race, even if only slightly.
Despite his decision, Merkley had plenty of kind words for Clinton. The senator praised Clinton's "remarkable record" in his op-ed, writing: "She would be a strong and capable president." This is politics after all, and Merkley clearly doesn't want to alienate the eventual Democratic presidential nominee, whoever that may be.
In the end though, Bernie's calls for political revolution seem to have been more enticing.
"As we look toward the next administration, there is far more work to do," Merkley wrote. "We need urgency. We need big ideas. We need to rethink the status quo." He went on to laud Sanders for "boldly and fiercely addressing the biggest challenges facing our country." Merkley cited the senator's opposition to international trade deals, and calls to action to address global warming and reform campaign finance as reasons for his endorsement.
Sanders has won a series of state victories in recent months as the presidential primary race drags on. He still lags behind Clinton, however, in the race for delegates. Endorsements or not, Sanders continues to face an uphill battle in his effort to secure the Democratic nomination.