Bernie in the Bronx
Can Sanders stun Hillary Clinton in the state they've both claimed as home?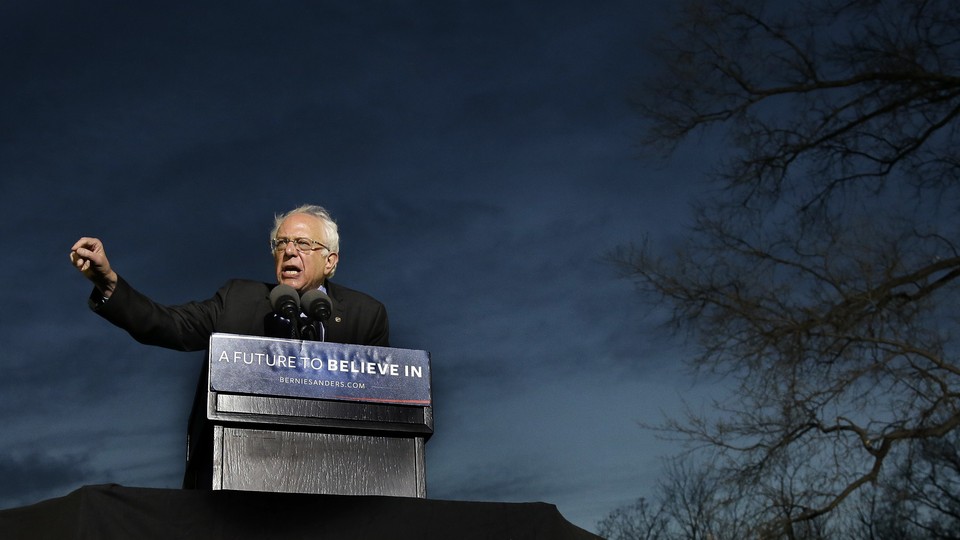 BRONX, New York—Mercer Jabul sat quietly at the very top of a hill at St. Mary's Park, huddled underneath a hooded white coat as she waited, with an estimated 18,500 others, for Bernie Sanders to arrive in the South Bronx. A black woman in her 60s, Jabul is devoted to Sanders and said she has plans to vote for him in New York's April 19 primary. But she wasn't positive she was going to vote at all. It had been quite a while.
"I haven't voted since Mayor Lindsay!" she told me. That would be John Lindsay, the long-ago New York mayor who made unsuccessful bids for president and Senate. He left City Hall in 1973, and the last time he appeared on a ballot was 1980. He died in 2000.
Jabul is a retired social worker who grew up in Harlem and now lives on the Lower East Side of Manhattan. Part of her affinity for Sanders stems from the fact that she has seen him more than most New Yorkers in recent years: She owns a second home in Vermont. "Bernie hasn't changed for decades," Jabul said. "He's just a fighter."
If she makes her long-awaited return to the voting booth, it'll be for Bernie, "or Trump," she told me, "to let the whole system implode." But not Hillary  Clinton. "Definitely not Hillary Clinton at all. Never Hillary Clinton." Jabul's list of grievances with the former New York senator is long—from her "pandering to black people," her start as a Goldwater Girl in the 1960s, her past support for three-strikes-and-you're-out incarceration policies, and the Libya tragedy, which occurred "on Hillary's watch."
It would be difficult if not impossible to gather 18,000 people for a rally in the Bronx and not have it called diverse. Compared with Sanders's base of young, white college kids, this event was unrepresentative just by how representative it was. "There's this whole talk about the Bernie Bro. I just don't see it," joked the campaign's state director, Nadya Stevens, as she warmed up the crowd. "Apparently, all of you are white," the actress Rosario Dawson said to cheers. "There must be something wrong with my eyes."
Certainly not everyone there shared Jabul's visceral distaste for Clinton, and many Sanders supporters said they would vote for the former New York senator over Donald Trump if it came to it. But this was no undecided crowd. The thousands who gathered around the main stage in St. Mary's and the thousands more who stood in an adjacent overflow area were not there merely to get a look, to size up a political curiosity. They were all in for Sanders, chanting his name and frequently booing Clinton's.
"She's not honest," said Tracy Moore, a 25-year-old Afro-Cuban New York University graduate who lives in the Bronx. "People in communities like this can't trust her." Moore said she was unemployed and described herself as politically apathetic before this election. "I love how authentic he is," she said of Sanders. "He seems like the old man in his kitchen who will bang his hand on the table and really talk about these issues."
Others in the crowd looked and sounded more like the young, white, politically liberal, and economically distressed voters who have helped propel Sanders across the country. Jessica Moisa, 28, is a waitress who works two jobs on Long Island, both of which pay less than the minimum wage and offer no benefits. "It's really a no-brainer," she said. "He's the only one who actually cares about the real issues." Clinton, Moisa said, was "a puppet. I don't think she cares about changing any real problems." She was at the rally with, Brett Polera, 22, a student at Suffolk Community College who noted that Clinton was "under investigation" and repeated a Trump canard that she "might not be allowed to run." "I don't know exactly what's true," Polera said.
* * *
When Sanders made it to the stage shortly after 7 p.m., he followed Dawson, Spike Lee, and the Grammy winner Residente. His voice was hoarse—he had actually spoken first to the overflow crowd down the other side of the hill. He paused frequently to gulp from a bottle of water, and each time the crowd chanted his name, as if doing so would keep Sanders from losing the rhythm of his speech. "I am, as you know, the very proud United States senator from Vermont," Sanders began, "but I am very proud that I was born here in New York City." The crowd roared.
Sanders often sounds as if he's on autopilot, and his fans have taken to finishing his most famous lines. Thursday night was no different. The South Bronx wanted to hear the classics, and Sanders gave it to them. "What this campaign is about is creating a political revolution," he said. "You are the heart and soul of this revolution." He mentioned the unacceptably high asthma rates among children in the Bronx, and he made sure to beef up his sections on criminal-justice reform and immigration. But the speech was pretty much the one he has given dozens of times before. When he talked up his pledge for a $15 minimum wage, he cited California and the many cities that had passed it into law. He didn't bother to note that New York was on the verge of doing the same. Sanders did catch himself when he told the New Yorkers, as if they weren't already aware, that Goldman Sachs was "one of the largest financial institutions." The crowd booed loudly. "I gather you know about Goldman Sachs," Sanders joked.
It's no surprise that the Sanders campaign is aggressively contesting New York. Trailing Clinton by a significant number of delegates, he can't afford to cede any more states, and the Empire State's 247 delegates (allocated by congressional district) are one of the biggest hauls remaining. Sanders put the stakes in stark, if somewhat exaggerated, terms on Thursday night: "If we win here in New York," he said, "we are going to make it to the White House."
As a former senator, Clinton has the more recent and substantive claim of favorite-daughter status in New York. But Democrats in the state have veered away from the establishment since she left the Senate. In 2013, Bill de Blasio upset City Council Speaker Christine Quinn to become New York's mayor, and the following year, Zephyr Teachout captured a surprising 34 percent of the vote against incumbent Governor Andrew Cuomo in the Democratic primary. A Quinnipiac poll released on Thursday showed Clinton up by 12, a much narrower margin than earlier surveys.
The Clintons have spent the week fortifying what they hope is a New York firewall. The campaign released an ad targeting Trump and celebrating the state's diversity and inclusiveness. And while Sanders is banking on younger and disengaged voters to swamp the polls, Clinton is enlisting the party regulars and doubling down on her establishment support. A day after Hillary Clinton rallied with Chuck Schumer and Charlie Rangel at the Apollo Theater in Harlem, Bill Clinton hit four separate union halls in Manhattan to mobilize a labor-backed voter-turnout machine.
The Clinton campaign has been masterful at playing the expectations game in previous primaries and caucuses. But the former president dispensed with all that spin in New York. Losing here is perhaps the only thing that could reverse the trajectory of a primary campaign that remains strongly in Hillary's favor, and Bill Clinton made clear it was a state she had to have. "The New York primary and the psychological impact it will have on the rest of the country and the rest of this race is not..." he said before trailing off during a speech to the Building and Construction Trades Council. "I can just tell you that, for her, it will mean more than you will ever know."
The contrast between the crowds that Bill Clinton addressed in Manhattan and those that Bernie Sanders spoke to in the Bronx could hardly have been greater. Collectively, the union workers in Manhattan were racially diverse—mainly African American and Latino women at the Service Employees International Union's Local 1199 and older white men in the trades council. But they were there for marching orders, not inspiration. Clinton dug into the details of health-care policy, immigration, and banking reform. And he grew frustrated at the thought that Democrats didn't appreciate the differences between Sanders and his wife. "It really matters. The details matter," he told SEIU, jabbing the lectern with his fist. "I know people think they don't, but they really do."
The "enemy" in New York, Clinton said, was turnout. Because the state only holds a presidential primary in the spring, not as many people show up as would if local and congressional races were also being decided. In 2008, New York's record primary turnout was still far lower than it was in Illinois, despite its vastly larger population. "We have to work to make people understand that this is an important race," he said.
* * *
There are times when the Clinton-Sanders divide seems quite simple, and no different in New York than anywhere else. Clinton supporters like Juanita Perkins, a 59-year-old from Harlem, believe in her pragmatism and worry that Sanders is offering things that he can't deliver. "When you're young, a lot of promises sound good," Perkins told me. But what Sanders doesn't often talk about is exactly how he expects to get his ideas through Congress. "I just don't want to put our eggs in that basket and get disappointed all over again," Perkins said.
Sanders's supporters, by contrast, are more likely to believe they'll be disappointed either way. "No matter what politician makes it in, it's going to be difficult," Brett Polera said. And then there's Mercer Jabul, who just might actually cast a vote for Sanders, even if she isn't sure he can achieve the change she's seeking. "I want to see him make the fight," she said. If nothing else, "he would raise the political consciousness of this country."
---
Related Videos