Bernie Sanders and the Unsung Struggle for Civil Rights in the North
In the mid-1960s, Chicago became the most important test case for implementing civil-rights legislation to prohibit school segregation.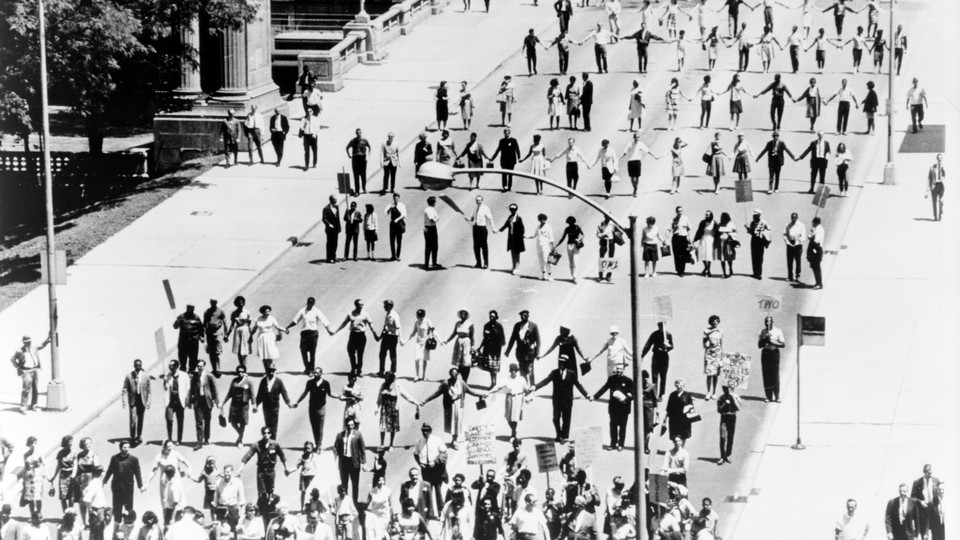 In August 1963, 21-year-old college student Bernie Sanders was arrested during a school segregation protest in Chicago. Sanders joined hundreds of demonstrators, most black parents and students, in protesting the installation of mobile classrooms to relieve overcrowding at black schools without transporting black students to white schools with open seats. Protestors barricaded the proposed construction site, and some physically blocked construction trucks and police cars. A new Sanders campaign advertisement features recently discovered video footage and a photograph of his arrest at this protest over five decades ago. "When I saw Bernie Sanders getting arrested for protesting segregation it was powerful," actor and activist Danny Glover says in the ad. "The presidential candidate that has put himself on the line to be on the right side of history. I think Bernie is one of us. I think Bernie is with us."
Sanders's civil-rights record has been a subject of debate during this year's presidential campaign, and this school segregation protest is the most visible evidence of his activism. More important than strengthening Sanders's credentials among black voters, his 1963 arrest is a window into the civil rights movement in the North and highlights a little-known turning point in the history of civil rights and education equality. The fights over segregation in Chicago are not as well known as the battles in Little Rock or Selma, but in the mid-1960s Chicago became the most important test case for implementing civil-rights legislation that prohibited school segregation.
The protest in which Sanders participated was part of a decade of civil-rights activism designed to force Chicago to address school segregation in the city. The demonstrations escalated in 1963 and included a massive "Freedom Day" school boycott organized by the Coordinating Council of Community Organizations (CCCO), a civil-rights coalition including the National Association for the Advancement of Colored People (NAACP), the Urban League, black and white parents, and the Congress of Racial Equality (CORE), the organization with which Sanders was affiliated. Over 220,000 students (47 percent of total enrollment) stayed away from public schools on October 22, 1963, with many attending Freedom Schools at churches and community centers.
After months of school protests and boycotts, CCCO filed a formal complaint in July 1965 with the U.S. Office of Education charging that the Chicago Board of Education had violated Title VI of the Civil Rights Act of 1964. Title VI gave the U.S. Department of Health, Education, and Welfare (HEW) the authority to withhold funds if school districts failed to comply with rules against discrimination, and as federal funds came to constitute a larger share of local school budgets, the threat of withholding significant sums of money added a material cost to resisting school desegregation. In Chicago, for example, federal aid to schools increased from $372,000 in 1954 to $47.5 million in 1966. Title VI gave federal officials a new weapon to compel school districts to end school segregation, and Chicago was HEW's first test case outside of the South.
In their complaint to federal authorities, the CCCO showed that 81 percent of elementary schools and 73 percent of high schools were racially segregated, with 90 percent of black students attending segregated schools. These blacks schools were more overcrowded, had a higher percentage of noncertified teachers, and had fewer honors classes than white schools. The CCCO presented their case in no uncertain terms: "The Chicago Board of Education has deliberately segregated the city's public school system," the CCCO report began. "Neither segregation nor integration just 'happens.' Each is deliberately stalled or prevented. The school board, acting under advice of its general superintendent [Benjamin Willis], pursues a deliberate policy of segregation." After HEW's investigations supported these findings, the agency announced the city's application for $30 million as part of Elementary and Secondary Education Act would be deferred under Title VI. Al Raby, a Chicago native and former teacher who emerged as CCCO's leader, called the decision "the first crack in school segregation in Chicago."
News of the federal fund withholding topped the front page of the Chicago Tribune ("City School Aid Halted"). The Tribune quoted U.S. Congressman Roman Pucinski who called the decision "arbitrary, capricious, unjustified, and a violation of the Civil Rights Act itself." Mayor Richard J. Daley, one of the nation's most powerful and influential politicians, conveyed his anger directly to President Lyndon Johnson when both men were in New York on October 3 for an immigration bill signing. The next day at the White House, President Johnson told Francis Keppel, who oversaw HEW educational policy as U.S. Commissioner of Education, that he wanted HEW to settle the Chicago issue as quickly as possible.
On October 5, HEW undersecretary Wilbur Cohen flew to Chicago to negotiate a settlement with school board president Frank Whitson. Under the terms of the agreement, HEW released the funds and withdrew its investigators until the end of the year. In exchange the school board only had to agree to investigate school attendance boundaries and reaffirm two policies regarding trade schools and apprenticeship programs.
HEW's abrupt reversal in Chicago reverberated locally and nationally. Representative Pucinski described the decision as "an abject surrender by HEW—a great victory for local government, a great victory for Chicago." The New York Times saw the Chicago fund case as "a singular instance of a northern city's cry of 'states rights'—more precisely, 'city's rights'—to defeat a Johnson Administration strategy." For New York Congressman Adam Clayton Powell, Chicago "represented the first abject surrender to the principle that separate but equal is wrong in the South, but acceptable in the North—particularly if a city can muster enough Northern politicians and educators with a segregationist mentality to practice this shameful hypocrisy."
For HEW, Chicago ended discussions of using Title VI to eliminate so-called "de facto" segregation and significantly limited federal investigations of school segregation outside of the South. Ruby Martin, who later directed the Office of Civil Rights of HEW, described Chicago as a "tremendous setback" for HEW. After Chicago, she said, "We made a conscious decision—some people call it a political decision—not to take on any large school districts…because our resources are limited. You can get involved in a large city for two years and come out of it bloodied, bruised, and scarred, and nothing [is] going to change the situation." For school officials, politicians, and civil-rights advocates in other Northern cities who were following the case, the lesson from Chicago was that federal authorities did not have the resources or political will to combat school segregation in the North. Chicago's Benjamin Willis was the nation's most influential school superintendent in this era. His near absolute resistance to civil rights, in the face of public protests and federal investigations influenced what school officials in cities like Boston, Detroit, Los Angeles, and San Francisco felt was necessary or required to satisfy federal civil-rights standards. HEW's surrender in Chicago encouraged school officials and politicians in cities to maintain positions of resistance and noncompliance with regard to school desegregation, while it led black parents and students to doubt that any federal authority could successfully address their concerns.
In 1979, HEW finally released a statement charging that since 1938, Chicago's school board had "created, maintained, and exacerbated…unlawfully segregated schools system-wide." This charge of intentional segregation validated the complaints made by civil-rights advocates over the previous 20 years. The 1979 HEW statement again faced a resistant school board and lack of federal support, especially after the Reagan administration reorganized HEW into Human Services and shifted what little civil-rights enforcement there was to the Justice Department. In 1983, a U.S. district judge approved a consent decree between the Chicago school board and the Justice Department that called for majority-white schools to have at least 30 percent minority enrollment and for increased use of magnet schools to encourage voluntary integration, but did little to improve educational opportunities at the city's remaining all-black or majority-minority schools. Today, Chicago's schools remain among the most segregated in the country in terms of race and socio-economic status. Over 85 percent of black students attend schools that are at least 90 percent black and Hispanic, and nearly 70 percent of black students attend school that are at least 90 percent black. African-American parents, students, and teachers in Chicago today are fighting against school closures in black neighborhoods and corruption among Chicago Public School officials.
It is great that Democratic voters are debating the civil-rights records of Bernie Sanders and Hillary Clinton and that more people now recognize that civil-rights activists were organized, creative, and persistent in the North as well as the South. More importantly, the history of civil rights and school segregation in Chicago, of which Sanders's 1963 arrest is a part, makes it clear how far America must still travel to achieve equality.