'Ban the Box' Goes to College
When schools ask applicants about their criminal histories, a veneer of campus safety may come at the expense of educational opportunity.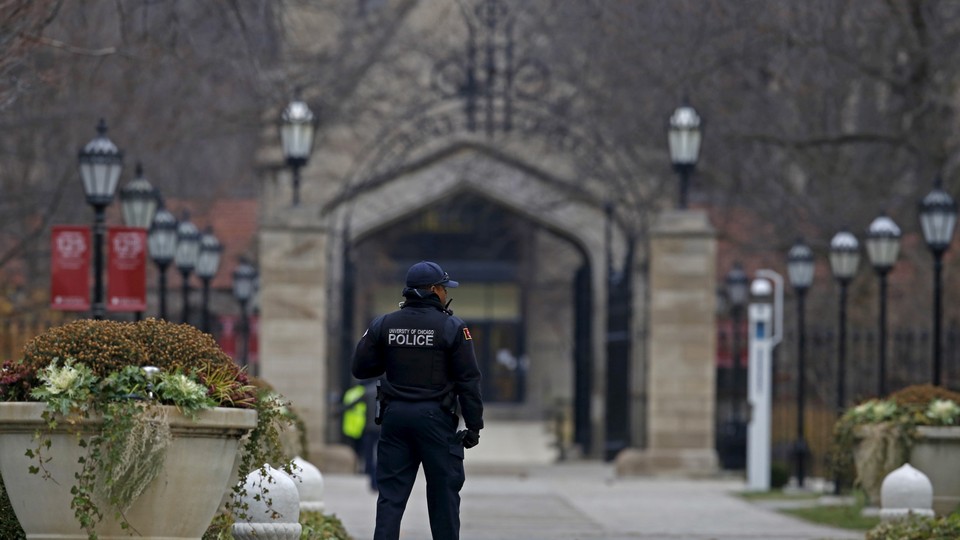 The long-running "Ban the Box" campaign is now gaining ground at colleges and universities. The movement aims to protect job, and now student, applicants from being asked about their criminal histories and was recently bolstered by President Obama, who is taking executive action to ban the practice at federal agencies. Campus officials say the background question helps them learn as much as possible about prospective students and allows them to take steps to keep everyone on campus safe. But opponents say the question—which requires prospective students to check a box if they have criminal histories—is an undue barrier that harms certain groups of students.
Some colleges routinely ask an optional criminal-background question; some schools are compelled to ask it by the state in which they're located; and, whether intentional or not, more than 600 colleges and universities ask simply because they use Common App to streamline the admissions process. This year, 920,000 unique applicants used Common App to submit 4 million applications, or 4.4 applications per student, according to the organization. The criminal-background question that Common App asks is:
Have you ever been adjudicated guilty or convicted of a misdemeanor, felony, or other crime? Note that you are not required to answer "yes" to this question, or provide an explanation, if the criminal adjudication or conviction has been expunged, sealed, annulled, pardoned, destroyed, erased, impounded, or otherwise required by law or ordered by a court to be confidential.
Even before its appearance on the Common App in 2006—so far its most far-reaching adaptation—the question has polarized opponents and the institutions that use it.
Opponents say checking that little box complicates an already intimidating and daunting process. But the organization that administers it sees things differently. "While they represent a slice of colleges, not all colleges use the Common App," said Aba Blankson, a spokesperson for Common App. "Other colleges have other versions of the question in their applications." But as Common App becomes more popular—an estimated 700 colleges are expected to use it next year—its share of the approximately 3,000 colleges and universities in the country is significant. "Colleges can suppress the responses to those questions permanently or for a time until they're ready to see that information," Blankson said, referring to both the school-disciplinary and criminal-history questions on the form. "Why they choose to suppress them, I couldn't say. I couldn't say at what point they look at the information." More concretely, a survey of postsecondary institutions revealed that 35 percent of respondents had denied admission or enrollment to at least one individual due to criminal history.
Vivian Nixon, the executive director of College & Community Fellowship, which offers mentoring, tutoring, and support to formerly incarcerated women in pursuit of a college degree, is a vocal opponent of the question. She thinks the initial impact on students who face extra steps in the admissions process, especially revealing their criminal backgrounds, can be discouraging. "There's a chilling effect for many students," she said. "They interpret the questions as, 'I'm not going to get in because I have a felony.'" Nixon believes many people see the question and simply don't apply. She said she has seen applicants with records opt out of completing the application once they receive a list of additional required documentation.
Nixon herself has a criminal record—but she outsmarted the system. She graduated from the State University of New York's Empire College, where she'd taken courses prior to serving a prison sentence and thus was able to reenroll after her release without repeating an admissions process that would have required her to provide her criminal record ("rap sheet"). The SUNY system has a supplemental-application process for people with felony convictions, but practices vary at the 64 campuses that make up the network. Some ask for a letter from a corrections official, some require a narrative description of the crime, some want to see a rap sheet—which may contain fingerprint records, arrests, crimes that did not lead to a conviction, and other revelations about the person's time in custody. "If the college went to the Department of Corrections, they would not be provided the information because it's against the law, but they use the loophole of asking students for the documents to bypass that," Nixon said, as she emphasized the invasive nature of the additional requirements for students who self-identify as having a criminal past.
Although criminal-history inquiries and other disciplinary questions have been on the form for 10 years, since last summer Common App has been in conversation with its members about keeping or removing them. "We take a look at all questions annually," said Blankson. "It's not unusual to review questions on the app and make changes. I would say that we haven't had a conversation like this before, and when you start a conversation, people's opinions change." One member who might have had a change of heart is New York University, which openly questioned the continued use of the box. Still, the questions were initially added, Blankson said, by request from member colleges themselves: "Members thought it was important to understand the background of students, their academic integrity. I think there's a whole host of reasons colleges want to know as much as possible about their applicants."
Kelly Walter, Boston University's associate vice president and executive director of admissions, represents one of those member institutions. "At our last meeting, the membership did have a conversation about whether or not we should continue to ask these questions," she said. "Overwhelmingly, the membership feels that there is value in asking this." What's more, Walter and Boston University don't really have a choice. "In Massachusetts, if the Common App removed that question," Walter said, "we would still be required by law, as an institution that is located in this state, to ask a question about students having been convicted of a felony, a misdemeanor that resulted in sentencing, or a misdemeanor in the last five years."
"Students are allowed to explain the circumstances for their answer to that question," Walter assured me. "In most cases, this becomes a nonissue. If a student is academically competitive, they will be reviewed based on that qualification." Boston University has 10 undergraduate colleges and, in 2016, received 57,416 applications for just 3,500 slots in its next freshman class. Walter did not have a sense of what proportion of BU's applicants might have checked the box.
Whether colleges see many applicants with criminal backgrounds or not, once they have that information in hand, a lot of schools don't seem to know how to evaluate it. A Center for Community Alternatives study, Reconsidered, examined 273 institutions and found that 66 percent collect information about criminal history, but only 40 percent train staff to interpret the data, and over 50 percent have no written policy regarding the admission of applicants with a criminal history.
Gathering background information about future students is a core business of admissions departments, but some box opponents believe the criminal-history question has an unintended negative effect. "Students of color are the most likely to be harmed by putting these questions on the application," said Natalie Sokoloff, professor emerita of sociology at John Jay College of Criminal Justice. She conducted a study that looked at the use of (or absence of) the question by two-year and four-year colleges in Maryland, a total of 50 schools. She analyzed all application forms used during one year and concluded that 40 percent included a question about criminal background. "Public four-year and two-year colleges are less likely to ask the question at the state and national level. Places that are more likely to give an opportunity to people with criminal records are two-year public colleges, and places that are least likely are private four-year colleges," she said.
Sokoloff believes, "These kinds of practices really are de facto forms of race-based discrimination, because people of color are disproportionately impacted by these policies." Scholars like Sokoloff, reform advocates, and public thinkers often point to the structural racism already at work in school systems—in which the over-disciplining of black children creates a school-to-prison pipeline. So not only are black students more likely to end up in prison than other groups, but once they are released and attempting to break that cycle by applying to college, they are more likely to confront the box—and the conundrum of whether or not to check it.
"This question doesn't belong on the college-admissions form any more than questions about the weather belong there," said Barmak Nassirian, current director of policy analysis with the American Association of State Colleges and Universities. The organization represents 420 four-year colleges, universities, and other educational institutions. "These are not facts that in any way relate to the matter at hand," he said, "which is to decide if someone is qualified to come learn something." Nassirian also agreed that the school-discipline and criminal-history questions disproportionately affect low-income students, students of color, and students with disabilities. "We know that communities of color and students with disabilities are disproportionately affected by run-ins with the law"; it follows that they are more often asked to disclose such histories. "This mindless adoption of these mechanical so-called 'safety checks' does have the predictable downside of disproportionately affecting the students who need it the most," he said. "This amounts to extrajudicial punishment on someone who has already served a punishment for a crime."
Opponents also argue that the questions are merely symbolic—cosmetic gestures from colleges to seem proactive about campus safety. "It has nothing to do with campus safety," said Nassirian, who pointed out that many schools are quick to say both that the question is justified for safety and that it has no effect on the admissions process. Boston University's Walter reassured me, "Regardless of the answer, we would never deny a student admission based on the response to that question." So, if colleges aren't filtering out menaces to safety, why ask the question?
Researchers and college officials I spoke to unanimously agreed that there's no real correlation between safety on campus and asking prospective students about their past run-ins with the law. "There is no research that states that students with a criminal history are more likely to pose a threat to fellow students," said Emily NaPier, the director of justice strategies at the Center for Community Alternatives, which is responsible for one of the more authoritative reports on the issue: Boxed Out. CCA looked at the State University of New York's 64 campuses, which have a disclosure policy for four-year colleges. What they found was that crimes on campus are often committed by students who have no criminal history and tend to be related to binge drinking, Greek life, and big-time college athletics, according to NaPier.
Correlation or not, some colleges would rather be safe than sorry. The University of Washington, for example, has very defined questions regarding past criminal history. "We ask for applicants to identify if they have been convicted of a violent felony," said Paul Seegert, the director of admissions at the University of Washington, where they've been asking the question for only about three years. "Less than 1 percent of students applying would fall into the category of having a criminal record," Seegert said. Then they looked at who comprised that sliver of applicants: "We realized that there were sex offenders who were students. We wanted to know when we had students who were sex offenders or who had committed a violent offense. It was not just a criminal background. It was specifically about a violent felony offense."
What's novel about the university's approach is, "We're not using it to keep anyone out of the university. We use it to make sure that we know who they are and can take necessary precautions." So what kind of precautions does a university need to take in order to promote both safety and opportunity? The school put in place mechanisms to ensure that, for example, high-level sex offenders are never in a class with minors or high-school students. If an applicant with a record is competitive for admission, Seegert said he would inform the vice president for student life's office, which would then consider the action that should be taken. But this is done on a case-by-case basis. The necessary people—staff from student life, academic services, and campus safety—are brought together to consider what would be a good course of action. "There have not been very many cases since then. It's never been used to keep somebody out," Seegert said. "We also wanted to ensure that the student [with the criminal background] gets the necessary services he needs."
For Indiana University-Purdue University Indianapolis, a tragedy drove their adoption of the criminal-history question. A student at Indiana University-Bloomington committed a murder—but that was after he had been dismissed by the University of Illinois for behavior issues (though not a crime), according to Pamela Brown, the associate director of undergraduate admissions for operations at IUPUI. "We adopted a criminal-disclosure policy because of (1) a safety issue, (2) licensure issues for some majors, and (3) fear of lawsuits if an incident occurred like down in IUB," she wrote in an email. Brown penned an essay supporting the use of the disciplinary-history question, but she is more ambivalent about the usefulness of the criminal-history question. Nevertheless, in 2007, university trustees at IUPUI decided to adopt the question on the admissions application to create a single policy for employment and admissions practices at all its schools.
"There's a gut reaction that says people with criminal-history records would be a greater risk," NaPier said. "That's a reasonable reaction, but the problem is that the research doesn't bear that out. I don't fault people for coming up with that reaction, but the evidence doesn't bear it out."
Initially, Indiana University's criminal-history question only applied to undergraduates, but in March 2015, it was added to graduate-level admissions, according to Brown. (Prior to that, graduate admissions were decentralized and schools had individual policies.) In an average year, Brown's team sees 29,000 applications. "Between 1 and 5 percent of undergraduate applicants answer yes; some answer the question mistakenly," Brown said. For fall 2014 and fall 2015, her team received an average of 16,500 applications each semester, of which 1 percent answered yes to having a criminal history. After they self-identify, students with criminal records then have to undergo a separate process, which involves providing various documents and undergoing a review by a campus committee. The scrutiny of the review depends on the severity of the offense. A DWI, DUI, or petty theft, for example, merit added review by the admissions team but are not likely to result in moving "the application to another tier for review." That next tier is the Prior Misconduct Review Committee—composed of legal counsel, a member of the campus police, the registrar, and sometimes the dean of students. The PMRC "evaluates whether the student can be considered for admission," given their prior criminal history. If the application clears the committee, it goes back to the general admissions committee for the final decision, Brown explained.
"A majority of students who answered yes contact us if they're worried about having to go through the process," Brown said. That's because the yes/no format can lack nuance. Brown told me that applicants worry that their personal statements don't provide enough clarity or that they will get other parties in trouble. Some are scared of what the revelation will mean for them. And "sometimes they don't want to own up to what they've done," Brown said. "The majority of students are not held up in this process as long as they disclose the information. They will be able to be considered for admissions. We work with legal counsel and with students so they understand the process and that we're not trying to penalize them or make them go through and relive the experiences that they have had."
The problem is that, when the process gets too onerous, it can feel pretty invasive and overwhelming. "People who admitted to a criminal history were less likely to complete the application due to the supplemental material that was required," NaPier said of the SUNY campuses. A full two-thirds never finished the application. "Requirements went from burdensome to impossible," she said. Though SUNY schools only ask about felony convictions, like IUPUI they also have a supplemental process that is set in motion once an applicant checks the yes box. This is common. Most schools require a copy of the rap sheet after an applicant acknowledges a criminal history, "but that may have additional information that is not related to the conviction," NaPier said, alluding to a list of 38 supplementary documents that may be requested of an applicant, including: a report from the prison psychologist, proof of permanent residence since release, and a statement from a prison administrator about the applicant's behavior while incarcerated. Some schools may even request a letter from the warden at the prison where the person was incarcerated. "That's impossible," she said. "It's ludicrous to expect that anyone would be able to obtain that." For some applicants at SUNY New Paltz, checking the box meant an interview with the Ex-Offender Admissions Review Committee.
The Boxed Out report concluded that 62.5 percent of SUNY applicants who disclosed a prior felony conviction never completed their applications, compared with 21 percent of applicants with no criminal history. Even the New York State Bar Association called for banning the box on the college-admissions forms in a recent report, citing the lack of evidence for its value in predicting law breaking on campus and the burden of providing supplementary materials. The data from Boxed Out led NaPier and CCA to conclude that criminal-background questions hurt more than they help. Together with other advocacy organizations, they are determined to see the practice end altogether, starting with New York state, where they helped draft a bill—currently in committee—to prohibit criminal-history questions on college applications. For their part, SUNY students recently rallied against the practice, prompting the SUNY board of trustees to organize a public hearing, which will be held next week.
Universities and states are starting to consider the impact of asking potential students about their criminal histories. As they try to secure campuses, commit to providing educational access to those who need it most, and offer opportunity to those seeking a life reset, they will find few easy answers. The College & Community Fellowship's Nixon got a life reset and knows as well as anyone that life is more complicated than a box: "When a person makes a decision to increase their level of education, we should do nothing to discourage those decisions. We do plenty to discourage bad decisions, but we should not discourage good ones."
Before Ronald Day applied to college, he had had several run-ins with the justice system and eventually served 15 years in prison and five on parole. During his time in prison, he earned 51 college credits and decided to pursue his education further upon release. But he found the extensive application process intimidating. "They asked me for a lot of information about my criminal background, even a letter from my parole officer," Day said. "I was a little leery about that because sometimes you have an antagonistic relationship with your parole officer."
Day ultimately got through the tedious application process and enrolled at SUNY Empire. "I felt so humble to be a college student in the community," he said. "Being able to go on a college campus and knowing that one day I would have a college degree—I felt accepted." After Day graduated from SUNY Empire, he went on to earn a master's at the City University of New York, Baruch. But he wasn't done yet. Day was enthusiastically accepted to a doctoral program at SUNY Stony Brook just minutes after his interview with the director was finished. But two weeks later, he received a letter requesting detailed information about his criminal record, which Day had mentioned in his personal statement. Day decided not to attend the Stony Brook program. He did not see his criminal background as relevant to his potential as a doctoral student, especially since he already had a master's degree. Currently, Day is the associate vice president of the David Rothenberg Center for Public Policy at the Fortune Society, where he helps released prisoners navigate the reentry process. He is also in the fourth year of a doctoral program at the CUNY Graduate Center—where criminal histories are not requested.