An Etiquette Lesson for Governor Pat McCrory
The North Carolina executive defends blocking restroom protections for trans people as a matter of politesse. A manners expert weighs in.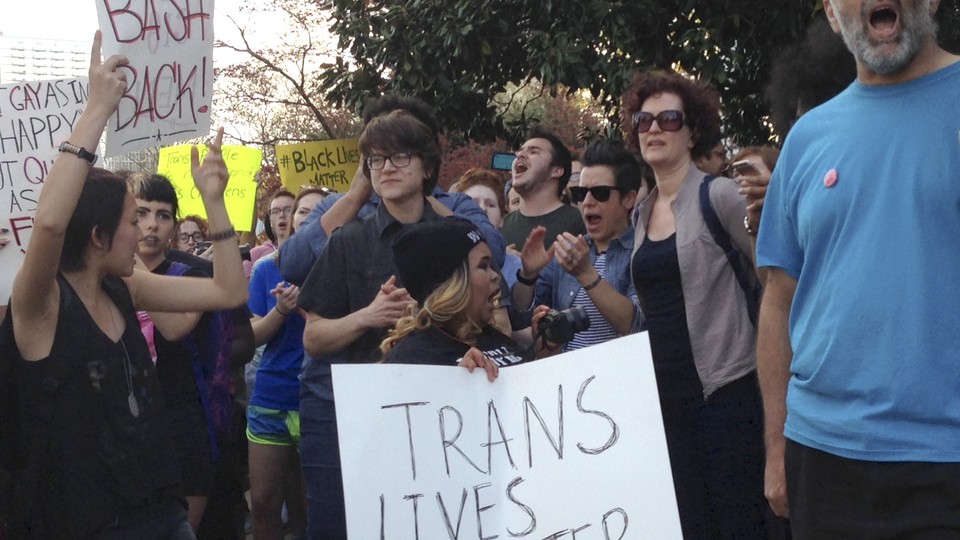 HILLSBOROUGH, North Carolina—I'm sorry, but someone has got to teach North Carolina Governor Pat McCrory a few basic "etiquette" lessons. He has referenced the term repeatedly since signing HB2 (the Public Facilities Privacy & Security Act) last week, the sweeping anti-LGBT law that blocked the city of Charlotte—and all other local governments in the state—from protecting transgender people's right to use the public restrooms that match their gender identities. Alas, the governor's understanding of good etiquette is more invented than found in any of the dozens of manners books sitting in my bookcases.
In a tweet posted soon after the signing, McCrory claimed that blocking the anti-discrimination law was necessary "to stop the breach of basic privacy and etiquette." A few days later, he told NBC News, "We've had these proper-etiquette situations for decades in our country, and all of a sudden, through political correctness, we're throwing away basic etiquette."
As a regular advice-giver in The Washington Post (not to mention the five manners books I've penned), I can't figure out what basic etiquette rules the governor is referencing.
I spent hours this past week looking for insight in the pages of my book collection, with little success. The late Amy Vanderbilt, in her Complete Book of Etiquette, originally published in 1952, addresses "bathrooms and etiquette," but the only topics there are "care of by weekend guest" ("leave it as you found it or better") and "gift suggestions for" ("bath salts and bath mitts, if they are not from the bargain counter in a drug store"). Emily Post's latest edition just mentions restrooms on the matters of "tipping attendants" and "excusing self to visit."
Perhaps online manners experts would have more to say about all this, I thought. And a quick search did take me to a page for the International Center for Bathroom Etiquette, whose tagline is "Performing #1 and #2 in comfort and style since 1995." Some of the topics included on this page include: "Talking on your cell phone [in a public restroom]," "Masturbating in the bathroom," and naturally, "Seat up. Seat down."
But then—aha! Under "Special Situations," I discovered a link for "Using opposite gender bathrooms." A quick click soon revealed, "There is really no situation … where this is a good idea." Could this be where the governor had trolled for his source material?
If so, he is confused. That's not what the Charlotte anti-discrimination ordinance allowed for. In fact, it legally permitted the opposite, which is to say that individuals could legally and safely use the restroom that best corresponds with their gender identity—not their biological sex. No one was advocating for using "opposite gender bathrooms." And, with McCrory's move to block protections for trans people, the state now requires trans men like James Parker Sheffield, hirsute and masculine in every way,  to use the women's room. The night that McCrory signed HB2 into law, Sheffield tweeted: "It's now the law for me to share a restroom with your wife."
If asked, I'd have advised McCrory to consider this dictum I stumbled upon in a vintage edition of Post's Etiquette: "Consideration for the rights and feelings of others is not merely a rule for behavior in public but the very foundation upon which social life is built."
McCrory might also have turned to self-described "good ol' girl" Sharon Wheeler, who runs a bookstore here in tiny Hillsborough: "The true basis of etiquette is empathy; it is the desire to make sure that people don't feel uncomfortable or inferior." Or to Christopher Brook, a sixth-generation Southerner and legal director of the American Civil Liberties Union of North Carolina. Brook is also appalled at McCrory's repeated citing of manners in his defense, telling me facetiously: "Truly nothing says standing up for etiquette like gratuitous attacks on those already marginalized in the state."
If our governor is going to cite "etiquette" as his reason for failing to do his job, the very least he can do is consider the timeless prescriptions for kindness and consideration.