A Costly Suspension for UC Davis's Embattled Chancellor
Linda Katehi has been put on paid leave for 90 days while investigators probe allegations of nepotism, conflicts of interest, and squandering public money on PR.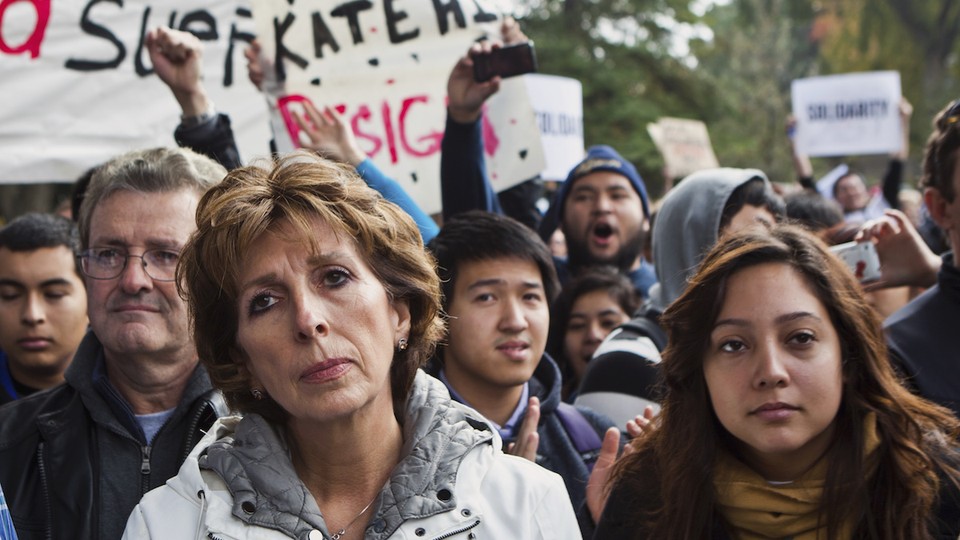 For now, embattled Chancellor Linda Katehi has been removed from her post at UC Davis, where scores of student activists have demanded her ouster in recent months.
Some critics lost faith in Chancellor Katehi in 2011, when she presided over the brutal pepper-spraying of Davis undergraduates lawfully assembled on a campus quad. Others fault her for a costly, ill-conceived attempt to scrub the incident from Web searches. Still others say she ignored a clear conflict of interest when taking a lucrative position on the board of a company that publishes college textbooks.
Until this week, University of California President Janet Napolitano had publicly stood by her subordinate, even as members of the state legislature called on Katehi to resign. But Wednesday, Napolitano placed Katehi on 90 days paid leave while ordering an investigation into her conduct. Put another way, Californians will pay Katehi roughly $106,000 in salary to fulfill zero responsibilities for three months while investigators figure out whether she should be fired. Katehi earns $424,360 per year.
The letter informing Katehi that she's being placed on leave airs several new allegations against her:
"First, questions have been raised about the employment of some members of your family, including whether employment actions related to your daughter-in-law and son violate University conflict-of-interest policies and requirements related to the employment of near relatives. Your daughter-in-law, who directly reports to one of your direct reports, has received promotions and salary increases over a two-and-a- half year period that have increased her pay by over $50,000 and have resulted in several title changes."
"During that same period, you put forward a pay increase of over 20% and a title change for your daughter-in-law's supervisor."
"More recently, it appears not only that the academic program in which your son holds a paid research position was moved into the same department in which your daughter-in-law is employed, but also that the program was placed under her direct supervision. It does not appear that appropriate steps were taken to address, document or obtain approval for the fact that your son now reported to your daughter in-law, who, in turn, was supervised by one of your direct reports."
"The independent investigation also will determine whether the employment status of your daughter-in-law with respect to supervising the research center that employed your son violated requirements regarding the proper use of Student Service Fee revenue. See Regents Policy 3101 — University of California Student Fee Policy and implementing guidelines. You have verbally assured me that all matters relating to the employment of your husband, son and daughter-in-law have been consistent with policies and procedures, but documents and other information appear contrary to that assurance."
The letter goes on to question whether Katehi was truthful in her public statements about Davis funds that she spent on public relations. "There are concerns regarding whether you have made material misstatements regarding your role in the social media contracts," Napolitano wrote. "Despite public statements to members of the media, as well as to me, that you were not aware of or involved with these particular contracts, documents prepared in response to a Public Records Act request indicate multiple interactions with one of the vendors."
That public records request appears to have been made by the The Sacramento Bee, which reported that an outside contractor has been closely monitoring Katehi's image:
Documents released to The Sacramento Bee late Wednesday through California Public Records Act requests show how closely the university's image consultants tracked coverage of Katehi's latest controversies. One email from Sacramento-based IDMLOCO dated March 7 suggested a way of "inserting some positive Linda Katehi press into the conversation once the time is right." Other documents showed campus officials received regular reports on how Katehi's reputation was being affected by media reports.
The newspaper article went on to report details of the social media monitoring that suggests the student activist strategy of occupying an administration building bore fruit:
"Over the weekend, the conversation volume spiked to the highest point since the negative stories about Chancellor Katehi began," a March 16 email from IDMLOCO stated. "The conversation spike was surrounding the Mrak Hall 5th floor sit-in that began on Friday, where students protested for the chancellor's resignation. "Resignation has become the primary theme in the social conversation over the weekend," the email stated, noting that "currently, the sentiment is 48 percent negative, 15 percent positive and 37 percent neutral."
Even after departing the administration building, student protesters continued their anti-Katehi activism by airing her metaphorical "dirty laundry" on a campus quad. Later Wednesday, an attorney released a statement on Katehi's behalf challenging the allegations against her and expressing her intention to return to her job.
The text:
Tonight's action is disappointing, unprecedented and, based on the facts, entirely unjustified. Since the day she was hired, the chancellor has given her unwavering devotion to fulfilling the fundamental public mission of UC Davis and doing everything the UC President and Board of Regents have asked her to.  

By any measure—and according to numerous voices throughout the Davis and Sacramento communities—her leadership has helped put the university on a path to globally recognized excellence and historic diversity. More Californians than ever before—including more women and more students of color—are receiving a world-class education at UC Davis under her stewardship.

This smacks of scapegoating and a rush to judgment driven purely by political optics, not the best interests of the university or the UC system as a whole. The Chancellor welcomes an independent, objective investigation and a full release of all relevant documents and public records. Make no mistake: we intend to vigorously defend Linda's professional reputation and her standing as Chancellor of the university she loves.
I can't wait to find out what the investigation uncovers.