Why It's Getting Harder to Mobilize Houston's Black Voters
Churches play an important but shifting role in getting African Americans out to the polls.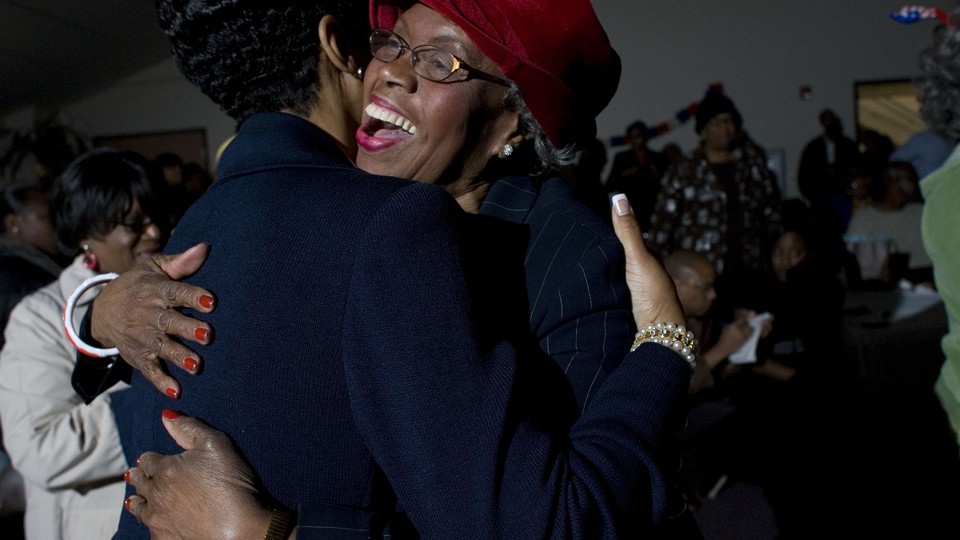 HOUSTON—African American voters are expected to help propel Hillary Clinton to victory in today's Democratic presidential primary in Texas, but the idea that black residents here in the state's largest city will be easily mobilized in her favor is not clear.
Despite the fact that Houston's population has grown in recent years, with young people and immigrants drawn to the region's oil jobs and affordable living, blacks make up a declining share of the city's residents. Where African Americans made up 28 percent of all residents in 1990, they now comprise less than 23 percent. (The share of white residents has also declined from above 40 percent in 1990 to around 25 percent, while the share of Latinos and Asians has increased.)
Where did these once-concentrated potential voters go? Historically grouped in the city's Third and Fifth Wards, young, upwardly mobile blacks have been moving to the suburbs north and south of Houston for more affordable housing, better schools, and lower crime. What's more, some lower-income African Americans have also been forced into poorer suburbs as gentrification takes root in the inner city. What does that mean for black voter turnout in an election without a galvanizing figure like Barack Obama to serve as a rallying point for African Americans?
Interviews with elected officials, political scientists, and church leaders paint a somewhat muddled picture. The obvious answer is that the picture will be clearer after the results roll in. But there seems to be general agreement that mobilizing Houston-area black voters is going to be somewhat more complicated for Democratic presidential candidates.
"It's much more difficult to get people to vote than it used to be," said James Douglas, the head of the Houston branch of the NAACP. The geographic dispersion of the black community means it is harder to reach high numbers of black voters through individual campaigns. Where churches, Douglas noted, have traditionally played a role in rounding up members to vote, since so many churchgoers now drive in from suburbs outside Harris County, they aren't necessarily registered to vote in Houston anymore.
And, crucially, pointed out Dr. Stephen Klineberg, a Rice University professor who has spent decades tracking the region's demographic changes, the role of the church has shifted from the center of the battle for civil rights and social justice to one of pure spiritual guidance. Douglas has seen that transition firsthand. When he was a boy, churches in the area were fighting to end segregation and other blatantly racist policies that disadvantaged the entire community. Ironically, now that more young churchgoers are experiencing higher levels of economic prosperity and upward mobility, he said, it has become a challenge to inspire these voters to demand change for policies that might not affect them—but that would benefit blacks who have not experienced such prosperity.
James Dixon, the head of the Community of Faith church in Houston, said he speaks to churchgoers about voter registration and the "spiritual obligation" to vote, but he agreed that the "dismantling" of inner-city communities makes it harder to mobilize voters. Ten years ago, he said, 80 percent of his congregation drove 10 minutes or less to get to church. Now, 80 percent drive at least half an hour to church, which makes it "increasingly more difficult" to bus people to the polls and to minister to people's needs in general. While his church has plans to build two or three satellite campuses over the next five years in suburbs that have seen a growing number of black residents, he has also been combating a slight decline in church membership by reaching out to other demographics, which makes bringing politics into the pews a riskier proposition. While blacks have largely voted Democratic, and polls of African American voters in Texas show they mainly support Clinton, that's not necessarily true of other potential voters or congregants.
Wheeler Avenue Baptist Church, which stands in the city's historically black Third Ward and whose original pastor, William Lawson, was a vocal voting advocate and civil-rights leader, still encourages people to cast ballots, but it has scaled back on activities like driving vans of parishioners to polls. And several older civil-rights leaders said that the current leadership does not seem as invested in fostering political activism.
Gene Locke, a Harris County commissioner, urged caution at putting too much emphasis on the importance of churches literally driving voters to polls, however. While it has helped with a small segment of older voters, he argued, the larger struggle to mobilize voters in the black community, he said, is just like the struggle to mobilize many other low-income, urban voters: The city's residents are getting younger, and many black inner-city residents are less educated and thus less likely to be civically engaged than those who move away. Convincing them to vote is a challenge: "I figure it out, I'll call you," he quipped.
Grady Prestage, a Fort Bend county commissioner, thinks that some of the mobilization role the church has traditionally taken on is now filled by social media. "Folks are going to respond when prodded, regardless of where they are," he said, adding that social media allows advocates to tailor messages for different groups. But whether potential voters view those messages as truly sincere and personal—crucial factors in driving turnout—is another question.
Audrey Lawson, William Lawson's wife, foresaw the erosion of some of that personal connection within the black community during a 1996 interview with the University of Houston: "Those blacks who have, quote, made it financially or economically are no longer a part of the inner city or of the community. And so the kids that are growing up over in Third Ward don't really have a lot of people to look up to … The black church is the only real institution that the black community has, that it owns, that it can control … That is where our power is, and it always has been … The church was the only place that you could corral people, or you had enough people to actually get the grapevine moving."
Still, Michael Adams, a professor at Texas Southern University, a historically black university blocks from Wheeler Baptist, says that, even as the number of black residents has declined, "African Americans have been able to coalesce." Black voters have played pivotal roles in electing black officials to office, notably Sylvester Turner, the current Houston mayor.
The role black voters will play in 2016 is obviously still to be decided, as is the precise role of the church. But nationally, around 65 percent of eligible black voters cast ballots in 2008 and 2012, a rate on par with white voter turnout, and higher than both Asian and Latino voter turnout. And while the percentage of people in this country who say they are religiously unaffiliated is growing, blacks are more likely than whites to have a religious affiliation. Among Democrats and Democratic-leaning adults, 12 percent identify as historically black Protestant, according to the Pew Research Center. The vast majority, 85 percent, of religiously affiliated historically black Protestant churchgoers say religion is very important, and more than half attend services weekly. All of this means that the role of the church during election season stands to be significant if church leaders make political participation a priority. Some studies even suggest a positive correlation between church attendance and the likelihood of voting. According to Pew, 62 percent of black Protestants say Clinton would make a good president (compared with 36 percent who say the same about Bernie Sanders), and polls of black voters more generally also put Clinton ahead.
"The black church remains enormously important," Klineberg, the demographer, said. He will be watching closely to see how Clinton handles things in the coming days. If, as is largely expected, she ultimately picks up enough delegates to secure the nomination, how will she pivot toward the political center, as most candidates do in the face of a general election, without alienating those who helped her win the Democratic primary? And will black voters mobilize in her favor come November?