When the Old Sheriff Leaves Town
A widely admired county-prison system might be in peril after the leader who reformed it retires.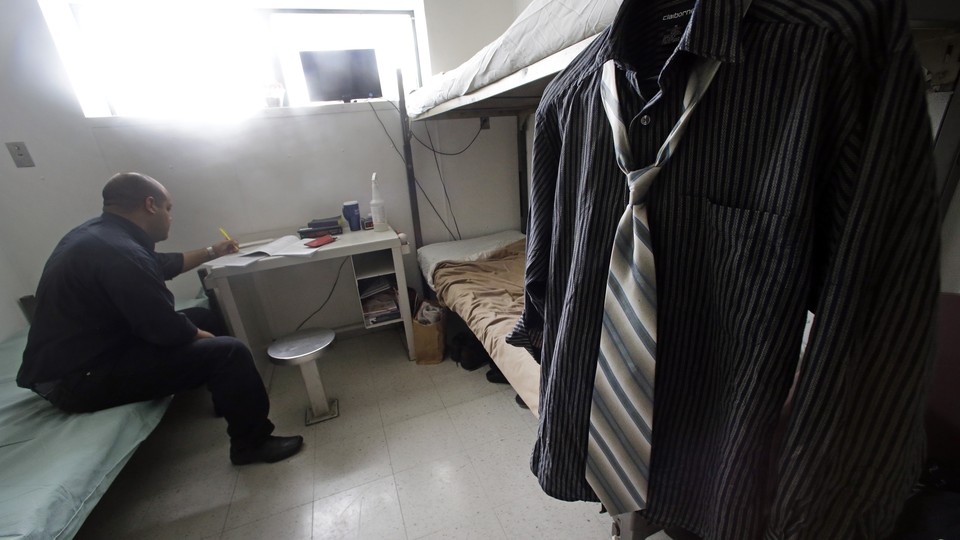 SPRINGFIELD, Mass.—The sheriff here, whom the White House hailed as a "Champion of Change" for his re-entry innovations, is about to retire, leaving many to fret about the future of those successful criminal-justice reforms.
Michael Ashe Jr. was elected Hampden County Sheriff in 1974, and has run unopposed ever since. His political prominence is especially on display at his annual clambake, an obligatory campaign stop for local and state candidates seeking his endorsement. His efforts to reform corrections by focusing on community reintegration have reverberated in his state and beyond.
Ashe, who likes to speak in parables, said that a jail should not be a "fortress in the woods," but rather a part of the community. To this end, he has developed connections with over 300 nonprofit and public agencies including housing services, employers, and job training programs to facilitate transition from jail to the community. Among his most influential programs, which have been replicated across the country, are a health-care system that employs doctors who split their time between the jail and their practice, thereby increasing continuity in care; a program where inmates with good behavior can spend the end of their sentence living at home under close supervision, often wearing an ankle monitor; and the After Incarceration Support System, which provides assistance with jobs, housing, counseling, and substance abuse support for inmates before and after their release.
When Ashe announced his retirement nearly two years ago, some began to worry that his model of change is dependent on a charismatic leader and that his absence could undo the changes he ushered in. Ashe, who punctuates his words with his hands, has a Masters in social work and ran a group home for foster children before becoming sheriff. He sees his current work as sheriff as a continuation of his former role. "The image of a social worker is very soft. When you think about a sheriff you think about law enforcement, you think of a horse and two guns, a sheriff's hat and all that kind of thing." But, to him, the two fields are very related.
"Whether it's foster care or running a county jail, the offender or the child, they've got to feel that you care about them. That's what you're really trying to convey," he said. "When you think of an inmate being incarcerated, it's got to be the lowest point of one's life. Here they come in a van with leg irons, with handcuffs, with loss of freedom. My hope is to not further reinforce warehousing. I always saw it as an opportunity to change."
Ashe stuck to this philosophy through decades, surviving the tough-on-crime '80s and '90s. In the midst of the war on drugs, he founded the Western Massachusetts Correctional Addiction Center, which represented a sharp contrast to the punitive practices that then predominated. Around the same time, he embraced a new public health-care model in response to the AIDS epidemic. Local doctors realized that they lost touch with infected patients who were in-and-out of jail, and proposed a program in which they would split their practice between the facility and their office. The support of the sheriff was critical to the program's launch, said Thomas Lincoln, who was one of the initial doctors involved and who still participates today. "It would not have happened without him, and it fit in with his other visions," Lincoln said.
In 2006, the program caught the attention of the Robert Wood Johnson Foundation, which then funded a nonprofit to implement similar programs, connecting public health and correctional health in jails across the country. Washington, D.C., adopted a similar model in 2006. But last spring, the D.C. jail was on the verge of privatizing its health services by awarding a contract to the  correctional-health firm Corizon. After weeks of debates, the city decided to stay with the public model, but Lincoln sees that fight as a cautionary tale of what might happen in Hampden County without the right person in charge. "If somebody comes in and doesn't want to manage the complexity, it could seem, at least up front, that it's easier to contract it out to a private company," he says.
Farming out some of the tailored programs would be difficult because they rely on a specific combination of support from the community, management from the sheriff's office, and general enthusiasm and goodwill from all involved. For example, the Olde Armory Grill, a cafeteria-style breakfast and lunch spot in Springfield, is one of Ashe's many signature programs. Here, low-security inmates nearing the end of their sentence, serve up paninis, salads, and freshly baked muffins to local patrons. Inmates who go through this training have about a 75 percent job-placement rate after being released, according to the Sheriff's Office.
"When I first came into the job the sheriff's department was alone, isolated, in a vacuum. Not today," Ashe said. Over the past four decades he has integrated corrections and community-based social services, an idea that was ahead of its time, and still considered progressive today. "I always feel so blessed to have the opportunity to be sheriff and to have the confidence and the trust of the people. And I feel so good that we've always stayed focused on community corrections, always staying steady, consistent, and bold."