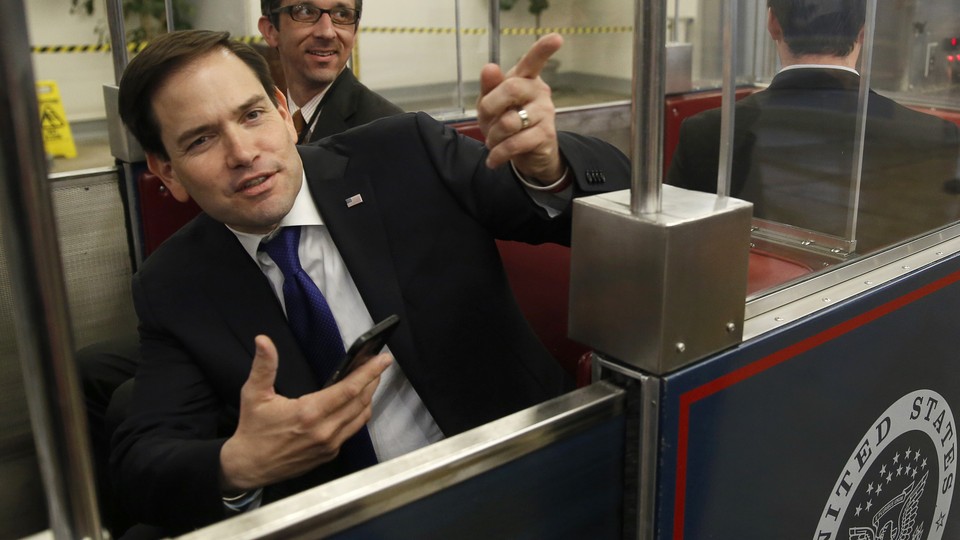 Editor's Note:
This article previously appeared in a different format as part of The Atlantic's Notes section, retired in 2021.
The Florida Republican returned to his day job in the Senate on Thursday, two days after dropping out of the GOP presidential primary. He finds himself in an odd position. At 44, he should be in the prime of his political career, but he'll be unemployed in less than 10 months, having chosen to run for the presidency instead of reelection to another six-year term in the Senate.
Reporters peppered him with questions: Would he accept the vice presidential nomination, presumably under one of his primary rivals? Would he run for governor of Florida in 2018? Might he make a last-minute bid to hold on to his Senate seat?
Rubio's response: None of the above.
"I'm not going to be vice president. I'm not running for governor of Florida. I'm going to finish out my term in the Senate over the next 10 months. We're going to work really hard here, and we have some things we want to achieve," Rubio said, according to Roll Call. "And then I'll be a private citizen in January."
Rubio may be giving off an I'm-done-with-all-that vibe, but he didn't rule out ever returning to politics. And as I noted in my piece on his withdrawal Tuesday night, Republicans have a history of rewarding comeback attempts. He could follow the path of many politicians-in-winter and become a lobbyist or a corporate lawyer, cashing in on his Senate tenure and making a hefty sum of dough. Or he could change his mind and still have time to jump into the governor's race sometime next year.
For the moment, however, Rubio just seems exhausted and ready for a political break.