Scott Walker Backs Ted Cruz
Cruz is the "principled constitutional conservative" who can beat Donald Trump and Hillary Clinton, the Wisconsin governor said Tuesday.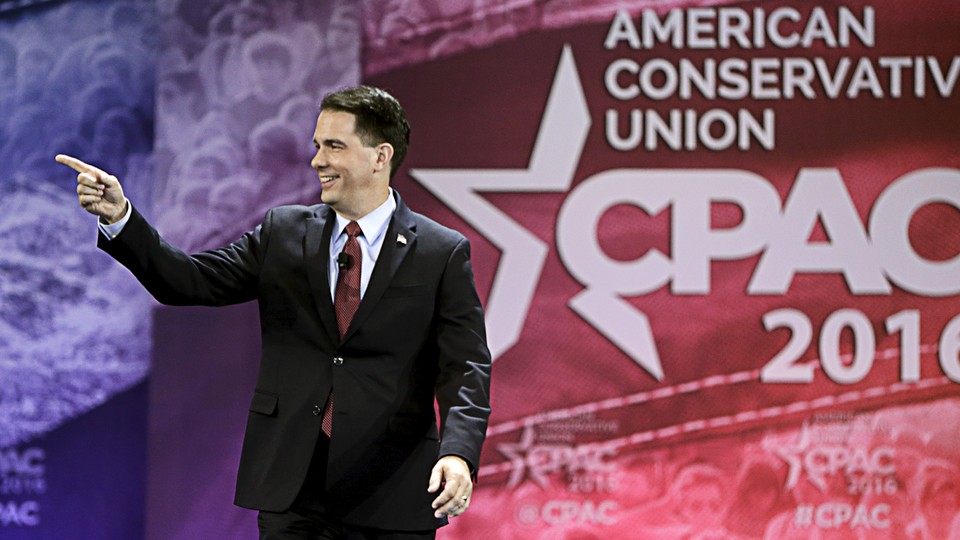 Wisconsin Governor Scott Walker wanted to wait on endorsing a Republican presidential candidate. He hoped to hold off until his announcement would have "maximum impact" before next week's state primary, a crucial contest in the 2016 race.
Evidently, Walker feels he has waited long enough. As the remaining candidates descend upon his home state this week, the former presidential aspirant threw his support behind Senator Ted Cruz of Texas in a radio interview with Milwaukee's WTMJ Tuesday morning. Walker said a Cruz win in Wisconsin would put him "firmly" on the path to securing the number of delegates he'd need to win at the July Republican convention.
"Ted Cruz is a principled constitutional conservative who understands that power belongs to the states—and to the people—and not bureaucrats in Washington," Walker said in a statement timed with the interview. "Just like we did in Wisconsin, Ted Cruz is not afraid to challenge the status quo and to stand up against the big government special interests."
Walker has mostly been quiet since he dropped out of the 2016 race in September, just the second casualty of the 2016 race. After his poll numbers and cash flow plummeted, Walker said in a short dropout speech that he was disappointed in the harsh tone the race had taken on. He called on the then-bloated field to winnow itself down, "so that voters can focus on a limited number of candidates who can offer a positive, conservative alternative to the current front-runner." The race didn't quickly thin out—or evolve into a positive one—in the months after Walker bowed out.
He's among the last of the former 2016 contenders to weigh in on the race, but he joins a slate of dropouts who back Cruz. Cruz has seen recent public endorsements from Jeb Bush, Carly Fiorina, Lindsey Graham, and Rick Perry. Walker's endorsement of a non-Trump candidate wasn't a surprise. In a recent interview, Walker said he knew both Cruz and Ohio Governor John Kasich well, and said both are "perfectly fine." But he indicated that the delegate math simply doesn't work out for Kasich: "If you're just looking at the numbers objectively," Walker said last week, "Senator Cruz is the only one who's got a chance, other than Donald Trump, to win the nomination. My friend Governor Kasich cannot." Walker indicated in the WTMJ interview that Cruz could handily take on Hillary Clinton in the general election as well.
The endorsement must be painful for Kasich—not only because he knows Walker well, but because Kasich has repeatedly argued that he's the guy to beat in his native Midwest. Indeed, Kasich is in the 42-delegate-strong state today—along with Cruz and Trump.
During Tuesday morning's interview, Walker touted the gravitas his home state holds in this year's primary. "I think it's great for Wisconsin that we are relevant," he said, adding that the "pathway to the presidency comes through the Midwest."