Voting While Elderly
The 102-year-old Florida woman who waited three hours to vote in 2012 inspired her son to action. Now he'll wait in line and help older voters.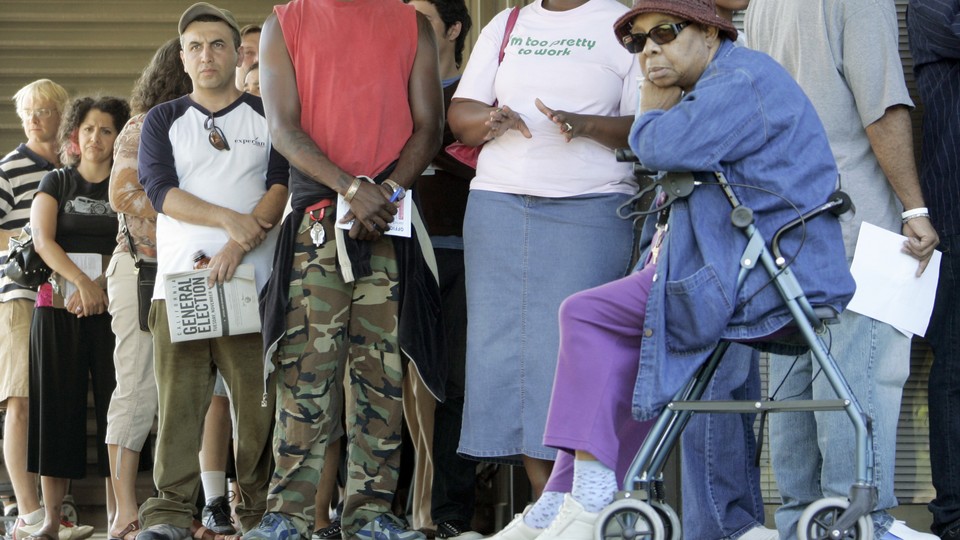 NORTH MIAMI, Florida—Desiline Victor waited for more than three hours in the punishing South Florida heat to vote in the 2012 presidential election. She was 102 years old then. Today, she's 105 and plans to vote in the March 15 presidential primary.
After the trying ordeal, First Lady Michelle Obama invited her to the State of the Union address in 2013. During the speech, President Obama pledged create a bipartisan panel to address long voting lines and make sure that what happened to Victor and many other voters across the country would not happen again. "When any Americans—no matter where they live or what their party—are denied that right simply because they can't wait for five, six, seven hours just to cast their ballot, we are betraying our ideals," he said.
Following the national backlash against what activists saw as voting restrictions, the Florida legislature later that year passed a law increasing early voting days from eight to 14. Daniel Smith, a political-science professor at the University of Florida, says that the new law will help overall with long lines, but long lines could still happen in early voting centers in the run-up to this month's primary. At least Florida election officials, he says, are wary of repeating "the sheer embarrassment" of what happened in 2012.
Victor's adopted son, Mathieu Pierre-Louis, started the Desiline Victor Foundation to make sure that if elderly Haitians in North Miami, like his mother, were stuck in long lines to vote, he and a dozen other volunteers would be at precincts with water and chairs to assist them. I spoke with Pierre-Louis in North Miami, where a third of the city's population is Haitian, about his efforts and the voting struggles some members of his community still face. (The interview has been edited for length and clarity.)
Vasilogambros: What went wrong when your mother tried to vote in 2012?
Pierre-Louis: My mother does not believe in absentee ballots. She wants to vote in person. But she doesn't speak English, like many people in our community, and she needed someone to help her. Something is not working properly in our community when she can't get that help. So, I decided to open an organization for the right to vote.
Vasilogambros: During voting, what does your assistance look like?
Pierre-Louis: The long lines are an issue for the elderly. We bring them chairs and water. Sometimes we drive them to vote. We do everything they may need in line. People like my mom cannot stand for 15 minutes, let alone three hours. It's impossible for them. That needs to be changed. They've worked all their lives and now they need someone to help guide them.
Vasilogambros: How do you know when someone may need help?
Pierre-Louis: Like we did in 2014, we go to the radio stations and say, "If you need help, call this number." People call and we go assist them.
Vasilogambros: Does your mom still want to vote?
Pierre-Louis: She really wants to vote. They didn't have that opportunity to vote in Haiti. When [Jean-Claude] Duvalier was a dictator, there were no elections. People came here and didn't know about the right to vote. I didn't vote when I was in Haiti. I didn't know about it. I came from Haiti in 1999 for a better opportunity. Everyone in Haiti dreams about coming to the United States for a better opportunity, to be safe, and to vote.
Vasilogambros: And because you couldn't vote during the dictatorship and continual political strife that followed, you want to make sure people here can vote safely?
Pierre-Louis: Yes, it's really important now. We need this organization to help the people. You vote for change. You vote for something you struggle with. You vote for something you need. If you can't vote, things won't change. In Haiti, their elections don't work. It's a disaster. If you have the right to vote, you know why it matters. We can't have people struggle in line to vote anymore. We know what is at stake. We know what it means to vote.