How Does America Solve Unauthorized Immigration?
Several strategies have floated around for years—but are any of them really viable?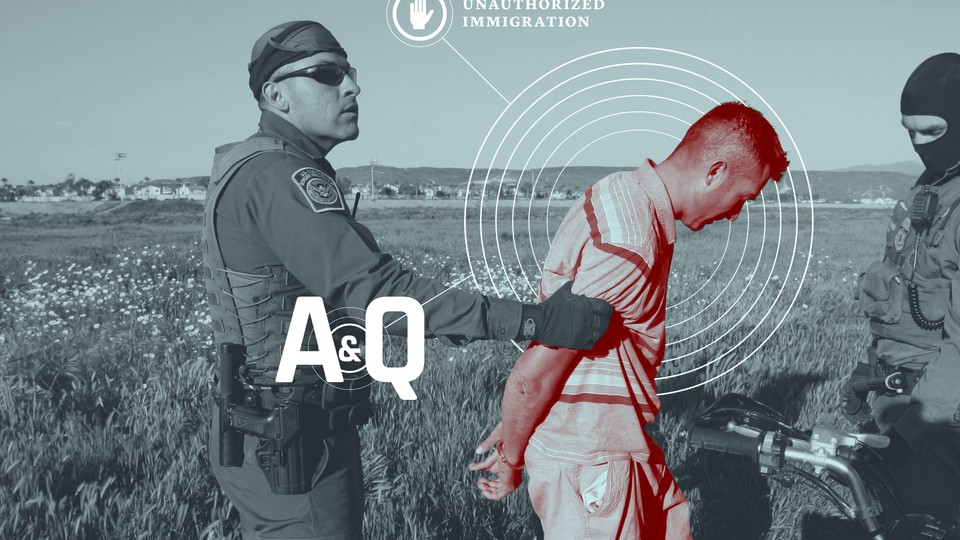 A&Q is a special series that inverts the classic Q&A, taking some of the most frequently posed solutions to pressing matters of policy and exploring their complexity.
The 2016 election has resurrected the topic of immigration, making it as pitched a point of contention among presidential candidates as it has been between members of Congress and the White House.
The debate over what to do about the roughly 11 million undocumented immigrants in the United States has led to a flurry of proposed solutions, such as mass deportation, border security, and a pathway to citizenship. But do any of these approaches work?
ANSWER
The government needs to address the growing number of undocumented immigrants in the United States.
QUESTION
Are you sure that the population of undocumented immigrants is in fact growing? In the United States, there are around 11 million undocumented immigrants, but that number is the result of a slight downward trend. According to a study published in January by the demographer Robert Warren of the Center for Migration Studies, in 2014 the number of undocumented immigrants dropped to 10.9 million—a gradual decline that dates back to 2008, when the undocumented population totaled 12 million.
Tracking undocumented immigrants can be challenging, making the task of attributing the decline to any one factor equally difficult. In January, my colleague Russell Berman noted a couple of factors that may have played a role, including the Great Recession, which discouraged the flow of migrants into the United States, as well as a declining birth rate and improving economy in Mexico.
To be clear, there are caveats to the report, and they're important to understand when reviewing the flow of undocumented immigration as a whole. For example, while there has been a decrease in the number of immigrants from Mexico, the number from Central America has increased. Most recently, American officials have expressed concerns because the number is beginning to creep up again.
U.S. Customs and Border Protection released figures showing a surge in the number of immigrants—many of whom were from El Salvador, Guatemala, and Honduras—who were apprehended along the southwest border. Still, undocumented immigrants make up less of the U.S. population at 3.5 percent than they did in 2007 at 4 percent.
ANSWER
Still, that's a considerable number of undocumented immigrants residing in the United States. The government needs to take a more aggressive enforcement strategy and deport those who are in the country illegally.
QUESTION
How effective would deportation really be? Early on, the Obama administration stepped up enforcement. In fact, President Obama deported more people than his predecessors, Bill Clinton and George W. Bush, according to data from the Department of Homeland Security. The department details the number of removals and returns, dating back to 1892.
Historically, returns—defined as "the confirmed movement of an inadmissible or deportable alien out of the United States not based on an order of removal"—make up the larger share compared with removals, but in recent years, that trend has been reversed. In 2013, more than 438,000 people were removed compared to the more than 178,000 returns. In 2014, 414,481 people were deported—a small decrease from the previous year but still historically very significant. And yet, it was also the year that saw the sudden surge of unaccompanied minors at the U.S.-Mexico border. Homeland Security Secretary Jeh Johnson announced a strategy that included collaborating with Mexico, Guatemala, Honduras, and El Salvador.
Deportations are also politically tricky. Recently, the Department of Homeland Security conducted removal raids that quickly became a point of contention between Democratic lawmakers and the White House. U.S. officials said the operation—launched in the hopes of preventing another surge—was meant to send a message to Central American migrants looking to make the journey.
But Democratic members of Congress—already skeptical of deportation—want to see migrants treated as refugees, not wrongdoers, as many are fleeing dangerous conditions. To this end, in January the Obama administration announced a refugee resettlement program with processing centers in Latin America to stanch the flow of immigrants crossing the U.S. border illegally. The program is still separate from deportations, but it implicitly acknowledges that removals are not the answer—or at least not the only answer.
Deportation efforts are simply not deterring hundreds of thousands of migrants from illegally entering the country each year—43 percent even attempt it multiple times. A better life seems worth the risk.
ANSWER
I'm not sold yet. The government should still start from scratch and deport all undocumented immigrants in the United States.
QUESTION
But hasn't that strategy been executed in the past? In 1954, Dwight Eisenhower instituted a program dubbed Operation Wetback in an attempt to remove Mexican immigrants; he increased the number of Mexican nationals who were apprehended and deported, or at least, increased the publicity surrounding such apprehensions. But the program had a steep human cost, and to the extent it succeeded, it was because increased deportation was paired with efforts to increase the number of legal migrant laborers to replace them, or to bring back deported workers under legal programs.
The effort—and its consequences—came to light again last year when Donald Trump recalled the initiative during a debate and called for the mass deportation of undocumented immigrants in the United States. His fellow presidential contenders have diverged on the topic, in some cases framing their opposition to deportation as humane and pragmatic. By simply reviewing how the deportation process unfolded in the 1950s, with far fewer immigrants, it's difficult to imagine any positive outcome emerging now.
ANSWER
Then let's implement a path to citizenship.
QUESTION
Congress has worked on bipartisan immigration reform before but failed to push it forward. Could it work a second time around? It's unclear. In 2013, a group of senators, dubbed the Gang of Eight, drafted legislation that included enforcement measures and a pathway to citizenship that would take several years. The House blocked the legislation.
But the process shed light on the arduous and contentious nature of immigration reform. Obama tried to push it through by signing executive orders aimed at shielding millions of undocumented immigrants from being deported, but that effort was shelved after Texas and 25 other states sued the United States. Obama's executive action on immigration now depends on the U.S. Supreme Court, which agreed to hear the case. If the Court were to rule in favor of the administration, it might be a great—but controversial—stride forward for immigration reform.
Meanwhile, immigration reform in a Republican-controlled Congress appears to be stalled, and Republican presidential candidates on the campaign trail are tacking even further to the right on the issue.
ANSWER
If one thing is certain, it's that this has been an ongoing problem. The government needs to secure the border and build a wall.
QUESTION
Where does the money to pay for the wall come from, and how would it get built? To completely block off the U.S.-Mexico border, the wall would have to extend roughly 2,000 miles, from California to Texas's Gulf Coast. In 2006, President George W. Bush signed the Secure Fence Act into law, authorizing the construction of a 700-mile wall of double-layer fencing on the U.S.-Mexico border. Covering a mile of the border averages between $2.8 million and $3.9 million, according to the Government Accountability Office. And the Department of Homeland Security has already paid millions to maintain existing fences.
Aside from the massive expense, experts have cited other challenges with building a wall, such as topography. The Washington Post's Jerry Markon outlines the obstacles:
The hurdles include environmental and engineering problems; fights with ranchers and others who don't want to give up their land; and the huge topographical challenges of the border, which runs through remote desert in Arizona to rugged mountains in New Mexico and, for two-thirds of its length, along rivers.
Donald Trump has nevertheless pledged to erect a 35-to-40-foot wall, making it a signature issue of his campaign. The bill for the $8 billion wall covering 1,000 miles of the border would be footed by Mexico, Trump says. But former Mexican President Vicente Fox has made it clear that's not happening.
For decades, immigration has been a point of contentious debate between members of Congress and the White House, and lately among presidential candidates. Progress on immigration reform has stalled as all parties involved struggle to reach a consensus. And prospects seem bleak, given the tenor of the 2016 presidential election.
Meanwhile, there are still a number of questions that remain unresolved:
U.S. history is rooted in immigration, so how would the country morally justify blocking immigrants? How far is too far for a president to go to bring forward immigration reform? And how do you approach the children of immigrants who did not come of their own volition? Americans ultimately need to decide both what they want their country to look like, and how best to achieve that goal.
Maybe there's an answer we haven't considered yet. Drop your thoughts into an email to hello@theatlantic.com.