UC Davis Students Demand the Ouster of Their Chancellor
Citing her paid side gigs and the horrific brutality by campus cops that marred her tenure, they make as strong a case as campus protesters anywhere in the nation.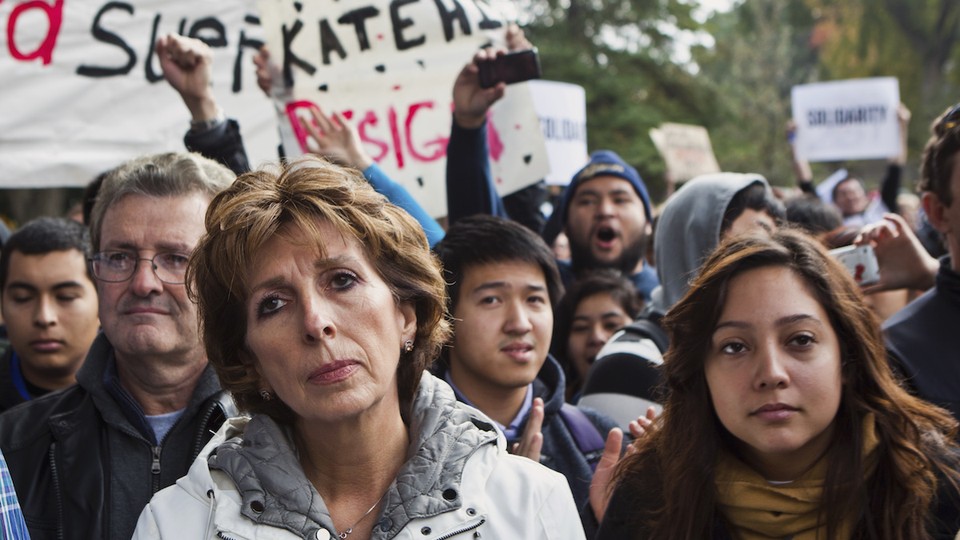 How long should University of California, Davis Chancellor Linda Katehi keep her job? The question is presumably on the minds of the UC Regents who control her fate: On Wednesday, as they begin their March meeting, protesters at Davis will have spent 13 days occupying her office, where they've endured through finals week and the beginning of spring break in hopes of forcing the administrator to resign her post. In addition, at least four Golden State legislators have publicly called for her ouster.
Some recent attempts to remove figureheads at institutions of higher education are glaringly frivolous. The case against Katehi is substantive, specific, and compelling—whether you conclude that it is ultimately right or wrong.
She is paid $424,360 to lead the university.
Her critics charge that she behaved unethically when taking additional paid positions, citing Sacramento Bee reports that she "accepted a paid seat on the board of DeVry Education Group as the for-profit company faces federal allegations of exaggerated job placement claims," and that she "received $420,000 in three years for serving on the board of textbook publisher John Wiley & Sons." UC President Janet Napolitano criticized her association with DeVry but said she shouldn't be fired. Activists object to the for-profit education industry generally, and believe it is a conflict of interest for a Davis administrator to be paid by a company that sells textbooks that Davis students are required to purchase.
Assemblyman Jim Cooper echoed the latter concern, stating, "It saddens me to think that while our students are strapped with student debt to pay for the astronomical prices of college textbooks, Chancellor Katehi in a clear conflict of interest received $420,000 from the same textbook publishers that are exploiting our students." He initially called for her to resign but changed his mind after her apology. I don't know that John Wiley & Sons exploits students, but it seems like an obvious conflict of interest for a university administrator to sit on its board of directors.
In an email to students, Katehi acknowledged that her position on DeVry's board violated rules governing outside gigs while arguing that, overall, she pushed the corporations that paid her to be better actors and added to the diversity of their boards. She also pledged to use $200,000 of her compensation to start a scholarship fund.
Here are her words:
My acceptance of the position on the DeVry Education Group board of directors did not comply with UC policy. I made an error in accepting it. I take full responsibility for that error, and I have resigned from the board. I accepted the position because I believed I could help DeVry better evaluate its procedures for delivering a sound curriculum and for measuring students' performance and progress post-graduation. Nevertheless, I apologize for my mistake and the distraction this has caused for our university community.

My service on the board of John Wiley and Sons from 2011-2014 complied with UC policy. My goal in accepting that position was to help Wiley improve the quality of its educational materials, while making them more accessible and affordable for students. While I recognize and appreciate the concerns raised by many in our community about my service on the Wiley board, my work on the board had no impact on UC textbook purchases.

I served on an unpaid advisory panel of King Abdulaziz University from 2012-2013, which included the former president of Ohio State University; however, I did not participate in any meetings. My appointment complied with University of California policies. My goal was to increase student diversity. To further our work together on behalf of California students, here is my commitment to our UC Davis community: I will establish a $200,000 scholarship fund for California undergraduate students at UC Davis from my Wiley stock proceeds.

Service on private and public boards is widely recognized as a responsibility of academic leaders. As a woman and a STEM scholar, my service has helped to correct the chronic lack of diversity on a number of boards. My pledge to the UC Davis community is to more carefully vet such invitations and to meticulously follow UC approval procedures in the future.
Calls for her resignation persist in part because of her record at Davis. Katehi began to lose the confidence of students in 2011, when a group of peaceful undergraduates, assembled lawfully on a campus quad, was brutally pepper-sprayed at point-blank range by a UC police officer. "I take full responsibility for the events," she said back then, amid other calls for her resignation.  "I really feel horrible for what happened," she told a large crowd that gathered days later at a campus rally, adding "I don't want to be the chancellor of the university that we had on Friday."
With members of the crowd yelling, "Then resign!" she continued, "You might not believe anything that I tell you today, and you don't have to, it is my responsibility to earn your trust ... so I hope that I will have a better opportunity to work with you." Years later, she still hasn't earned enough trust to avoid a renewed push for her ouster.
Kyla Burke's story is illustrative. The environmental science and management major was a freshman when Lieutenant John Pike pepper-sprayed students on the campus quad. "I didn't even know Chancellor Katehi's name before that," she said. At the time, Burke wasn't involved in campus activism, but saw fellow students lose faith in their chancellor. "If she actually supported what the campus wanted she would've stepped down then. I don't think I've ever seen the campus as united," she said.
Burke, who is black, later started participating in campus activism as part of the Black Lives Matter movement. Its incarnation at UC Davis was fueled both by events in Ferguson, Missouri, and by a hate crime perpetrated against a black student near the small-town campus. The men later arrested for the assault were not students. But some black students felt that the university wasn't doing enough to keep them safe. The Black Student Union, like other black student groups around the country, issued a number of demands. Overall, they compared favorably with those made at other institutions in their specificity, viability, and call for more study (though some demands would compromise the principle of viewpoint neutrality at Davis).
After participating in student organizing and activism, Burke felt that administrators at Davis "only want to support black student activists when it isn't inconvenient," adding "when it isn't good PR they don't care anymore." She said that while what instigated this month's protest were Katehi's "moonlighting positions," students were eager to occupy her office partly "because of past problems."
Emily Breuninger, another student activist, estimated that a total of 100 students have participated if you add up everyone who has stopped in, with around 20 students there at any given time, rotating in and out so that they could take finals. (A Davis spokesman later said that it's rare for as many as 20 students to be present, and that they estimate fewer than 100 total students.) Activists hope to keep up a presence in Katehi's office until she resigns. "If we're able to get rid of her," she argued, "that's the first step toward retaking our university." Whether or not they succeed remains to be seen––occupiers have been warned that they could face disciplinary action if they stay––but I doubt that pepper spray will be used to remove them.