Twisting the Media's Arm
Donald Trump's campaign denied allegations that its campaign manager assaulted a reporter for Breitbart News.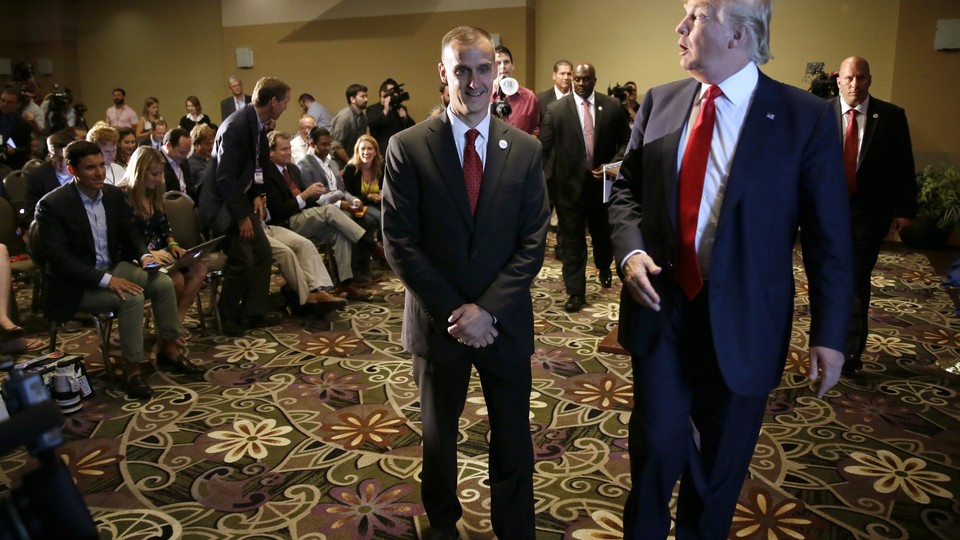 Donald Trump's campaign is taking on one of its enthusiastically supportive outlets in conservative media.
The Republican presidential front-runner's campaign denied allegations that Corey Lewandowski, the campaign manager, assaulted Michelle Fields, a reporter for Breitbart News, after a Tuesday news conference in Florida. Trump campaign spokeswoman Hope Hicks then insinuated Fields fabricated the incident for attention, and that she had a pattern of making up allegations.
The altercation reportedly occurred during a press scrum after Trump's evening news conference on Tuesday as Fields tried to ask the candidate a question about affirmative action. The Republican front-runner had just won the Michigan and Mississippi primaries.
"Trump acknowledged the question, but before he could answer I was jolted backwards," Fields  wrote Thursday. "Someone had grabbed me tightly by the arm and yanked me down. I almost fell to the ground, but was able to maintain my balance. Nonetheless, I was shaken."
Another reporter present identified the man responsible as Lewandowski.
According to the Daily Beast, Lewandowski originally told another Breitbart reporter that he mistook Fields for "an adversarial member of the mainstream media" instead of a Breitbart reporter. After the Trump campaign denied the event took place on Thursday afternoon, Breitbart's upper echelons, which received some criticism for not initially supporting Fields strongly enough, fired back with another statement.
"The Washington Post just published a very detailed, first-hand account from their senior reporter Ben Terris who is familiar with the campaign, the personalities involved, and was an eyewitness to the incident," Breitbart News CEO Larry Solov said in the statement. "We are disappointed in the campaign's response, in particular their effort to demean Michelle's previous reporting. Michelle Fields is an intrepid reporter who has covered tough and dangerous stories. We stand behind her reporting, her techniques, and call again on Corey Lewandowski to apologize."
In the article referenced by Solov, Terris wrote clearly about what he witnessed:
As security parted the masses to give him passage out of the chandelier-lit ballroom, Michelle Fields, a young reporter for Trump-friendly Breitbart News, pressed forward to ask the GOP front-runner a question. I watched as a man with short-cropped hair and a suit grabbed her arm and yanked her out of the way. He was Corey Lewandowski, Trump's 41-year-old campaign manager.

Fields stumbled. Finger-shaped bruises formed on her arm.

"I'm just a little spooked," she said, a tear streaming down her face. "No one has grabbed me like that before."

She took my arm and squeezed it hard. "I don't even want to do it as hard as he did," she said, "because it would hurt."
Fields also responded to the Trump campaign's denial on her personal Twitter account.
Will Trump reprimand or fire Lewandowski and rein in his staffers? It's doubtful. As my colleague David Graham noted earlier, Trump himself often encourages those who attend his rallies to vent their anger at protesters and reporters. He frequently launches into verbal tirades against journalists in the same room as him, sometimes by name. And he once promised to pay the legal fees of supporters who "knock the hell out" of hecklers.