The Trump Tipping Point
After a strong Super Tuesday, the Republican front-runner is more dominant than ever—and his party is at war like never before.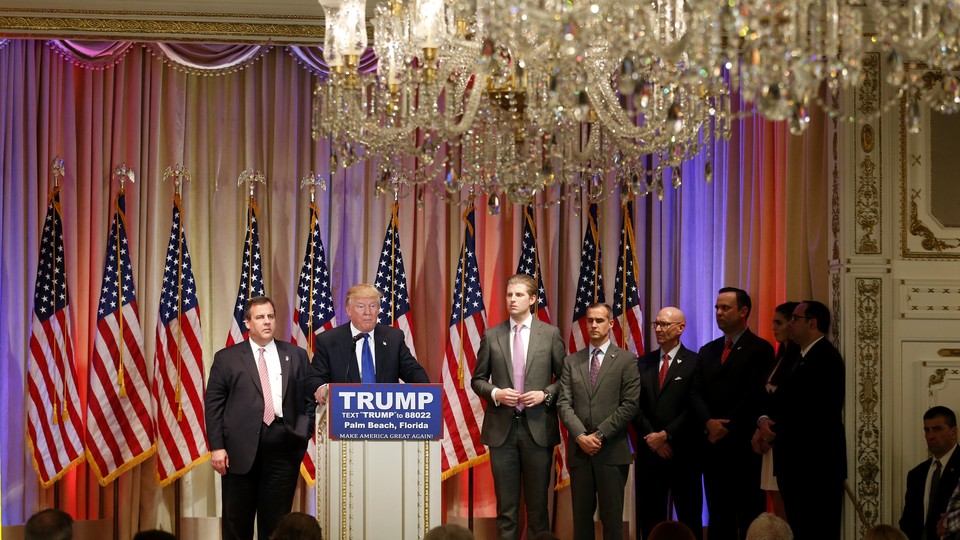 PALM BEACH, Fla.—The ballroom at Mar-a-Lago is white and gold—it is called, in fact, the White and Gold Ballroom. Gilded columns topped with gilded arches line the sides of the room; the ceiling is embossed with a gilded pattern of seashells and vines. This is Donald Trump's home away from home, the estate-turned-private-club where he chose to celebrate the biggest night so far of his improbable presidential campaign.
The room was too small for the dozens of reporters who crammed into it on Tuesday night, jostling behind cameras and squeezing into stiff-backed gold-painted chairs. And that was before a contingent of flamboyantly dressed, aggressively tanned older people filed in—members of the club, there to support their friend Trump.
The governor of New Jersey, Chris Christie, who once hoped to be president himself, introduced Trump. "Tonight, Donald Trump is the clear winner on Super Tuesday," he said. "But the win is for our country." Trump had, at that point, already won Alabama, Georgia, Massachusetts, Tennessee, and Virginia; he would go on to win Arkansas, while Ted Cruz won Oklahoma, Texas, and Alaska. It was time, Christie said, for the Republican Party to come together.
Outside the room, that was not, to put it mildly, what was happening. The GOP had spent the past week in a paroxysm of abject terror. A sitting senator and many others declared they would not vote for Trump if he was the nominee; hundreds signaled their agreement in tweets and emails and articles. After Trump, in a Sunday interview, repeatedly declined to reject the support of David Duke and the Ku Klux Klan, the clamor intensified. The speaker of the House and the Senate majority leader publicly decried such flirtations with "bigotry."
Christie did not smile as he spoke. He looked, frankly, like a hostage. Earlier, the New Hampshire Union Leader had rescinded its endorsement of him from the primary, and six New Jersey newspapers had called on him to resign. But he had chosen his place, and it was beside the winner.
Trump took the lectern, which was also white and gold, on the stage at the front of the ballroom. The white-curtained backdrop was lit pink and purple, giving it the feel of an ancien regime-themed disco. "It was a very tough night for Marco Rubio—he had a tough night," Trump observed, to laughs. "He is a lightweight, as I've said many times before." Rubio, the Republican establishment's last, best hope for an alternative to Trump, had spent the week aggressively taunting the frontrunner. Though he would eventually be declared the winner of a single contest—the Minnesota caucuses—he had come in third in most of them. Polls have him trailing in his home state of Florida, which is due to vote in two weeks.
The first question for Trump from the press was about the topic on everyone's mind: the many Republicans who say they will sooner support a third party than vote for him.
"Well, they can always do that, but then they'll lose everything," he said. "That would be the work of a loser." Christie, standing behind Trump, had his left hand in his pants pocket; as Trump spoke, he slowly balled his right hand into a fist, then relaxed it.
"I will say this, look: We have expanded the Republican Party," Trump added, pointing to the record turnouts in various states, the independents and Democrats who had come out to support him. "Look, I'm a unifier," he said. "I know people find that a little hard to believe, but I'm a unifier! Once we get this finished, I'm going to go after one person: Hillary Clinton."
Trump was asked about the Klan. On Monday, he had blamed the non-disavowal on a faulty earpiece. He said that he had disavowed the white supremacists multiple times before and after the interview in question. "I mean, how many times to I have to disavow?" he said.
Can Trump be stopped? Dozens of articles say he can; just as many say it's too late. The truth is, nobody knows. After Tuesday, he is far ahead of his rivals in the race for the 1,237 delegates needed to secure the nomination; their best hope is not to overcome him but to prevent him from getting a majority, so that they can fight it out on the floor of the Republican convention in July.
Over the past week, the Trump resistance began in earnest, an anguished outpouring of fed-up conservatives who swore they'd had enough and would block him at all costs. A Trump nomination, they said, would be the end of everything they had worked for and believed in. "A generation of work with African Americans—slow, patient work—I can't tell you how great it is that we've pissed that away because of Donald Trump in one day," sputtered Rick Wilson, a Florida admaker who had been agitating for months that Trump needed to be stopped.
Wilson did not relish his Cassandra-like role. "For the first three months, it was 'Oh, bullshit, he's a joke," Wilson told me, recounting the reception he initially got when he tried to get some of the party's big-money donors to fund an advertising effort aimed at attacking Trump. "For the next three months, it was, 'We're going to strategically leverage him to help our candidate.' And now they're throwing shit in the air in total panic, screaming, running for the hills." I could practically hear Wilson rolling his eyes over the phone. "I was 'never Trump' before it was cool," he said.
How did Trump happen? The theories abound. It was the other candidates' fault, for failing to take him seriously, for thinking he would fade. It was the party's fault, for making the nomination rules more frontrunner-friendly, and believing it could get Trump's supporters without his baggage—without him. It was the media's fault, for eating up the spectacle and giving him unlimited free airtime. It was the talk-radio hosts who ignored his ideological transgressions to applaud the way he was smashing the system. It was the Internet, which allowed him to broadcast his message to 6.5 million Twitter followers.
It was the establishment, which pushed an unappealing agenda and never kept its promises. It was the political scientists and pundits, who lulled people into believing this couldn't happen. It was Larger Sociocultural Forces, globalization and rapid social change that left the working class in the dust, disoriented in a world they didn't recognize.
"I was backstage with him when he endorsed Mitt Romney," Katie Packer, who served as Romney's deputy campaign manager, recalled of the day Romney accepted Trump's endorsement in Las Vegas four years ago. "I found him obnoxious, egotistical, and arrogant." Trump that day was fixated on the size of the mob of journalists who had come to observe the proceedings, which he insisted was the biggest of its kind. "I found it so unseemly, I was embarrassed for Mitt," Packer told me. "But it was easier to have him on the team than to have him crapping all over us every day. We had to focus on winning."
Like so many others, Packer did not initially see Trump's candidacy as a threat. "It never entered my mind that a pro-choice, anti-Second Amendment, pro-stimulus candidate could ever get through any Republican primary," she said. But by December, as Trump continued to gain steam, she became frustrated with the lack of a campaign against him, and began raising money for a new political-action committee. It has raised millions of dollars since the Iowa caucuses, airing ads that seek to raise questions about Trump's sincerity and authenticity.
More such efforts are coming together. A group of sitting Republican governors held an alarmed conference call on Monday. A bunch of millionaires on Tuesday resolved to get together to send more resources to Packer's group, which hired Jeb Bush's former communications director. In the coming weeks, these Republicans hope, Trump will face a sustained barrage of attacks for the first time, and his support will gradually begin to erode.
"He hasn't gotten to 50 percent in any primary yet, so of course he can be stopped," Packer told me. "All we can do is try. And if we're not successful, we can sleep at night knowing that we tried."
But people love to be with a winner. And Trump is giving people something they can't get anywhere else.
His rallies have turned into concertlike festivals that shut down the little towns he lands in for miles around. People by the tens of thousands park far away and stand in line for hours to get in, flanked by vendors hawking an amazing variety of wares. There are T-shirts with Trump as Superman and bright-pink ladies' hats that say "Trumpette." There are baby onesies and tie-dyed dresses. There are "Make America Great Again" scarves. In the parking lot of a football stadium in Huntsville, Alabama, on Sunday, a Girl Scout troop was selling cookies. Outside a college arena in Valdosta, Georgia, on Monday, a vendor was selling Trump-themed condoms.
The Alabama rally began with an endorsement of Trump by Jeff Sessions, the state's junior senator, a staunch opponent of immigration who was once denied a federal judgeship over allegations he had opposed civil rights. In what has now become a signature ritual of such events, Trump's speech was interrupted several times by protestors, who would yell something inaudible and be gently escorted out by security. "Tell me," Trump said after one such eruption, as a group of African Americans filed out with fists in the air, "isn't it fun to be at a Trump rally?"
It's all part of the show that people have come to expect. You meet all kinds of people at Trump rallies, and they do not hesitate to speak their minds. "It's about the white middle class—we have not been represented, and the only way we are going to get representation is if Donald Trump is our next president," Ginger Barbee, a retired criminal-defense attorney from Trussville, Alabama, told me. Not being afraid to say such things—being heard—is the whole point of Trump, whose flouting of "political correctness" resonates deeply with people who feel they've been silenced.
"We're treated like the minority, even though there are more of us," Barbee complained. A descendant of Confederate soldiers, she lamented the recent removal of Confederate flags and monuments. "I do not want any more Republican establishment people running the country any more than I want the Marxist Democrats," she added. "Write that down."
Tootsie Cobb, an elegantly dressed 72-year-old retired nurse, had not yet heard about the Klan controversy when I spoke to her, and it gave her momentary pause. "Oh, that's bad," she said. Cobb could vividly recall the Klan in her hometown of Arab, Alabama, when she was younger. They gathered on a mountaintop just outside of town  in their robes and hoods; they would put up a cross "as tall as those pillars," she said, indicating the uprights of the football field we were standing on.
She always felt frightened of them, and she did not like the idea of Trump associating with them. "I will still vote for him, but I am very disappointed," she said. "But what else is there? I do wish he had more empathy. His ego is very fragile. But we have to build the wall."
Until 2003, there was a tire plant in Madison, Alabama, owned first by Dunlop and then by Goodyear. At one time it employed 1,200 people, including Brad Chittam, who began working there, alongside his father, as soon as he graduated from high school. He built tires and changed molds. But when the plant closed, Chittam was out of work.
He got a government grant to go back to school and get a two-year degree. Truthfully, he cherished the extra time he got to spend with his then-7-year-old son. When he finished school, he got a job building rocket engines used by the NASA facility in Huntsville. It is the best job he has ever had. The scourge of unrestricted trade had not worked out so badly for Chittam, yet he was moved by Trump's denunciations of job displacement. "I'm not only looking out for myself," said the 47-year-old, whose red hair curled beneath a University of Alabama visor. "We should be doing something to prevent that from happening and make the jobs stay here." Things had to be built somewhere—why shouldn't it be here in America, rather than somewhere else?
In Valdosta, I met Brandy Gillis, a stay-at-home mother whose husband owns a timber company. "I'm 41 with five children and I can't understand my 9-year-old son's math homework because of Common Core," she said. "My son has ADHD, but he doesn't get any one-on-one help because we live in a rural area and there are 15 or 20 immigrants in his school who can't speak a lick of English. So they get the one-on-one help and we have to hire a tutor."
"The social world has changed so much," fretted 83-year-old Maxine Chaney, who wore a blue velvet tracksuit and punctuated her sentences with gentle smiles. "Things that we felt were not appropriate are accepted now," like people living together before they're married and women having babies outside of wedlock. "A girl can make a mistake one time, but two times, that's a want-to," she said. She wished Trump wouldn't swear so much.
"I consider myself an independent—a moderate," said Brock Garvis, a 29-year-old truck driver with tattooed calves and a Make America Great Again cap. Garvis's brother died in Afghanistan in 2007, leaving behind three young children. He wanted to tighten the borders and keep out the Muslims to prevent another 9/11, which he feared was imminent. "I also like Bernie Sanders," he added. "People should not have to work more than 40 hours to support their families. That's just not right."
So many people came to see Trump in Valdosta, in southern Georgia on the Florida border, that at least 1,000 couldn't get in and had to listen to his speech on loudspeakers, standing on the tennis court outside the basketball arena that was packed to the rafters. (Trump claimed there were actually 12,000 people stranded outside, but a policeman I asked afterward gave me a lower estimate.) Before the speech, a group of African Americans said they were quietly escorted out; the Trump campaign denied it was behind the ejection.
Bill Griffin was one of those who didn't make it in, because he had to drive to the rally after work. He is a social worker in Florida; from 1998 to 2002, he worked in the state legislature in Tallahassee, where he knew Jeb Bush. Griffin had already voted early for Trump. "I'm a moderate Republican," he said. "Who else is there? You know, Trump really is a moderate. He used to be a Democrat, for God's sake! He'll get smart people in there who know what they're doing."
People see whatever they want to see in Trump, and then they refuse to see anything else. He has won the moderate, secular, independent voters of New Hampshire, the archconservative, devoutly religious Southerners of South Carolina, and the rugged, gun-toting, government-loathing individualists of Nevada. If Trump is stopped now, what will happen to all these people? Are they really all going to vote for someone who got half as many delegates as Trump and got handed the nomination by a convention-floor establishment conspiracy?
"I expect he'll get the Republican nomination, unless they Shanghai him," Randy Lawson told me as we walked to Trump's rally in Alabama, along with his 11-year-old son, who had made a poster that said, "WE NEED…the TRUMP, the whole TRUMP, and nothing but the TRUMP." Lawson continued, "If they take it away from him, I think that would ruin the Republican Party."
I asked if that prospect bothered him. "No," he said. "It wouldn't break my heart."
---
Related Videos