The Pitfalls of Early Voting
With frequent debates and candidates dropping out by the week in the topsy-turvy Republican primary, there's more risk in going to the polls long before Election Day.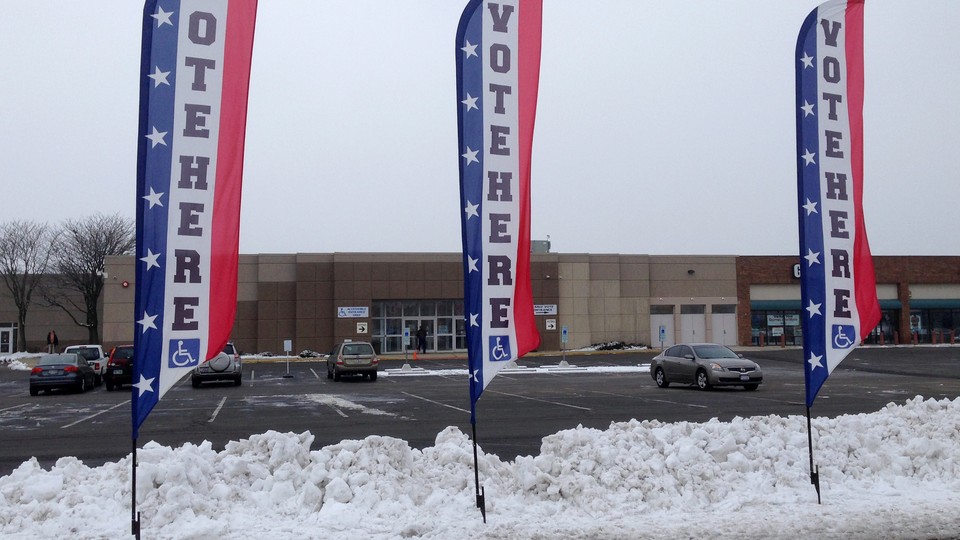 Donald Trump won the Republican primary in Louisiana on Saturday. But he didn't actually get the most votes on Election Day.
No, Trump carried the state based on the huge tranche of votes he banked back in February, during the weeklong early voting period when about 15 percent of the GOP electorate cast their ballots. That window, from February 20 to 27, coincided with Trump's winning streak through New Hampshire, South Carolina, and Nevada. And it came before the Republican establishment escalated its all-out war on its party's presidential front-runner, before Trump refused to disavow David Duke (who ran for governor of Louisiana) in an interview, before he made an astonishing boast about his anatomy in last week's debate, and before Ben Carson had even dropped out of the nomination race.
Trump built a nearly 24-point lead over Ted Cruz among the early voters, but Cruz topped him among people who went to the polls on Saturday and closed the gap to the point where it seemed the networks and the Associated Press had called the race for Trump too soon. Cruz appeared to pick off some support from Trump but even more from Marco Rubio, who won the votes of fewer than one-in-10 Republicans on Saturday after capturing more than 20 percent of the Louisiana vote in February.
In a sense, the Louisiana primary was really two elections separated by more than a week, and the stark difference in the results prompted gripes from critics of early voting. "This is an excellent example of early voting run amok," said John McGinnis, a professor of law at Northwestern University's Pritzker School of Law. McGinnis and his colleague at Northwestern, Eugene Kontorovich, have argued against the expansion of early voting, writing that it changes the nature of an election campaign and limits the amount of information on which people have to base their decisions. "In a system of early voting, you're basically letting people make decisions on different sets of information," Kontorovich said. "So the people who are voting earlier are making decisions on a smaller set of information."
The same could be true in the important Ohio and Florida primaries, which will be held on March 15 but for which voting has already begun. A Monmouth University poll released on Monday found that Rubio has been trouncing Trump among early voters in Florida, who according to the survey make up one-fifth of the Republican electorate in his home state. But Trump has a 42 percent to 26 percent lead among those who haven't gone to the polls, giving him a 38-30 edge overall.
Early voting has expanded across the country in recent elections as officials have tried to combat persistently low turnout and make it more convenient for people to vote, particularly those who would prefer to cast their ballots on weekends rather than during the workweek. The expansion of voting hours is particularly popular among Democrats, and they have fought GOP efforts to restrict early voting in states like Florida, North Carolina, and Ohio, where they've accused Republicans of trying to suppress minority voters. In 2014, a bipartisan commission established by President Obama recommended that states expand early voting where possible, so long as they do not devote fewer resources to facilitating voting on Election Day.
Yet early voting in a fluid presidential primary race arguably carries greater risk than in the general election, where the two candidates are well-known for months and the debates are usually finished a couple of weeks before November. Just in the month before Super Tuesday, by contrast, half the Republican field dropped out of the race, and nearly every debate, primary, or caucus seemed to swing momentum one way or the other. "When someone does cast a ballot, that's it. It's not as if you can say: 'Oh, I changed my mind. Cancel my early vote,'" said Sandra Slifer, the former president of the League of Women Voters of Louisiana.
The biggest risk for early primary voters is pulling the lever for a candidate who drops out before Election Day—Carson and Jeb Bush combined to pick up more than 10 percent of the February balloting in Louisiana. There's no easy way to know whether Republicans who voted early for Trump came to regret their decision, but his strength in early voting is not unique to Louisiana. Exit polls in many states have found that Trump does best among Republicans who made their decision long before Election Day. Until Louisiana, Rubio had been doing better among late-deciders. Given how polarizing Trump has been in this year's campaign, one possible explanation is that while his supporters decide early—and vote early—the many Republicans who know they won't support Trump wait until the last minute to decide which candidate is the best alternative. In South Carolina, Rubio won much of that bloc, while in Louisiana, Cruz did the best.
"The Trump supporters were very passionate and enthusiastic, and they couldn't wait to vote for Trump," said Jason Doré, executive director of the Louisiana GOP. Both he and Slifer noted that Rubio canceled a rally scheduled for Friday night at the last minute to campaign in Kansas instead—a move that could have depressed his Election Day support. "I've heard from several Rubio supporters who were disappointed and felt like he was pulling out of the state," Doré said. Cruz has also invested more into a traditional voter turnout operation, which might help explain his Election Day strength as compared to his rivals.
While the broader debate over early voting continues, there seems to be little talk—so far—about adjusting the system for the highly volatile presidential primary season. "Everyone likes the current process," Doré said. Republicans will cast ballots in four states on Tuesday, and the candidates have another debate on Thursday. But tens of thousands of voters in Florida, Ohio, and elsewhere don't need to see who wins or what Trump will say next. Whether because of convenience or passion, they've already made the irrevocable decision to vote early—the risk of remorse be damned.