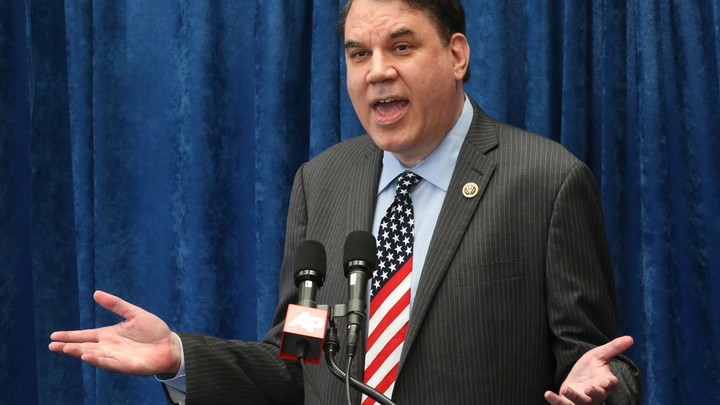 Name this 2016 candidate:
He's a loud, crass New York native who delights in political name-calling.
He is filthy rich but peddling a very raw form of anti-establishment populism.
His business ethics are seriously sketchy.
He has questioned Ted Cruz's eligibility for the presidency based on Cruz's Canadian birth.
He has a colorful marital history.  
The more obnoxious and controversial he becomes, the more his supporters love him.  
He's considered so toxic by his own party that its leaders are actively working to tank his candidacy, even though he is currently ahead in the polls.
He has endorsed Bernie Sanders for president.
Did I lose anyone with that last bit? I am, of course, talking about Alan Grayson, the saucy liberal firebrand—or unhinged, ethically questionable demagogue, depending on your perspective—currently representing Florida's 9th congressional district and running to replace Marco Rubio as the state's junior senator. The latest Public Policy Polling survey out of Florida, released last week, has Grayson up 11 points over the Democratic establishment's preferred candidate, Representative Patrick Murphy. This is unwelcome news for a party that's casting a hopeful eye on the Sunshine State as it works to claw back its Senate majority from Republicans. Because, in a cycle where many—many—Republicans are in a white-hot panic over the prospect of Donald Trump becoming the ochre-tinted face of their party, Grayson stands as a not-so-gentle reminder that Democrats have their loudmouthed embarrassments as well.
For those unfamiliar with Grayson's political charms, they can be helpfully broken down into two different categories—brash and business.
Most immediately apparent is the congressman's in-your-face, say-anything manner, which comes as close to trumping Trump as that of any politician working on either side of the aisle. Grayson's greatest hits include dubbing his 2010 Republican opponent "Taliban Dan Webster," comparing the Tea Party to the Ku Klux Klan, calling a female Federal Reserve adviser a "K Street whore," saying he has trouble listening to Dick Cheney "because of the blood that sometimes drips from his teeth while he's talking," and asserting that the GOP alternative to Obamacare amounts to "Don't get sick" and, if you do, "Die quickly." He has referred to his own party's leadership as "the party politburo" and "corrupt, mendacious sellouts." He has called his chief Democratic primary opponent, Murphy, "a lickspittle pillock" (which, OK, is pretty impressive as insults go) and derided him as a "Richie Rich" "spoiled trust-fund" "faker" who "has never worked a day in his life in any real job" but whose wealthy daddy was "so proud that he was able to buy Little Richie a congressional seat."
As with Trump, Grayson's mouthiness is a big part of what supporters love about him. "He says whatever he wants to say, and he is speaking to a part of our party that wants somebody to be as angry as they are when they're posting on Facebook or Twitter," says Kevin Cate, a Florida Democratic strategist. And, to be fair, most of the time, he's taking aim at the political enemy. "When it comes to Republicans, he's extremely inflammatory, and obviously he's got constituents that like that," observes longtime party strategist Jim Manley, a former Senate leadership staffer.
Not that Grayson limits himself to political targets. In explaining why it was taking so long for him to dissolve his marriage last year—a messy process that ended with an annulment when his wife of 25 years was ruled a bigamist—Grayson quipped, "I'll sum it up for you: Gold diggers gotta dig."
Less colorful but potentially more damaging may be the representative's, let us say, business issues. Last month, The New York Times took a long look at how the multimillionaire Grayson may have used his public office to benefit a hedge fund that he founded in 2011 (in between his two stints in the House) and continued to manage even after his reelection to Congress in 2012. (Until recently, the fund bore Grayson's name and operated out of the Cayman Islands, a favorite tax haven.) If so, this would be a no-no under House ethics rules. The matter has been under investigation by the ethics committee for several months now, but the Times detailed some of Grayson's more problematic practices, such as using his public title in marketing materials for his hedge fund and employing aides to do fund work and political work simultaneously. (Grayson has denied all wrongdoing. Aggressively.)
The day after the Times piece ran, Harry Reid responded by all but ordering Grayson to drop out of the race. In a statement asserting that Grayson had disqualified himself from serving in the Senate, Reid fumed: "Alan Grayson used his status as a congressman to unethically promote his Cayman Islands hedge funds, and he should drop out of the Senate race immediately. His actions aren't just disgraceful to the Democratic Party, they disgrace the halls of Congress." This was quite a smackdown, observes Manley: "Usually leaders don't get involved in primaries."
Just last week (one day after the PPP poll broke), both President Obama and Vice President Biden endorsed Grayson's opponent, Murphy. Biden is on tap to campaign with Murphy later this month, and Murphy is expected to get even more party support between now and late August, when Florida primary voters cast their ballots.
Grayson remains unbowed by the forces amassing against him. "These are desperate measures by unscrupulous people," he assures me, asserting that the allegations against him "are nonsensical." This is, he says, all about party leadership carrying Patrick Murphy's water: "They are desperate to have their Wall Street errand-boy flunkie get the nomination so he can carry on the great tradition of selling out the voters."
Is Grayson concerned that opposition from party leaders will hurt him with donors? "They're doing their best to disrupt the fundraising from what might be referred to as the conventional sources," he says. "Certainly they're making a concerted effort to prevent big donors and special interests from contributing to my campaign. All that really does is simply infuriate my national base of small donors." If anything, insists Grayson, the establishment's "shenanigans" and "smear campaign" have fattened his coffers. "We raised twice as much money in February as in January—more than in the entire fourth quarter of last year."
And does he worry at all that his legendary, um, outspokenness will hurt him in a statewide race? "No! Why else would I be up by 11 points in the primary and six in the general?" He pauses. "We—actually, I don't think we've put that out yet. Our own polling shows us up an average of six or seven points over all the Republican opponents. There! I'm not taking it back. I said it."
Then he's back on track. "The fact is that people respect my honesty," he says. "They respect my genuineness. They respect my authenticity. This is the year for that—not the year to be a kiss-up to the failed party bosses who put us in the predicament we're in."
Besides, he says, unable to resist one more dig, "I think Harry Reid is one of the most reviled people in politics today. The last thing you want is an endorsement from Harry Reid. He's been a bag man for special interests for a generation now!"
Democratic players at both the state and national level insist that the race is still young and that, as voters start really paying attention, Grayson will fade. (Indeed, most polls show the bulk of Florida voters as still undecided.) But Grayson's ability to threaten Murphy suggests it's not just Republicans who need to watch out for hostile takeovers by outrageous outsiders. As Cate observes, "If we wound up with a Senator Grayson and a President Trump, this would be a scary place to live."
We want to hear what you think about this article. Submit a letter to the editor or write to letters@theatlantic.com.