The Folly of Under-Educating the Undocumented
State economies will improve if undocumented immigrants have access to a college education. But three states still ban them from pursuing one.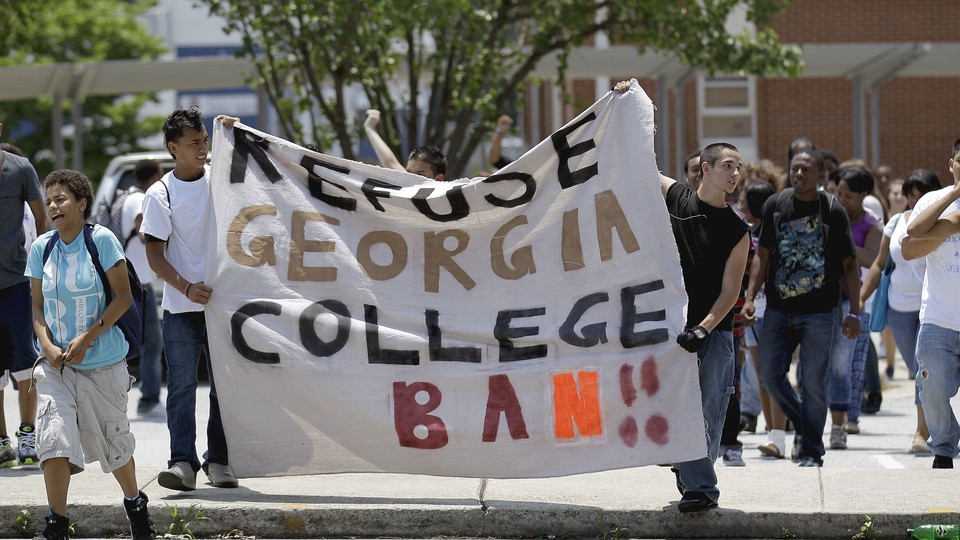 Ashley Rivas-Triana is 22 years old and faces an uncertain future. Her high-school diploma is not good enough to compete in the current U.S. job market, and she can't go to college in her state because she is undocumented. Last month, the Georgia Supreme Court upheld a Board of Regents rule that all students be "lawfully present" to attend schools in the University System of Georgia and that those seeking in-state tuition be "legally in this state." All of which means that when each one of her friends, with whom she attended kindergarten through high school in Georgia, graduated and went to college, Rivas-Triana was left behind. "It's definitely upsetting to me having been living in the state my whole life and expecting something when you get older—expecting to go to college," she says.
Most states have no public-college restrictions on undocumented students. In fact, state officials across the country say that, in order to be competitive, they need all the educated young people—documented or undocumented—they can get. That's because by 2020, 65 percent of jobs in the United States will require some sort of postsecondary degree or training beyond a high-school education, according to the Georgetown Public Policy Institute. With 2.1 million undocumented, college-aged young people throughout the United States, the only way to reach that 65 percent mark may be to provide greater access to higher education. What's more, by denying undocumented immigrants educational opportunities, they remain trapped in a kind of permanent underclass—unable to get jobs that require training beyond a high-school diploma. "You have a population of young people who can drive to low-wage jobs, but be denied higher education," says Laura Emiko Soltis, executive director of Freedom University. "They are a captive low-wage labor force."
So why doesn't Georgia want to help Rivas-Triana go to college? In three states—Alabama, South Carolina, and Georgia—undocumented immigrants are denied access to public colleges. Georgia approved its ban in 2010, when the Board of Regents of the University System of Georgia passed two policies effectively prohibiting undocumented immigrants from public colleges in the state. The Board of Regents found that undocumented immigrants could both take seats away from qualified citizens and be a burden on state taxpayers. And so, the Board passed one measure to bar undocumented immigrants from attending any of the top five public universities in the state and another measure to bar them from paying in-state tuition at all other Georgia public universities.
But this isn't the norm: Over the last decade, the national trend has gone in the other direction, with states introducing and passing legislation that allows undocumented immigrants to attend public colleges and even to be eligible for in-state tuition. In recognition that out-of-state or international tuition rates are enormous financial burdens, 18 states, from California to New Jersey, have adopted in-state tuition policies. Of course, even that still weighs down many students, as the high costs of in-state tuition continue to rise every year. That's why organizations like TheDream.US offer scholarships to undocumented students and why six states—California, Minnesota, New Mexico, Oregon, Texas, and Washington—extend financial aid to undocumented students in need. Some states, including Illinois, have even set up special funds specifically to provide undocumented students financial assistance for college.
Most states are more concerned about creating a well-educated workforce than with keeping undocumented students out of taxpayer-funded schools—making Georgia an outlier. Suzanne Hultin, a policy specialist at the National Conference of State Legislatures, says that connecting higher education and the economy has become one of the defining aspects of states' immigration debates. "Why should education end in high school when we know that the majority of students, in order to get some sort of well-paying job, will need some form of postsecondary education?" she asks. After all, according to Georgetown University, of the 55 million job openings through 2020, just 36 percent of them will require no additional education beyond high school. And of those jobs that will require a bachelor's degree or some college, the fastest-growing industries are in health care, community services, and STEM (science, technology, engineering, and math) fields.
Georgia State Senator Nan Orrock this month introduced a bill that would reverse the state's policies on undocumented immigrants in public colleges, noting the economic benefits. "By barring in-state tuition to these students, we are reducing the number of capable, qualified people that could earn degrees and contribute to our economy and help build our state," Orrock told USA Today. "That's what's missing when you stand in the college door and deny these people access by charging outlandishly high tuition." After all, Georgia taxpayers already invest $110,000 in each student for their public education through high school, Orrock says. It would make sense, she argues, for those students to then use that investment and go to college, instead of becoming a tax burden through welfare programs or even the jail system. Georgia taxpayers already spend $21,000 annually on each inmate, according to the Vera Institute of Justice, adding up to $1.1 billion for the state's prison system. Further, taxpayers spend nearly $20,000 annually on each person who qualifies for welfare programs, according to the Cato Institute.
The undocumented workforce is already reflecting the changes needed in the U.S. economy. Undocumented immigrants are now working more management and professional jobs than they were before the Great Recession, according to the Pew Research Center, increasing from 10 percent in 2007 to 13 percent in 2012. The number of undocumented immigrants in construction and production jobs declined in that period, from 34 percent to 29 percent. And of the undocumented immigrants who are attending college in the United States, 28 percent are majoring in STEM fields, a higher rate than the national average, according to a report from the University of California, Los Angeles. What's more, a 2015 survey from the University of California, San Diego, the Center for American Progress, and the National Immigration Law Center showed that 65 percent of undocumented immigrants who qualified for Deferred Action of Childhood Arrivals are now pursuing a higher education. Of those, 70 percent are also employed. And, with more education, those students will qualify for higher-paying jobs, which CAP research has shown, significantly increases overall tax revenue.
To be sure, states are not required to provide undocumented immigrants access to higher education; they are only required to provide education through high school. When the Georgia Board of Regents issued its bans in 2010, board member Jim Jolly argued that the prohibitions would ensure that "Georgia taxpayers are not subsidizing" the state's undocumented students. What's more, Jolly said, the ban should mollify any fears Georgians may have that illegal immigrants are denying American citizens spots at the state's public universities.
That's a real worry for students like Ben Phillips, a computer-science student who wouldn't want to lose his spot at UGA to an undocumented immigrant. "It's competitive to get into this school," says the sophomore. "The high-school kids that are coming in here had to work hard to get in. If I was a citizen of this country, paid my taxes, put in all the work myself, I would hate to fall just shy because of one or two students who aren't citizens here. I see myself as the American citizen who got into this college following all the rules." And at a moment when immigration has become a lightening-rod issue, polarizing the nation, the red state's Supreme Court may have made an economically dubious but politically savvy decision in upholding the Board of Regents' restrictions.
Of course, many think politics has lately undermined reason. Soltis says the Board's rules amount to an "economic ban" for the 6,000 undocumented young people who graduate from high school every year in Georgia, because undocumented immigrants have to pay three or four times the amount of money to attend their state schools. And that's thousands of young people who could be contributing economically to the state rather than ending up relying on it—a far costlier outcome than a few kids not getting into their first-choice schools.
Soltis, for one, has taken matters into her own hands. For the last five years, at the Freedom University, an underground institution (they don't publicize where they meet), her team has provided college-level—though unaccredited—courses to 40 undocumented students each semester in the Atlanta area. But this is a bandage, not a solution. So, last month, Soltis's group led 90 activists—including Rivas-Triana—in protests at the three top public colleges in Georgia, demanding a chance for all young people to go to those schools. Protesters at the University of Georgia, Georgia Tech, and Georgia State University took over unoccupied classrooms on each campus and sang songs, chanted, and demonstrated until the police removed them, sometimes by force. At the end of the day, 14 people were arrested.
While Georgia, South Carolina, and Alabama have decided to ban undocumented young people from their public colleges, other traditionally conservative states like Texas, Kansas, and Utah have decided to allow them to take advantage of in-state tuition. Texas, in fact, was one of the first states to admit undocumented students into its higher-education institutions. Former Republican presidential candidate Rick Perry, a staunch conservative, signed a law in 2001 agreeing that if a student graduated from high school in Texas and had lived in the state for three years, they deserved a chance go to public college—and the state deserved a chance to improve its future economy. In Texas, 25,000 undocumented students are currently able to take advantage of in-state tuition, translating to 2 percent of students enrolled in higher-education institutions there, according to the Texas Higher Education Coordinating Board. Of those 25,000, 28 percent are in universities and 72 percent are in community colleges.
"The business community recognized the need to get these kids through college," says Rebecca Callahan, an associate professor of education at the University of Texas, Austin. "We are facing an economic future in Texas where we have a good portion of our young population that's not going to college. As a society, we need as many of our young people to go to college and be as educated as possible."
Callahan's research has found that students who are bilingual and biliterate, as many undocumented immigrants tend to be, are more likely to graduate high school and enroll in a four-year college. "They do see themselves as very American," she says, describing undocumented youth as engaged, highly motivated students. "They're really, really excited about being in school and very aware of what a privilege it is to be in college. If we're looking at more and more students coming up through the pipeline who we don't tend to educate well, we're putting ourselves at a huge disadvantage through bans."
Today, Rivas-Triana is a waitress at a local banquet hall, a low-wage job she never expected for herself. She should be a college senior right now. Rivas-Triana wanted to major in sociology and graduate from a state college in Georgia with her high-school friends. Instead, she watches their college careers from the outside.