The Edge: 'We Were Fearing Terrorist Attacks, and That Has Now Happened'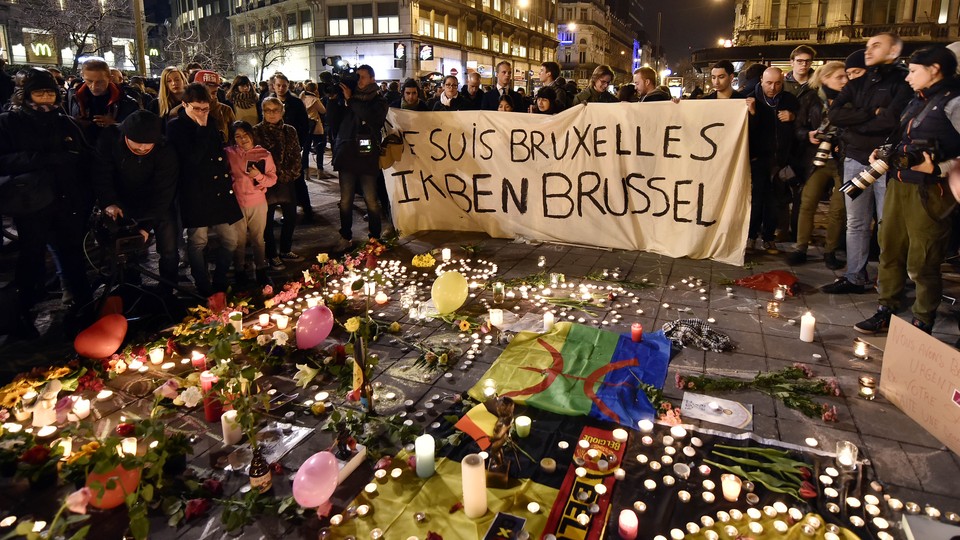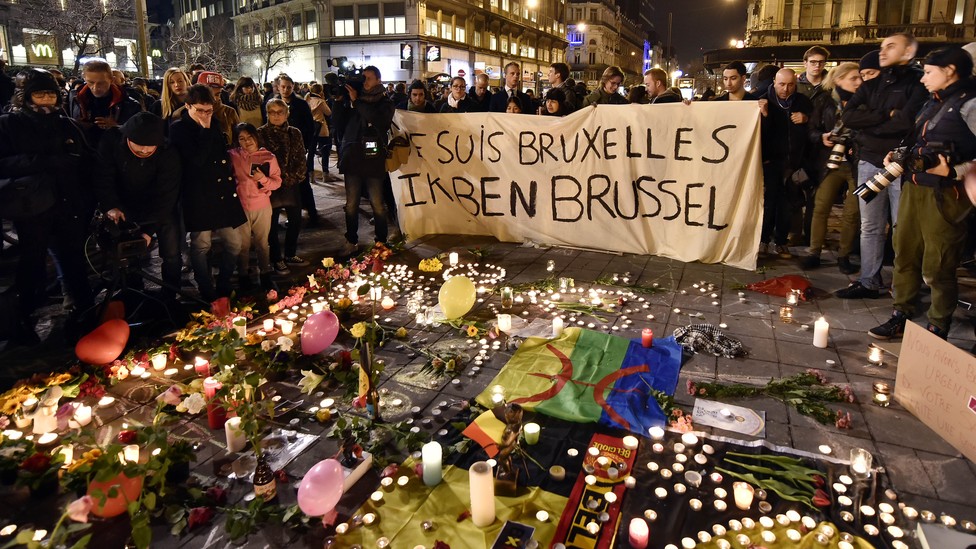 Today in One Paragraph
Explosions rocked Brussels's Zaventem airport and a metro station near the headquarters of the European Union, killing at least 30 people and wounding more than 230 others. President Obama called for Cuba to embrace democracy in a historic address from Havana. Voters are participating in another day of presidential nominating contests in Arizona, Idaho, Utah, and American Samoa. And the former mayor of Toronto, Rob Ford, died.
---
Top News
Explosions in Brussels. At least 30 people were killed and more than 230 injured in Brussels after two blasts at the city's airport and another on a subway train. "We were fearing terrorist attacks, and that has now happened," Belgium's Prime Minister Charles Michel said at a news conference. ISIS claimed responsibility for the attacks, and police began a manhunt for one suspected attacker. (The New York Times; USA Today )
Obama Calls for Democracy in Cuba. The president asked the Cuban people to embrace change in an address at the Gran Teatro in Havana, adding that free speech and equal protections under the law are basic tenets of democracy. "Not everyone agrees with me on this," Obama said, "but I believe those human rights are universal." After the speech, Obama met with several Cuban dissidents, and attended a baseball game between the Cuban National Team and the Tampa Bay Rays . (Nicole Gaouette, CNN)
Another Tuesday Election. Front-runners Donald Trump and Hillary Clinton are hoping to build their delegate leads as voters participate in presidential nominating contests in Arizona, Idaho, Utah, and American Samoa. Ted Cruz might be able to overtake Trump in Utah, and if Bernie Sanders can win in the Beehive State as well as in Idaho, it'll give the candidate a much-needed boost moving forward in the primary process. We're covering it live here. (The Atlantic)
Rob Ford Dies of Cancer. The former mayor of Toronto, who was thrust into international spotlight after admitting to the use of crack cocaine while in office, died two years after being diagnosed with liposarcoma, a rare cancer. Ford was 46. (Katia Dmitrieva, Bloomberg)
Tomorrow in One Paragraph. The Obamas leave Cuba and head to Buenos Aires to meet with the new Argentine president, Mauricio Macri. The Supreme Court will hear a lawsuit from Little Sisters of the Poor regarding the so-called contraception mandate.
---
Follow stories throughout the day with our new Politics & Policy page. And keep on top of the campaign with our 2016 Distilled election dashboard.
---
Top Read
"The anti-Trump, anti-Hillary Clinton crowd isn't out of options just yet. Some have suggested putting up an independent candidate, or going all in for Senator Ted Cruz. But an absurd, unpredictable election season sometimes merits an equally absurd, unpredictable response. That's where Mr. Johnson comes in." The New York Times's Emma Roller on Gary Johnson, the presumptive presidential nominee of the Libertarian Party.
---
Top Lines
Trouble in Utah for Trump. With his foul language and inflammatory statements regarding immigrants, the presidential candidate might just be isolating Mormons, the religious group that has consistently voted Republican in the past. (Jack Jenkins, The Atlantic)
A New Hack? On Monday, the FBI hit 'pause' on its order that Apple unlock the iPhone of one of the San Bernardino shooters, saying there was another way to break into the device. But the reversal reveals political implications for future debates on encryption. (Russell Brandom, The Verge)
---
Top Views
America Speaks. The Washington Post offers a peek into the lives and political ideologies of Americans across the country. (David Maraniss and Robert Samuels)
Historically Awkward Handshakes. Here's a roundup of the most uncomfortable interactions between world leaders, including Monday's puzzling greeting between President Obama and Cuban President Raul Castro. (Dave Bry, The Guardian)
We want to hear from you! We're reimagining what The Edge can be, and would love to receive your complaints, compliments, and suggestions. Tell us what you'd like to find in your inbox by sending a message to newsletters@theatlantic.com.