The Edge: The Heat Is On in Florida—Again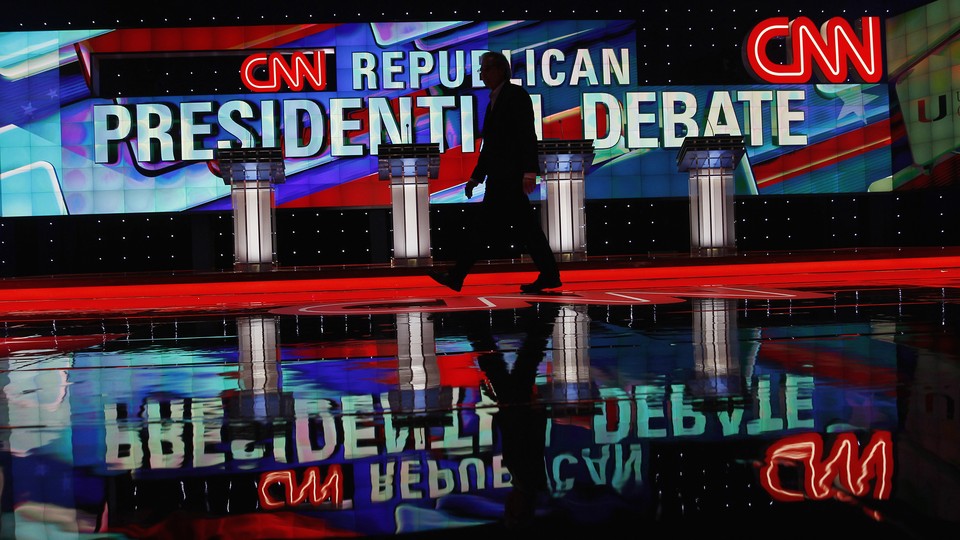 Today in One Paragraph
The Republican presidential candidates will debate tonight in Miami at 8:30. Senator Mike Lee endorsed Ted Cruz. Canadian Prime Minister Justin Trudeau visited the White House, where he and President Obama committed to curbing methane emissions. The Senate passed a broad bill addressing drug addiction. Several media organizations said they obtained information on thousands of potential ISIS recruits. And Pittsburgh police have confirmed that five people were killed in Wednesday's "brutal" shooting in a Pittsburgh suburb.
---
Top News
Debates on Debates. Democrats are giving the floor to Republicans who will take the debate stage in Miami at 8:30 p.m. ET in an event hosted by Univision and The Washington Times. It's one of the last chances the candidates have to make their pitch before Tuesday's nominating contests in Florida, Illinois, North Carolina, Missouri, and Ohio. We're following it live here. (The Atlantic)
Cruz Gets His First Senate Endorsement. A day after Carly Fiorina endorsed Ted Cruz, Utah Senator Mike Lee said he's backing him, too, becoming the first sitting senator to do so. Lee said his support would be "sending the signal that it's time to unite" behind Cruz. (McKay Coppins and Rosie Gray, BuzzFeed)
Trudeau, Obama Pledge to Combat Climate. Canada's Prime Minister and President Obama met at the White House—the first official visit by a Canadian leader in nearly two decades— and announced new commitments to reduce methane emissions. In a statement, the two vowed that Canada and the U.S. would "play a leadership role internationally in the low carbon global economy over the coming decades." (Camila Domonoske, NPR)
Germany in Possession of ISIS Names. German authorities believe that a list of names of potential ISIS recruits is authentic. The list, which was obtained by several media organizations, contains the names, phone numbers, and hometowns of 22,000 fighters from more than 50 countries. (David Rising, The Associated Press)
'Big and Significant.' The Senate overwhelmingly passed a broad drug treatment bill in response to an increase in opioid-related crime and addiction across the country. The bill is the largest of its kind in nearly 10 years and will allocate more funds to addiction treatment, prevention, and drug monitoring programs. (Jennifer Steinhauer, The New York Times)
Pittsburgh Officers Confirm Shooting Victims. Five people died and two more were critically injured after two gunmen opened fire at a cookout outside of Pittsburgh on Wednesday, according to Allegheny County police. District Attorney Stephen Zappala said "the murders were planned, calculated, brutal." (Doug Stanglin and Carolyn McAtee Cerbin, USA Today)
Tomorrow in One Paragraph. Bernie Sanders is campaigning in Illinois and North Carolina. John Kasich will be in Ohio. Ted Cruz, joined by Carly Fiorina, will be appearing on the Sean Hannity Show Townhall in Florida. Donald Trump will be rallying voters in St. Louis and Chicago. And the family of Nancy Reagan will hold a private funeral service for the former first lady at the Ronald Reagan Presidential Library in Simi Valley, California.
---
Follow stories throughout the day with our new Politics & Policy page. And keep on top of the campaign with our 2016 Distilled election dashboard.
---
Top Read
"To a remarkable degree, he is willing to question why America's enemies are its enemies, or why some of its friends are its friends. He overthrew half a century of bipartisan consensus in order to reestablish ties with Cuba. He questioned why the U.S. should avoid sending its forces into Pakistan to kill al-Qaeda leaders, and he privately questions why Pakistan should be considered an ally of the U.S. at all." The Atlantic's Jeffrey Goldberg speaks candidly with President Obama on foreign policy.
---
Top Lines
Guns and the Social Fabric. Missouri is set to become the most recent state to allow guns in college classrooms, prompting questions about whether guns change the way people interact with each other. (Jonathan Metzl, The New Republic)
'Inside Trump's Inner Circle.' The Washington Post's Ben Terris details the moment Donald Trump's campaign manager "yanked" a reporter out of the way following Trump's speech on Tuesday night. Trump campaign spokeswoman Hope Hicks called the accusation "entirely false." But just how far will his staffers go?
---
Top Views
The Obama Doctrine. The Atlantic's Andrew McGill collected some of the most poignant quotes from Jeffrey Goldberg's conversation with the president on foreign policy—and compiled them in an interactive format here.
A Presidential Meet Cute. Here are 11 photos documenting the blossoming friendship between President Obama and Canada's new prime minister, Justin Trudeau. ( Aaron Blake, Kayla Epstein, and Ryan Carey-Mahoney, The Washington Post)
We want to hear from you! We're reimagining what The Edge can be, and would love to receive your complaints, compliments, and suggestions. Tell us what you'd like to find in your inbox by sending a message to newsletters@theatlantic.com.