The Edge: The Easter Bunny, Shaq, and a Stormtrooper Walk Onto the White House Lawn...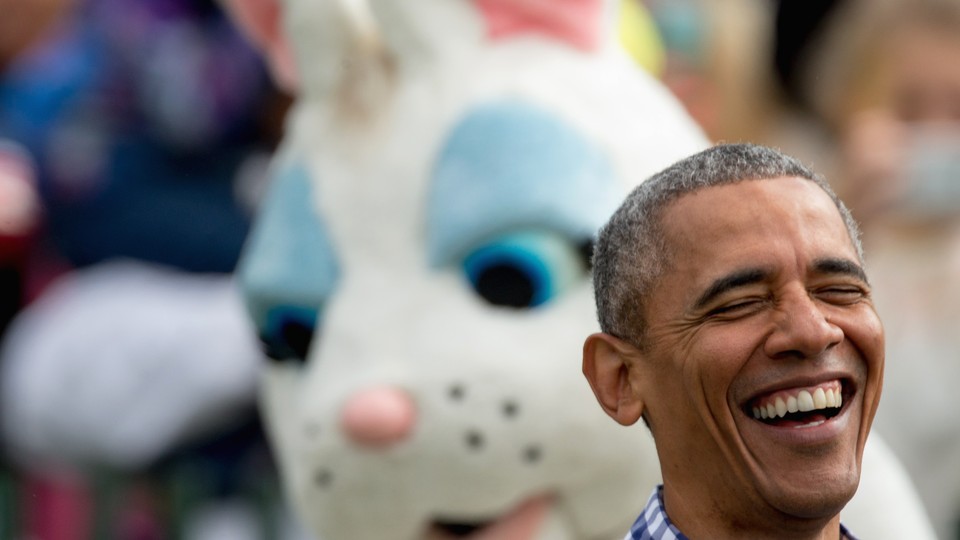 Today in One Paragraph
An armed man was shot by police at a U.S. Capitol checkpoint. Georgia Governor Nathan Deal said he plans to veto a controversial religious-freedom bill. California Governor Jerry Brown announced the state will raise its minimum wage to $15 by 2022. The Supreme Court rejected former Illinois Governor Rod Blagojevich's attempt to appeal his corruption conviction. Judge Merrick Garland is scheduled to make the rounds on Capitol Hill. And, in an editorial, former Cuban President Fidel Castro condemned President Obama's attempts to renew relations between the U.S. and Cuba.
---
Top News
Shots at the Capitol. A gunman was shot by police at a U.S. Capitol checkpoint after drawing his weapon, and a female bystander also sustained minor injuries, according to Capitol Police officers. The Capitol was on lockdown following the incident, and the suspect was taken to the hospital. (Erica Werner, Associated Press)
California Raises Minimum Wage. Governor Jerry Brown reached a deal with legislators to raise the state's minimum wage to $15 an hour by 2022. "This plan raises the minimum wage in a careful and responsible way and provides some flexibility if economic and budgetary conditions change," Brown said, citing a caveat that would allow him to suspend the wage increase if the economy falters. (Paul Davidson, USA Today)
Rejected. Governor Nathan Deal announced his plan to veto a controversial bill which would have allowed faith-based groups to deny services to people—and in some cases, fire employees—on religious grounds. Gay rights groups opposed the legislation, and a coalition of businesses, including Disney and Time Warner, threatened to boycott the state if the law passed. (Russell Berman, The Atlantic)
No Appeal for Blago. The U.S. Supreme Court rejected former Illinois governor Rod Blagojevich's request to reconsider his corruption conviction. Blagojevich, who is currently serving a 14-year sentence in a federal prison in Colorado, was convicted in 2011 of several felonies related to corruption, including attempting to sell President Obama's former Senate seat. The Court denied the governor's petition for appeal without comment. (Jason Meisner, Chicago Tribune)
Garland's Job Interview. Supreme Court nominee Merrick Garland is scheduled to meet with five Senators on Capitol Hill throughout the week, including Senator Mark S. Kirk from Illinois—the first Republican to meet with him privately. (Carl Hulse, The New York Times)
Castro Slams Obama's Cuba Visit. The 89-year-old former president of Cuba Fidel Castro criticized President Obama's recent trip to the country in an op-ed published in Granma, the Communist Party newspaper, writing, "We don't need the empire to give us anything." (Patrick Oppmann, CNN)
Tomorrow in One Paragraph. The presidential candidates will be campaigning in Wisconsin ahead of the state's primary on April 5. Donald Trump, Ted Cruz, and John Kasich will participate in a CNN Town Hall in Milwaukee at 8 p.m. ET. And President Obama will speak at the fifth annual National Rx Drug Abuse and Heroin Summit in Atlanta.
Follow stories throughout the day with our new Politics & Policy page. And keep on top of the campaign with our 2016 Distilled election dashboard.
---
Top Read
"Some conservative intellectuals warned that the party was headed for trouble. Republicans had become too identified with big business and the wealthy—their donor class. They urged Republican lawmakers to embrace policies that could have a more direct impact on pay and economic prospects for these voters: wage subsidies, relocation aid to the long-term unemployed, even targeted infrastructure spending. But much of the party's agenda remained frozen." The New York Times' Nicholas Confessore on why Republican voters are choosing Donald Trump.
---
Top Lines
Rubio's Secret-Money Legacy. The Florida senator's presidential campaign received more anonymous dollars than any other campaign in history, and watchdogs are worried that the unchecked donations could set a dangerous precedent in political spending. (Shane Goldmacher, Politico)
How About Them Eggs? Today marked the Obama's final Easter Egg Roll, but the 138-year-old event—which has survived world wars, rainy days, and swarms of bees—rolls on. (Marina Koren, The Atlantic)
---
Top Views
Why Aren't Campaign Ads Working? Despite increased spending on campaign advertising, ads don't seem to be very effective this cycle. Here's The Atlantic's Andrew McGill on why that may be.
We want to hear from you! We're reimagining what The Edge can be, and would love to receive your complaints, compliments, and suggestions. Tell us what you'd like to find in your inbox by sending a message to newsletters@theatlantic.com.