The Edge: The Arrest of Trump's Campaign Manager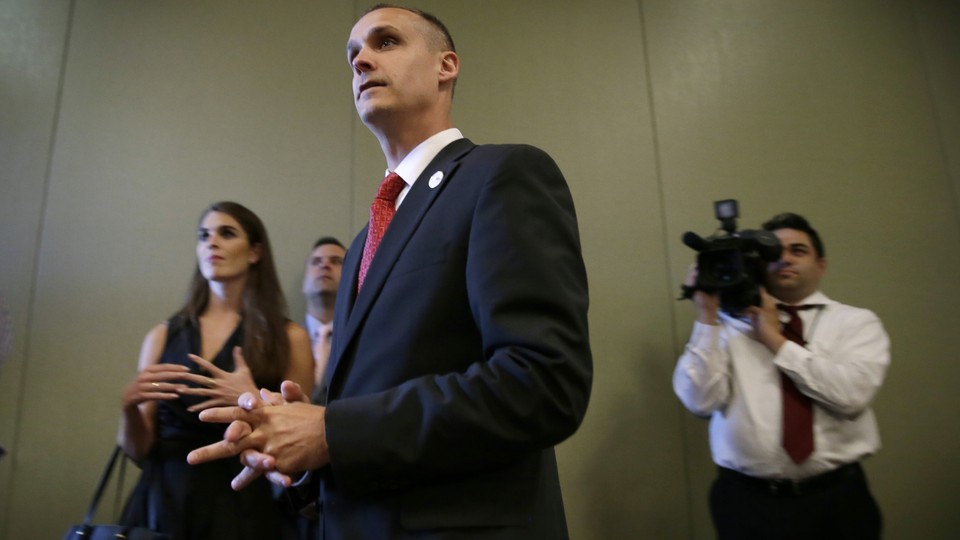 Today in One Paragraph
Donald Trump's campaign manager Corey Lewandowski was charged with battery for allegedly grabbing a Breitbart reporter's arm on March 8. Scott Walker endorsed Ted Cruz. The Supreme Court reached a 4-4 decision in Friedrichs v. California Teachers Association, the public-union fees case. And the White House announced new actions to address the epidemic of heroin and prescription drug abuse in the United States.
---
Top News
Trump Staffer Arrested for Battery. Florida authorities charged Corey Lewandowski with assaulting Breitbart reporter Michelle Fields, who has since left the publication. Trump's spokeswoman, Hope Hicks, said Lewandowski was "absolutely innocent of this charge," but according to Detective Marc Bujnowski, surveillance video released from Trump's Mar a Lago resort "parallels" what Fields told him. (Maggie Haberman and Michael M. Grynbaum, The New York Times)
Scott Walker Endorses Cruz. The Wisconsin governor and former presidential hopeful threw his support behind Ted Cruz, calling Cruz a "principled conservative" who is "the best positioned by far" to take down Donald Trump and beat Hillary Clinton in the general election. The endorsement comes ahead of Wisconsin's primary on April 5. (David M Jackson and Donovan Slack, USA Today)
A Victory for Public-Sector Unions. The eight-justice Court reached a split decision on Friedrichs v. CTA, a case challenging the ability of public-sector unions to collect "agency fees" from nonmembers who benefit from their collective bargaining. Striking down the agency fees would have dealt a major blow to public-sector unions across the country, but the 4-4 split leaves a lower court ruling upholding the fees intact. (Matt Ford, The Atlantic)
Fighting Addiction. The Obama administration introduced new initiatives to fight prescription drug and heroin abuse, including efforts to increase mental health coverage and expand access for addiction treatment. Medicine-assisted treatment "is more effective at sustaining recovery and preventing overdose," Director of the White House Office of National Drug Control Policy Michael Botticelli told reporters. President Obama met with recovering addicts and their families and spoke on a panel at the National Rx Drug Abuse & Heroin Summit in Atlanta. (Nadia Kounang, CNN)
Tomorrow in One Paragraph. Donald Trump and Ted Cruz will be in Wisconsin ahead of the state's April 5 primary, and John Kasich will take part in a town hall in New York. Bernie Sanders will also be in Wisconsin, and Hillary Clinton will be speaking at the Apollo Theater in New York City.
Follow stories throughout the day with our new Politics & Policy page. And keep on top of the campaign with our 2016 Distilled election dashboard.
---
Top Read
"Without Scalia's vote, the challenge failed and the lower court's ruling (calling the challenge "insubstantial") is affirmed in a one-sentence order. That opinion has no precedential force. But precedent seems not to matter to conservatives in this area. Nor, for that matter, does simple shame, or even a desire to appear non-partisan." The Atlantic's Garrett Epps on today's Supreme Court decision involving public-sector unions.
---
Top Lines
'The Machinery of Terror.' The recent attacks in Paris and Brussels that killed more than 160 people in total were the product of several years' preparation and secret mobilization of ISIS forces in Europe. (Rukmini Callimachi, The New York Times)
The Making of Trump. Politico's Michael D'Antonio argues that Donald Trump's father and childhood mentors indoctrinated him with a combative personality and "brutal worldview."
---
Top Views
Tough Terrain for Bernie. In order to secure the majority, Sanders needs to win at least 56 percent of the remaining pledged delegates, but this model from The New York Times shows that Hillary Clinton is favored to win 54 percent of the remaining delegates. (Nate Cohn)
We want to hear from you! We're reimagining what The Edge can be, and would love to receive your complaints, compliments, and suggestions. Tell us what you'd like to find in your inbox by sending a message to newsletters@theatlantic.com.