The Edge: The Most Super Day of the Year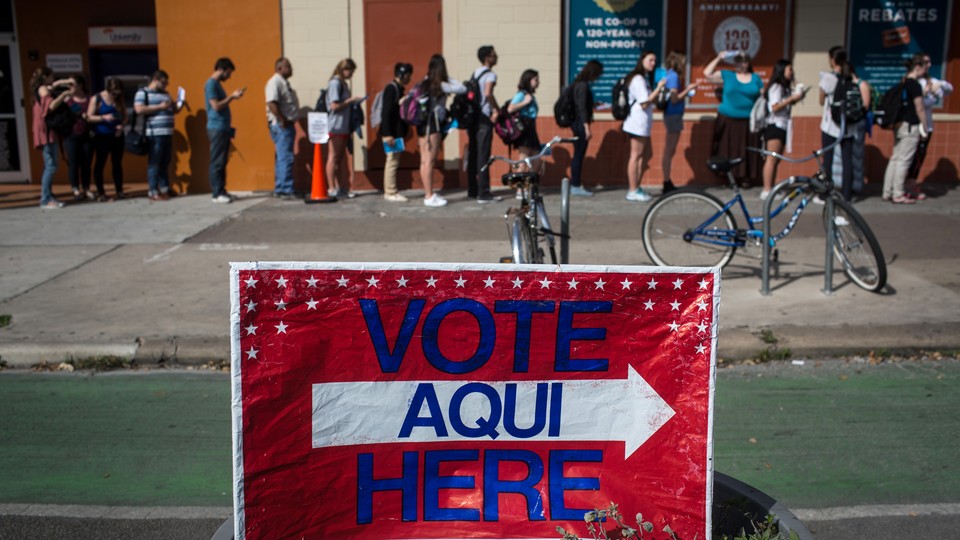 Today in One Paragraph
Voters are headed to the polls in a dozen states on what is known as Super Tuesday. House Speaker Paul Ryan and Senate Majority Leader Mitch McConnell called out Donald Trump for refusing to denounce the endorsement of white supremacist groups. President Obama met with McConnell to discuss the Supreme Court vacancy. Astronaut Scott Kelly is scheduled to return from a 340-day stint in outer space. The U.S. government released documents taken from Osama Bin Laden's compound in Pakistan. And Apple took its fight with the FBI to Congress.
---
Top News
Super Tuesday. Twelve states across the U.S. are holding their nominating contests. The voting will conclude at 1 a.m. ET on Wednesday when the Alaska caucuses close, and in all, about 865 Democratic delegates and 595 Republican delegates will be allocated. We're covering it live here. (The Atlantic staff)
Ryan Calls Out Trump. The House Speaker offered a warning for the real-estate mogul after Trump refused to reject last week's endorsement from former KKK leader David Duke. "If a person wants to be the nominee of the Republican Party, there can be no evasion and no games," Ryan said. "They must reject any group or cause that is built on bigotry." Majority Leader Mitch McConnell also condemned Duke, the KKK, and "everything they stand for." (Paul Kane, The Washington Post)
One Year in Space. Astronaut Scott Kelly and his colleague cosmonaut Mikhail Kornienko will return from the International Space Station after 340 days. Kelly and Kornienko will land at approximately 11:27 ET in Kazakhstan. (Jennifer Hackett, Scientific American)
McConnell Refuses to Budge. President Obama met with Senate Majority Leader Mitch McConnell and the Judiciary Committee Chairman Chuck Grassley to discuss a potential Supreme Court nominee to replace the late Antonin Scalia. McConnell has vowed not to consider a nominee until the next president is elected. (Kevin Liptak, CNN)
Bin Laden's Last Will and Testament. The U.S. government released a second wave of documents found during the 2011 raid on Osama Bin Laden's compound in Pakistan, this time including the al-Qaeda leader's handwritten will. In it, Bin Laden asks his family to spend his remaining $29 million "on Jihad, for the sake of Allah." (Greg Myre, NPR)
Apple and FBI Speak to Congress. The House Judiciary Committee heard arguments from Apple and the Justice Department on whether the government should have the right to unlock a phone belonging to a criminal suspect. FBI Director James Comey compared Apple's phone encryption to a "vicious guard dog," but the tech company retorted that weakening the data protections would have serious consequences for Americans. (Eric Tucker and Tami Abdollah,  Associated Press)
Tomorrow in One Paragraph. Bernie Sanders and John Kasich are on the campaign trail in Michigan. Ted Cruz will be in Kansas. And Hillary Clinton will be hosting a fundraising event at Madison Square Garden in New York featuring performances by Elton John and Katy Perry.
---
Follow stories throughout the day with our new Politics & Policy page. And keep on top of the campaign with our 2016 Distilled election dashboard.
---
Top Read:
"If there were one question to identify a Trump supporter if you knew nothing else about him, what might it be? 'Are you a middle-aged white man who hasn't graduated from college?' might be a good one. But according to a survey from RAND Corporation, there is one that's even better: 'Do you feel voiceless?'" The Atlantic's Derek Thompson on the allure of the Trump brand.
---
Top Lines
Judgment Day for Cruz. The Texas senator is on the defensive on Super Tuesday, Katie Glueck argues, after failing to secure a victory in the South Carolina Republican primary. Cruz had hoped to emerge as the "consensus conservative choice," but he just might lose it all—even his own state—to Donald Trump. (Politico)
'Swing Vote.' If Ben Carson was a jazz riff, what would he sound like? Take a listen to one musician's interpretation of some of the presidential candidates. (David Graham, The Atlantic)
Top Views
#EarthArt. Astronaut Mark Kelly spent almost a full year aboard the International Space Station—some 250 miles above the earth. Here are few photos Kelly took of his home planet. (Miriam Kramer, Mashable)
We want to hear from you! We're reimagining what The Edge can be, and would love to receive your complaints, compliments, and suggestions. Tell us what you'd like to find in your inbox by sending a message to newsletters@theatlantic.com.