The Edge: Remembering Nancy Reagan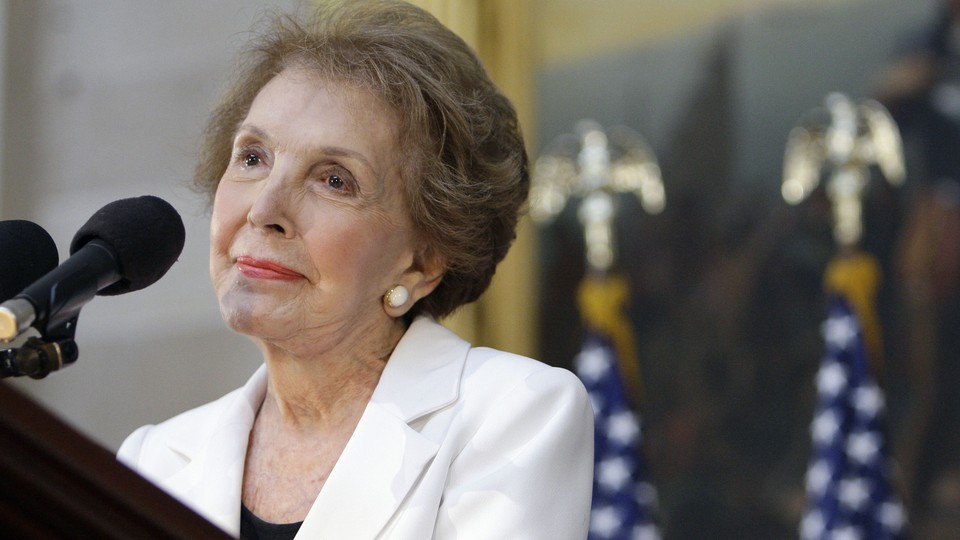 Today in One Paragraph
Ben Carson endorsed Donald Trump for president. The Breitbart reporter who accused Donald Trump's campaign manager of assaulting her filed a police report against him. An Ohio judge granted a request to let 17-year-olds vote in the state's presidential primary. Marco Rubio's communications director proposed that the senator's supporters in Ohio vote for John Kasich in the state's primary next week. And the funeral for former first lady Nancy Reagan was held in Simi Valley, California.
---
Top News
Carson and Trump 'Buried the Hatchet.' The retired neurosurgeon and former presidential candidate endorsed Donald Trump during a news conference at the businessman's private club Mar-a-Lago in Palm Beach, Florida. Carson said he had "completely forgiven" Trump for personal attacks during the race, and vouched for his character, calling Trump a "cerebral" man who "sits there and considers things very carefully." (MJ Lee and Eugene Scott, CNN)
Will Trump's Campaign Manager Face Criminal Charges? The Breitbart reporter Michelle Fields filed a police report with the police department in Jupiter, Florida where the alleged incident occurred. Fields said Corey Lewandowski "yanked" her arm as she tried asking Donald Trump a question. The Trump campaign has denied the claim. Breitbart's spokesman Kurt Bardella has since resigned, citing a need to "move on." (David Graham, The Atlantic; Hadas Gold, Politico)
Judge: 17-Year-Olds Can Vote in Ohio Primary. Days before the state's presidential primary, an Ohio judge granted a request to let 17-year-olds vote—a matter that's been under dispute for some time. (Ann Sanner, Associated Press)
Team Rubio's Proposal for March 15. In an interview on CNN, Marco Rubio's communications director said voting for John Kasich in Ohio's upcoming primary was their "best bet" to prevent Donald Trump from being the nominee. But Kasich's team wasn't on board: "We were going to win in Ohio without his help, just as he's going to lose in Florida without ours," said Kasich campaign spokesman Rob Nichols in a tweet. (Nora Kelly, The Atlantic)
Funeral for the Former First Lady. A private service for the late Nancy Reagan was held at the Ronald Reagan Presidential Library in Simi Valley, California. Guests included representatives from several White House families, including Michelle Obama, Hillary Clinton, and George W. Bush. Reagan died Sunday at age 94. (Meghan Keneally, ABC News)
The Weekend in One Paragraph. Nineteen delegates are up for grabs in Saturday's Washington, D.C. Republican convention. Ted Cruz will be in North Carolina, Hillary Clinton and Marco Rubio will be in Florida, and Donald Trump and John Kasich are rallying voters in Ohio ahead of Tuesday's round of nominating contests.
---
Follow stories throughout the day with our new Politics & Policy page. And keep on top of the campaign with our 2016 Distilled election dashboard.
---
Top Read
"Interviews and documents show that employees of Trump University at times applied pressure on students to offer favorable reviews, instructed them to fill out the forms in order to obtain their graduation certificates, and ignored standard practices used to ensure that the surveys were filled out objectively." The New York Times's Michael Barbaro and Steve Eder on the controversy surrounding Donald Trump's education company.
---
Top Lines
A 'Meaningful Divide' on Abortion. A recent Democratic presidential town hall hosted by Fox News served to highlight a small but important difference between Bernie Sanders and Hillary Clinton when it comes to restrictions on late-term abortions. (Pema Levy, Mother Jones)
Spring Ahead No More? A dozen states are considering putting an end to Daylight Savings Time. Here's how it could work. (Michelle Hackman, Vox)
Trump's Demographic Challenge. The real-estate mogul has a path to the Republican nomination if he can win Rust Belt states like Ohio and Pennsylvania, The National Review's Tim Alberta argues, but in order to do that, he has to win with women and get a significant portion of the white vote.
Top Views
1400 Minutes of Debate. The Washington Post's Philip Bump breaks down how much time each Republican presidential candidate has spoken during all of the past 12 GOP debates—and how many hours viewers have spent listening to them. (Philip Bump, The Washington Post)
We want to hear from you! We're reimagining what The Edge can be, and would love to receive your complaints, compliments, and suggestions. Tell us what you'd like to find in your inbox by sending a message to newsletters@theatlantic.com.