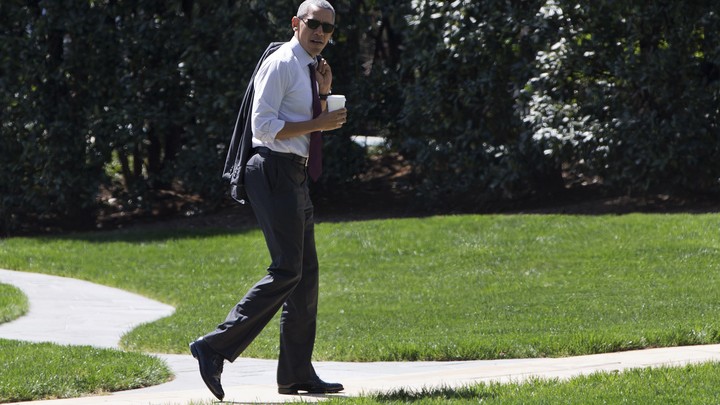 Today in One Paragraph
President Obama commuted the sentences of 61 inmates. The Department of Justice and the city of Newark agreed on a plan to reform the Newark Police Department—two years after an investigation revealed officers' use of excessive force and racial profiling in stops and arrests. The U.S. Food and Drug Administration eased requirements for women taking abortion medication. Two Minneapolis police officers involved in the shooting death of Jamar Clark last year will not be charged, the prosecutor said. And in an unprecedented move, the National Border Patrol Council endorsed Donald Trump.
---
Top News
Obama Grants Early Release to Inmates. The White House commuted the prison sentences of 61 inmates serving time for drug offenses—more than one-third of whom were serving life sentences. The move is part of the administration's broad push to relieve inmates serving time for nonviolent drug offenses; so far in his presidency, Obama has commuted the sentences of 248 people. (Allie Malloy and Wesley Bruer, CNN)
Changes for Newark Police Force. The settlement reached between the Department of Justice and the city of Newark will require all officers and squad cars to be equipped with body cameras and participation in re-vamped use-of-force training. (Carimah Townes, ThinkProgress)
A 'Huge Step' for Abortion Rights. The Food and Drug Administration approved a new label on an abortion medication, a move that could expand the procedure's accessibility. The changes include lowering the dosage required—and therefore, the cost—and increasing the number of days a woman has to use the medication to induce abortion. (Sabrina Tavernise, The New York Times)
No Charge for Officers in Minnesota Shooting. Hennepin County Attorney Mike Freeman said Officers Mark Ringgenberg and Dustin Schwarze will not be charged in the November shooting death of Jamar Clark. Freeman said the officers' actions were justified because Clark had tried to grab one of the officer's guns. (By Paul Walsh, David Chanen and Libor Jany, Star Tribune)
NBPC Backs Trump. The National Border Patrol Council, a labor union representing 16,500 agents, endorsed Donald Trump, citing the Republican front-runner's hardline stance on immigration. It's the group's first-ever endorsement of a candidate in a presidential election. (Priscilla Alvarez, The Atlantic)
Tomorrow in One Paragraph. Hillary Clinton will be fundraising and campaigning in Massachusetts and New York, and Bernie Sanders will be in Pennsylvania and the South Bronx. And leaders from 50 countries will be meeting for the Nuclear Security Summit in Washington, DC.
Follow stories throughout the day with our new Politics & Policy page. And keep on top of the campaign with our 2016 Distilled election dashboard.
---
Top Read
"Trump is louder and more commanding of the news cycle better than any "bully" Clinton has faced before, offering no clear historical precedent. ("She's done pretty well against bullies," as one former aide put it, "but this is a whole different stratosphere.")" BuzzFeed's Ruby Cramer on how Hillary Clinton's campaign plans to take on Donald Trump if he becomes the Republican nominee.
---
Top Lines
Does Strategic Voting Work? Voting for someone other than one's preferred candidate in order to skew election results has been a prevalent strategy in the 2016 presidential race, but it's a strategy "fraught with uncertainty" because it's so difficult to corral a group of voters toward a shared objective. (Toni Monkovic, The New York Times)
Options for #NeverTrump. There are three scenarios in which Donald Trump could be denied the nomination, and ultimately the presidency, The National Review's Jonah Goldberg writes, but the most likely possibility rides on the Wisconsin primary.
---
Top Views
Bad for the Working Man. These two charts from The Washington Post show that the wage gap between upper- and middle-income male earners last year was the largest it's ever been. (Niraj Choshi)
We want to hear from you! We're reimagining what The Edge can be, and would love to receive your complaints, compliments, and suggestions. Tell us what you'd like to find in your inbox by sending a message to newsletters@theatlantic.com.
We want to hear what you think about this article. Submit a letter to the editor or write to letters@theatlantic.com.
Elaine Godfrey
is a staff writer at
The Atlantic
, where she covers politics.