The Edge: Obama and Castro Agree to End Trade Embargo, Take Awkward Photo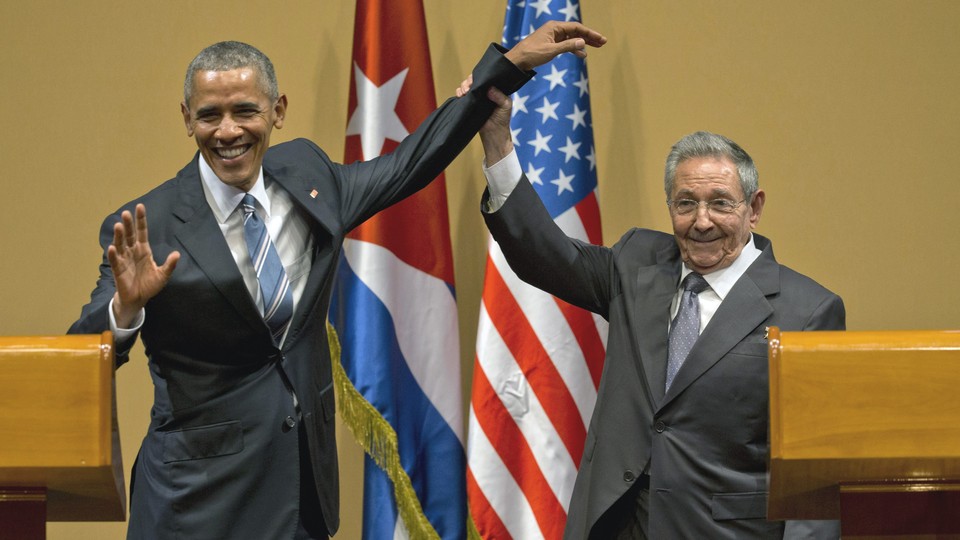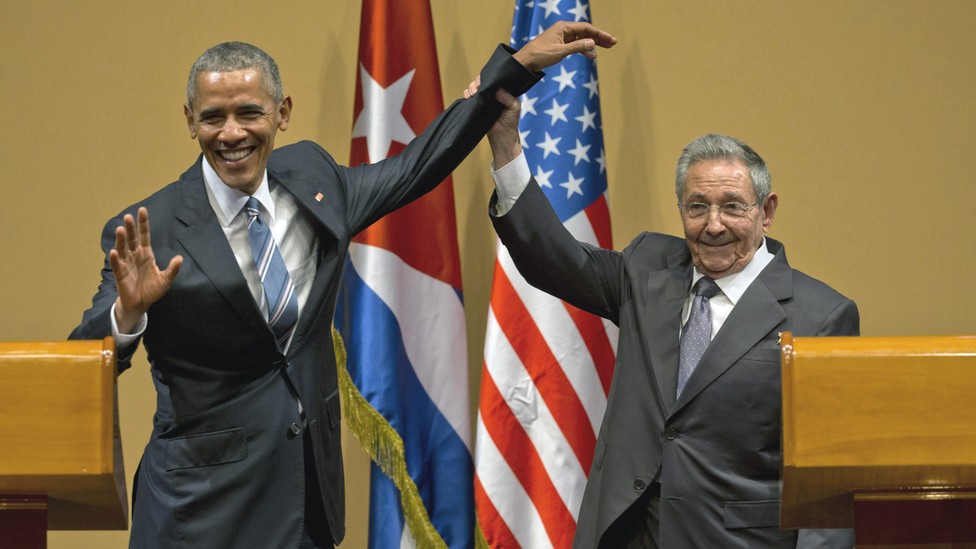 Today in One Paragraph
During his historic visit to Havana, President Obama, alongside Cuban President Raul Castro, said he was confident the trade embargo on Cuba will end. Hillary Clinton said Israel's security is "non-negotiable" during her speech at the American Israel Public Affairs Committee conference, where Donald Trump, John Kasich, Ted Cruz, and House Speaker Paul Ryan are also scheduled to deliver speeches. Hours earlier, Trump announced his foreign policy team. Meanwhile, at the Supreme Court, justices declined to hear a case challenging Colorado's legalization of recreational marijuana and rejected a Massachusetts state court decision that upheld a law making stun-gun possession a crime. And abroad, North Korea launched five short-range projectiles off the coast and into the sea.
---
Top News
'Un nuevo dia.' After a historic meeting, President Obama and Cuban President Raul Castro fielded questions from reporters. Castro called for an end to the embargo, and Obama agreed, saying efforts to normalize relations would continue "beyond this administration." Castro also addressed his country's human rights record, saying the two presidents will work together for Cuba to "achieve all of the human rights." Obama will attend a state dinner at the Palace of the Revolution tonight. (Eyder Peralta, NPR)
Candidates Descend on Washington for AIPAC Conference. Without mentioning his name, Hillary Clinton questioned Donald Trump's devotion to the U.S.-Israel alliance during her speech to the American Israel Public Affairs Committee conference, saying that anyone who stays "neutral" on Israel's security "has no business being our president." Ted Cruz, John Kasich, and Donald Trump are scheduled to speak this afternoon. (Fox News)
Trump Announces Foreign Policy Team. The Republican front-runner named five members of his foreign policy team in a meeting with The Washington Post, including former Army lieutenant general Keith Kellogg, former Ben Carson adviser George Papadopoulos, and global terrorism commentator Walid Phares. (Philip Rucker and Robert Costa, The Washington Post)
On the Docket. The U.S. Supreme Court declined to hear a case brought by Nebraska and Oklahoma that challenged Colorado's legalization of recreational marijuana. And, in an unsigned opinion, the Court also rejected a Massachusetts state court ruling which upheld a state law making stun gun ownership a crime. Stun guns aren't exempt from Second Amendment protection "simply because they were unknown to the First Congress," Justice Alito wrote, sending the case back to the state for a second look. (Adam Liptak, The New York Times)
North Korea Fires Short-Range Missiles. The country launched five short-range projectiles off the country's east coast toward the sea, according to South Korean military officials. The move comes less than a week after the regime fired two ballistic missiles off the coast, bringing the total number of projectiles launched since early February to 15. (Euan McCurdy, CNN)
Tomorrow in One Paragraph. Arizona, Utah, Idaho, and American Samoa will hold their nominating contests. In Havana, Obama will meet with political dissidents and deliver a speech directed at the Cuban people.
---
Follow stories throughout the day with our new Politics & Policy page. And keep on top of the campaign with our 2016 Distilled election dashboard.
---
Top Read
"It's this pain and regret that drives so many Cuban Americans to not want to engage with the Cuban government. Their homes and their country were taken from them. It's reasonable not to forgive. But will that pain continue to drive U.S. policy? No, it seems." The Atlantic's Matt Vasilogambros on the shifting views of Cuban Americans toward the embargo.
---
Top Lines
@TrumpTriumph. Meet the 15-year-old Australian who believes a Trump presidency would have resounding positive effects on the global economy and has therefore launched a social media campaign to promote the candidate. (Julian Morgans, Vice)
The First First Man. If Hillary Clinton wins the presidency, she won't be the only one challenging gender barriers—her husband will be reshaping the role of 'First Lady.' (Jean Hannah Edelstein, The Guardian)
---
Top Views
Say Cheese. Chief White House photographer Pete Souza is documenting President Obama's historic trip to Cuba. View the photos here. (Ben Rhodes, Medium)
We want to hear from you! We're reimagining what The Edge can be, and would love to receive your complaints, compliments, and suggestions. Tell us what you'd like to find in your inbox by sending a message to newsletters@theatlantic.com.