The Edge: Senate Republicans to Obama: Still No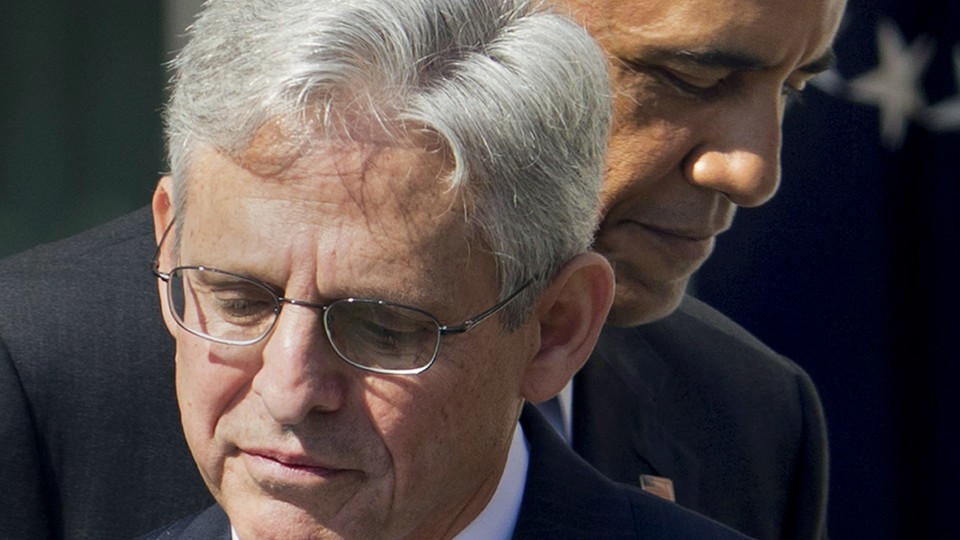 Today in One Paragraph
President Obama nominated Judge Merrick Garland to the Supreme Court. Fox News cancelled its March 21 GOP debate after Donald Trump and John Kasich backed out. Florida Governor Rick Scott endorsed Donald Trump, and South Carolina Governor Nikki Haley endorsed Ted Cruz. The U.S. Federal Reserve held interest rates steady. And an American student accused of trying to steal a propaganda sign in North Korea was sentenced to 15 years of hard labor.
---
Top News
Obama Picks Supreme Court Replacement. The president nominated federal appeals court judge Merrick Garland to fill the vacancy on the Supreme Court, saying the judge has "shown a rare ability to bring together odd couples" and calling on Senate Republicans to offer him a fair hearing. Majority Leader Mitch McConnell isn't on board, maintaining that "the decision the Senate made weeks ago remains about a principle, not a person." (Amita Kelly, NPR)
Thanks, But No Thanks. The GOP debate scheduled for March 21 was cancelled following Donald Trump's announcement that he would instead be delivering remarks before the American Israel Public Affairs Committee. Shortly after, John Kasich's campaign said the governor wouldn't attend if Trump wasn't going to be there. (Niraj Chokshi, The Washington Post)
An Endorsement for You, An Endorsement for You. Florida Governor Rick Scott threw his weight behind Donald Trump a day after Trump won the state's Republican primary." It is now time for Republicans to accept and respect the will of the voters," Scott said in a Facebook post. And South Carolina Governor Nikki Haley chose to back Ted Cruz after Marco Rubio, her initial candidate of choice, dropped out of the race on Tuesday. (Sun Sentinel; Nick Gass, Politico)
Interest Rates Stay the Same. The U.S. Federal Reserve left interest rates unchanged this month. The Federal Open Market Committee said in a statement that while the country's labor market is strengthening, global economic conditions are still fragile. (Bouree Lam, The Atlantic)
'Unduly Harsh.' State Department spokesman Mark Toner denounced North Korea's decision to sentence a University of Virginia student to 15 years of hard labor, telling reporters the country should pardon him "on humanitarian grounds." Otto Warmbier, 21, was arrested in January for attempting to steal a propaganda poster from a hotel in Pyongyang during a trip. (Tiffany Ap, CNN)
Tomorrow in One Paragraph. Hillary Clinton will be campaigning in Tennessee and Georgia. The EPA Administrator Gina McCarthy and Michigan Governor Rick Snyder will testify at a House Oversight and Government Reform Committee hearing.
---
Follow stories throughout the day with our new Politics & Policy page. And keep on top of the campaign with our 2016 Distilled election dashboard.
---
Top Read
"Rubio's eloquence, intelligence, boyish magnetism, and made-for-TV biography are the elements of a prototype presidential candidate. On paper, he is the Republicans' dream and the Democrats' nightmare. But talent in and of itself is neither transcendent nor transformational. And while the comparisons to a basketball legend began with Rubio's once-in-a-generation skill set, that's also where they ended." The National Review's Tim Alberta on Marco Rubio's failed presidential campaign.
---
Top Lines
A Victory for Black Lives Matter. Midwestern prosecutors Anita Alvarez and Tim McGinty, both accused by BLM leaders of poorly handling cases involving the killing of unarmed black men, were voted out of office on Tuesday. (Leon Neyfakh, Slate)
What Americans Don't Get About Nordic Countries. One thing Bernie Sanders knows that most Americans don't seem to understand, The Atlantic's Anu Partanen writes, is that capitalism works better when accompanied by universal social policies that benefit everyone's interests.
---
Top Views
A Fresh Perspective. President Obama touted his Supreme Court nominee's experience and bipartisan appeal—here's how Merrick Garland stacks up against other justices on the Court. (Sarah Almukhtar, The New York Times)
We want to hear from you! We're reimagining what The Edge can be, and would love to receive your complaints, compliments, and suggestions. Tell us what you'd like to find in your inbox by sending a message to newsletters@theatlantic.com.