The Edge: Live Every Tuesday Like It's Super Tuesday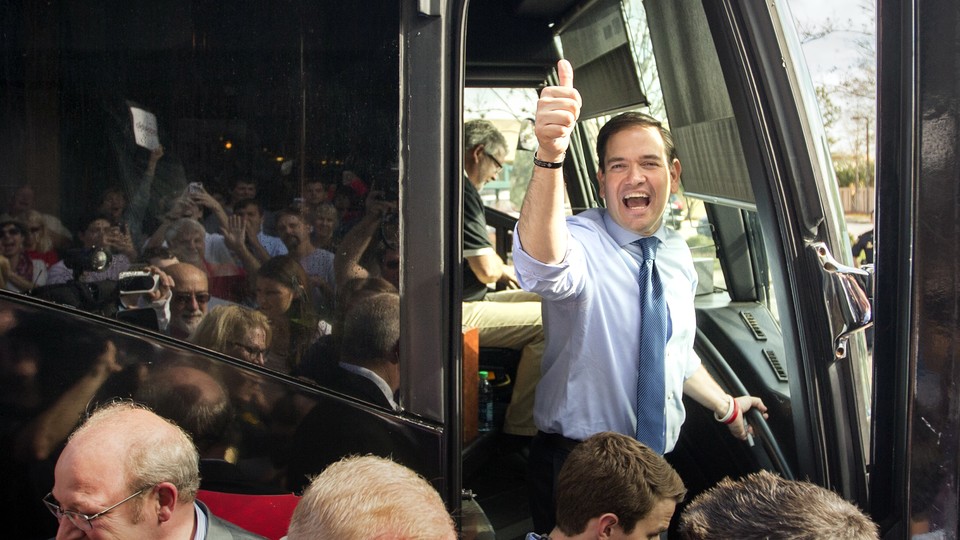 Today in One Paragraph
Several staffers at Breitbart News resigned over the website's handling of an alleged assault of a reporter by Donald Trump's campaign manager. Hundreds of migrants were detained by authorities after crossing into Macedonia from Greece. Russian President Vladimir Putin announced that he's pulling Russian troops from Syria. And President Obama met with Jason Rezaian, a reporter who was recently freed from imprisonment in Iran.
---
Top News
Resignations at Breitbart. Reporter Michelle Fields and editor-at-large Ben Shapiro, along with several other staff members, resigned from the company over the way the site handled Fields's recent assault accusation against Donald Trump's campaign manager, Corey Lewandowski. In a statement, Shapiro said Breitbart News's editors "undercut" Fields's story and "shaped the company into Trump's personal Pravda." (Rosie Gray and McKay Coppins, BuzzFeed News)
Migrants Enter Macedonia. Hundreds of refugees crossed from Greece into Macedonia by skirting a border fence, authorities said. The migrants were detained by the Macedonian police on arrival, and a spokeswoman said they would be sent back to Greece. (Ognen Teofilovski, Reuters)
Mission 'Accomplished.' Vladimir Putin announced that most Russian military forces will withdraw from Syria starting Tuesday, saying in a meeting at the Kremlin that the mission "on the whole has been accomplished." Syrian President Bashar al-Assad, whose forces have recently captured rebel-and ISIS-held territory with the help of Russian "airstrikes", approved the withdrawal, according to a statement from his office. The decision comes amid peace talks in Geneva aimed at resolving Syria's civil war. (BBC News)
Obama Meets with Freed Reporter. During a State Department visit, the president met with Washington Post reporter Jason Rezaian who was recently released after spending more than 18 months in an Iranian prison. White House Press Secretary Josh Earnest said Obama "was pleased to have an opportunity to welcome him home." (Juliet Eilperin, The Washington Post)
Tomorrow in One Paragraph. Florida, Ohio, Missouri, North Carolina, and Illinois—along with the Northern Mariana Islands in the northwest Pacific ocean—will hold their presidential nominating contests. We'll be following the action as it unfolds here.
---
Follow stories throughout the day with our new Politics & Policy page. And keep on top of the campaign with our 2016 Distilled election dashboard.
---
Top Read
"Within minutes of seeing Crosson's vine, the First Lady was in FDR's Map Room, filming her response. 'Turnip—for what,' she deadpanned into the camera, a glorious purple and white root vegetable in hand. The bass dropped and Mrs. Obama closed her eyes, bouncing to the beat." The Verge's Kwame Opam on Michelle Obama's embrace of social media.
---
Top Lines
Doing the Math. If Donald Trump wins Florida and Ohio—which would likely eliminate both John Kasich and Marco Rubio—he would increase his lead over Ted Cruz and be well on his way to clinching the Republican nomination. (Tim Alberta, The National Review)
'That Ralph Guy in Ohio.' The Washington Post profiled 38-year-old Ralph Case, a single father and small-business owner who used his own money to turn a rundown tanning salon into a local Donald Trump campaign headquarters. (Stephanie McCrummen)
---
Top Views
How Do Delegates Work? The Atlantic's Caty Green sits down with senior politics editor Yoni Appelbaum to discuss who really chooses the nominees during the U.S. presidential primary season.
We want to hear from you! We're reimagining what The Edge can be, and would love to receive your complaints, compliments, and suggestions. Tell us what you'd like to find in your inbox by sending a message to newsletters@theatlantic.com.