The Edge: Lindsey Graham Picks His Poison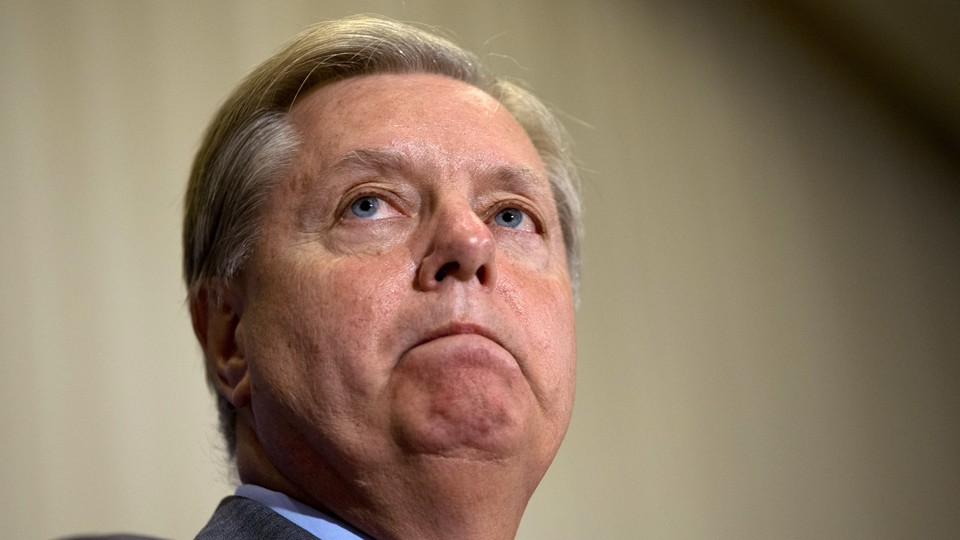 Today in One Paragraph
Secretary of State John Kerry designated ISIS's actions against minority groups in Iraq and Syria genocidal. Members of Congress called for the resignation of both the EPA chief Gina McCarthy and Michigan Governor Rick Snyder during a hearing on the Flint water crisis. South Carolina Senator Lindsey Graham endorsed Ted Cruz. And European leaders met in Brussels to reach an agreement on the migrant crisis in the region.
---
Top News
Kerry: ISIS Is Committing Genocide. During a news conference at the State Department, U.S. Secretary of State John Kerry said that ISIS is responsible for genocide against Yazidis, Christians, and Shiite Muslims. The designation, which has been a long time coming, could serve to ramp up the fight against the terrorist group. (Adam Chandler, The Atlantic)
Flint Water Crisis Reaches the Hill. In a hearing with the U.S. House Committee on Oversight and Government Reform, Michigan Governor Rick Snyder and Environmental Protection Administrator Gina McCarthy testified about their handling of the Flint water crisis. Both were asked repeatedly by lawmakers to resign. Snyder blamed, in part, the EPA for the crisis, while McCarthy said Snyder and other Michigan officials were at fault. "It was not the EPA at the helm when this happened," she said. (Matthew Daly, Associated Press)
Graham Settles on Cruz. Senator Lindsey Graham announced that he'll be fundraising for Ted Cruz, telling CNN that, while the Texas senator isn't popular, he's "the best alternative to Donald Trump." Earlier this month, Graham said choosing between Trump and Cruz was like choosing whether to be shot or poisoned. (Dana Bash, CNN)
Europe Tries to Find Consensus. European Union leaders met in Brussels to finalize a plan that involves sending back migrants and refugees traveling to Greece from Turkey. EU member states are racing to reach a joint decision on the proposal in time for Friday's meeting with the Turkish prime minister. (BBC News)
Tomorrow in One Paragraph. Hillary Clinton is fundraising in Connecticut, while Bernie Sanders rallies voters in Idaho. On the Republican side, Ted Cruz is campaigning in Arizona, Donald Trump is in Florida, and John Kasich is in Utah.
---
Follow stories throughout the day with our new Politics & Policy page. And keep on top of the campaign with our 2016 Distilled election dashboard.
---
Top Read
"Garland is, in fact, the embodiment of bi-partisan judicial restraint. He sincerely believes, as he said in his moving and uncharacteristically emotional speech accepting the nomination, that a judge 'must put aside his personal views or preferences, and follow the law—not make it.'" The Atlantic's Jeffrey Rosen on the nomination of Merrick Garland to the Supreme Court.
---
Top Lines
'Sisterhood of Comedy.' One advantage for Hillary Clinton in her bid for the presidency is that it comes during a great year for women in comedy—and without having to do much joking around herself, she's earned the endorsements of prominent comedians like Ellen Degeneres, Amy Poehler, and Amy Schumer. (Will Leitch, Bloomberg)
Michelle Obama: Nutrition Queen. Politico's Helena Bottemiller Evich and Darren Samuelsohn tell the story of how the first lady vowed to make her family healthier—and ended up changing American nutrition.
---
Top Views
Everyone's Irish on St. Patrick's Day. Here's a look at how White House officials and some members of Congress are celebrating the holiday.
We want to hear from you! We're reimagining what The Edge can be, and would love to receive your complaints, compliments, and suggestions. Tell us what you'd like to find in your inbox by sending a message to newsletters@theatlantic.com.