The Edge: Just Your Average Super-Duper Tuesday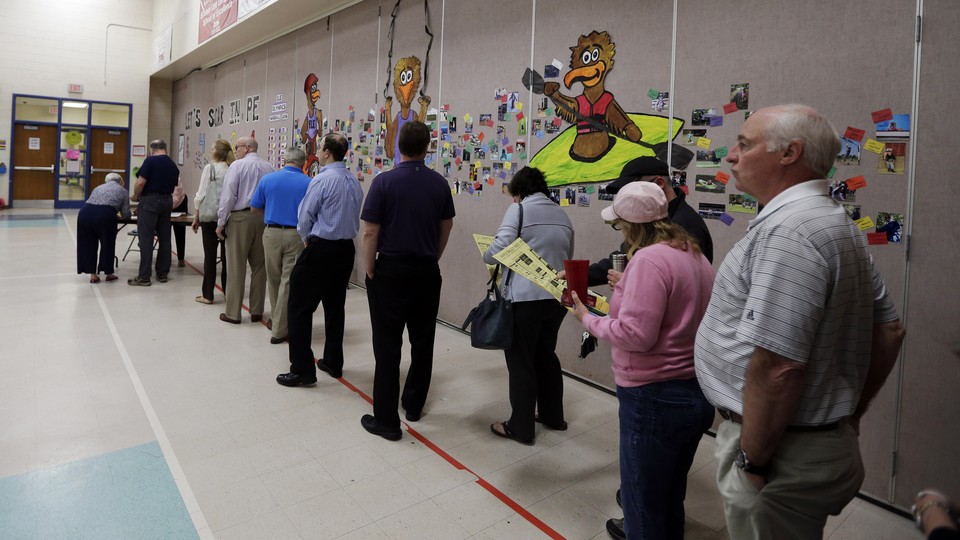 Today in One Paragraph
Key presidential nominating contests are underway in Ohio, Florida, North Carolina, Illinois, and Missouri. The White House announced new measures aimed at easing travel between Cuba and the U.S. Russian military forces began their exit from Syria a day after President Vladimir Putin announced the withdrawal. One suspect has been killed, and others are on the run after a police raid in Brussels linked to last year's deadly attacks in Paris. And President Obama abandoned his plan to drill for oil along the eastern seaboard.
---
Top News
Mega Tuesday. Voters in Ohio, Florida, North Carolina, Illinois, and Missouri are headed to the polls for what might be the most high-stakes primaries yet: The big prizes are Ohio and Florida where Donald Trump is challenging John Kasich and Marco Rubio for their respective home states. On the Democratic side, Bernie Sanders is looking to catch up to Hillary Clinton by overtaking her in Illinois and Ohio, where the two are in tight races. We're covering it live here. (The Atlantic)
White House Opens Personal Travel to Cuba. The Obama administration announced new measures to ease travel to Cuba that allow for "people-to-people educational travel." The announcement comes days before the president's historic visit to Havana. (Gregory Korte, USA Today)
Russian Begins Syria Exit. The first group of Russian aircraft has left Syria, according to the Russian defense ministry. Secretary of State John Kerry said he is traveling to Moscow next week to meet with Putin and discuss Syria's political transition process. (The Associated Press)
Shootout During Brussels Raid. One suspect has been killed, and several more are on the run after Belgian police attempted to raid a building in southern Brussels in connection with last year's deadly attacks in Paris. At least four officers sustained injuries, according to police officials. (BBC News)
Obama Withdraws Plan to Allow Oil Drilling. The president cancelled his plans to drill for oil along the mid-Atlantic seaboard, according to an announcement by the U.S. Secretary of the Interior Sally Jewel, who said the decision came due to "conflicts with national defense, economic activities such as fishing and tourism, and opposition from many local communities." Drilling will remain off-limits until 2022. (Suzanne Goldenberg, The Guardian)
Tomorrow in One Paragraph. John Kasich and Ted Cruz will be rallying voters in Pennsylvania, and Marco Rubio will be in Utah. First Lady Michelle Obama will kick off the SXSW Music Festival as the keynote speaker.
---
Follow stories throughout the day with our new Politics & Policy page. And keep on top of the campaign with our 2016 Distilled election dashboard.
---
Top Read
"Why is Trump asked to condemn and discourage violence, while the protesters aren't criticized for coming and starting trouble? Why are minorities suddenly entitled to jobs and platforms and Oscar nominations that previously belonged exclusively to whites? Trump's supporters see their social status slipping at others' expense in what they perceive to be a zero-sum game." The Atlantic's Molly Ball on the resentment powering Donald Trump's campaign.
---
Top Lines
Not All Kids Feel the Bern. Sanders has earned overwhelming support in towns with public colleges, so why has he lost ground in cities with more exclusive liberal arts or Ivy League universities? Here's one theory. (Nathaniel Rakich, The New Republic)
A Bad Rap? Donald Trump's campaign manager Corey Lewandowski has denied accusations that he assaulted a reporter,but according to a Politico report, it's not the first time the staffer has been accused of inappropriate behavior. (Kenneth P. Vogel, Ben Schreckinger, and Hadas Gold)
---
Top Views
D.C. at Peak Bloom. Avoid the deluge of tourists this weekend, and check out this app, created by The Atlantic's Andrew McGill, which guides you to the cherry tree nearest you in Washington, D.C.
Trump's Media Advantage. The billionaire spends less on media advertising than any other presidential candidate, but Trump has garnered the most free attention from news outlets and social media over the course of his campaign. (Nicholas Confessore and Karen Yourish, The New York Times)
We want to hear from you! We're reimagining what The Edge can be, and would love to receive your complaints, compliments, and suggestions. Tell us what you'd like to find in your inbox by sending a message to newsletters@theatlantic.com.