The Edge: Hillary and Bernie Take Miami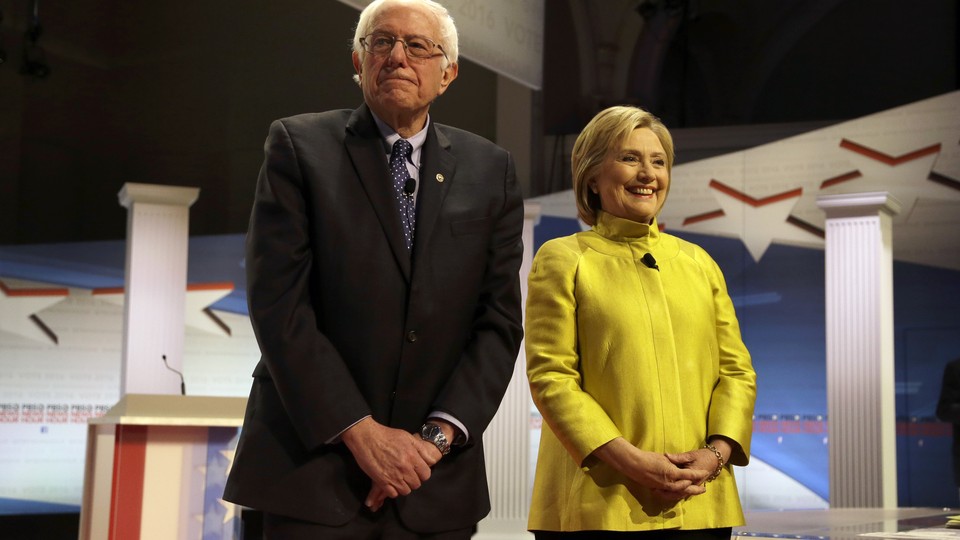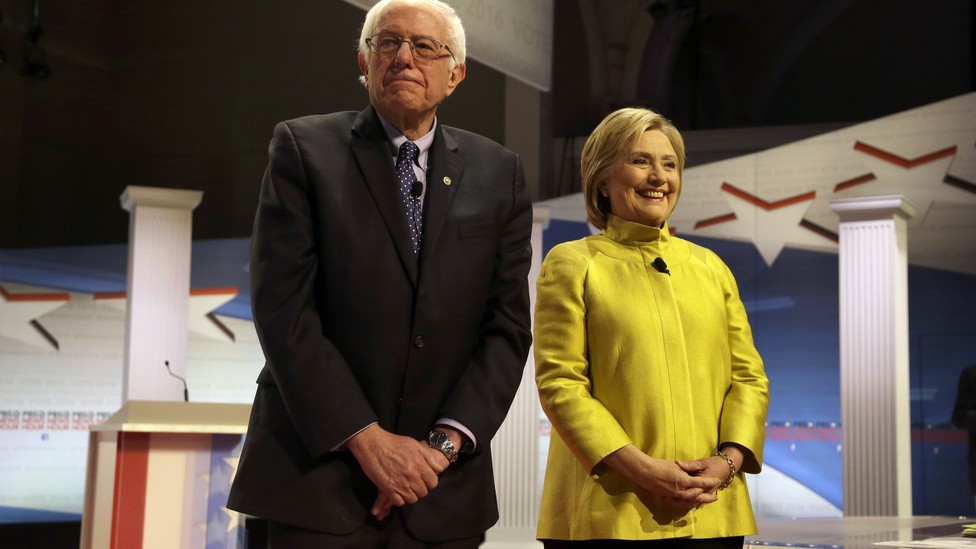 Today in One Paragraph
Bernie Sanders and Hillary Clinton take the debate stage in Miami tonight at 9. Meanwhile, on the Republican front, Carly Fiorina endorsed Ted Cruz, and an aide to Jeb Bush said he'll be holding private meetings with the remaining Republican candidates—except for Donald Trump. U.S. defense officials said that they have captured a top ISIS operative with knowledge of the group's chemical weapons program. Republicans in the Missouri Senate have passed a controversial religious freedom proposal despite a Democratic filibuster. And abroad, several Balkan nations are closing their borders, blocking a prominent route into Northern Europe for refugees.
---
Top News
Debate in the Sunshine State. A day after Bernie Sanders edged out a win in the Michigan primary and Hillary Clinton emerged as the victor in Mississippi, the two Democratic presidential candidates will be back on the stage at 9 p.m. ET in a debate hosted by Univision and The Washington Post. It's the final face-off before Florida's primary, as well as a series of other nominating contests, on March 15. We're covering it live here. (The Atlantic)
Fiorina Backs Cruz. The former Republican presidential candidate endorsed Ted Cruz in a surprise appearance at a rally in Miami. In a statement, Fiorina called Cruz "a constitutional conservative to unite our party" and, in her speech, said that Cruz was the only candidate who could beat Donald Trump. (Josh Hafner, USA Today)
And Bush Sets Up Meetings With Rubio, Kasich, and Cruz. Former presidential hopeful Jeb Bush plans to meet with Marco Rubio, John Kasich, and Ted Cruz in Florida ahead of Thursday's GOP debate, according to a Bush aide. But he will reportedly not be meeting with the Republican front-runner, Donald Trump. (Ashley Parker, The New York Times)
U.S. Captures ISIS Operative. According to American and Iraqi officials, the U.S. has detained a chemical-weapons expert who, under interrogation, provided information the military used to target two chemical weapons facilities this week. The operative was captured last month during a raid in northern Iraq by a special-operations team. (Qassim Abdul-Zahra and Susannah George, The Associated Press)
Controversial Proposal Goes Forward. Republicans in the Missouri Senate ended a 36-hour filibuster led by Democrats on a proposal that would protect wedding vendors and religious organizations from penalties if they refused to cater to same-sex couples. The Senate Republicans gave the measure preliminary approval in a 23-9 vote, with a final vote expected Thursday before it moves to the House. (Jack Suntrup and Kurt Erickson, St. Louis Post-Dispatch)
Europe Closes Its Borders. Macedonia, Croatia, and Slovenia shut their borders, effectively blocking the route thousands of refugees use to reach Northern Europe. The move comes just days after Turkey and the EU started talks on how to reduce the flow of refugees. (Patrick Kingsley, The Guardian)
Tomorrow in One Paragraph. The Republican presidential candidates will debate in Miami at 8:30 p.m. ET in an event hosted by CNN, Salem Media Group, and The Washington Times. And Democrats Hillary Clinton and Bernie Sanders will also be in Florida ahead of the state's March 15 primary.
---
Follow stories throughout the day with our new Politics & Policy page. And keep on top of the campaign with our 2016 Distilled election dashboard.
---
Top Read
"Guests sipped martinis at an open bar on the patio as waitresses dressed in tuxedos served cocktail weenies, Beef Wellington, and mini-lobster rolls to ravenous reporters. 'I like Mr. Trump a lot,' said Paul O'Neill, the former New York Yankee who, dressed in a open-collar shirt and dark suit, was among the 200 or so club members in attendance on Tuesday. 'We play golf together. I belong to his club. I hope he does well.'" Bloomberg's Michael C. Bender on the insiders with the front-row seats at Donald Trump's news conference Tuesday night.
---
Top Lines
Bernie's Florida Problem. The Democratic candidate might have a tough time beating Hillary Clinton in Florida's upcoming primary because he hasn't spent enough time in the state. (Gabriel Debenedetti, Politico)
Utah in a Post-'Sister Wives' Era. The state's Republican-controlled legislature is attempting to reinstate the ban on polygamy and make it a punishable crime. Here's how the fight got to the second-highest federal court—and could go all the way to the Supreme Court. (Amber Phillips, The Washington Post)
---
Top Views
How Trump Could Get Trumped. This graphic illustrates how the Republican candidate could lose delegates during a contested convention. (Larry Buchanan and Alicia Parlapiano, The New York Times)
Mean Tweets for Mitt. Watch 2012 presidential nominee Mitt Romney read scathing comments from Donald Trump supporters during an appearance on Jimmy Kimmel Live. (Jesse Byrnes, The Hill)
We want to hear from you! We're reimagining what The Edge can be, and would love to receive your complaints, compliments, and suggestions. Tell us what you'd like to find in your inbox by sending a message to newsletters@theatlantic.com.