The Edge: Deja Vu: Super Tuesday Edition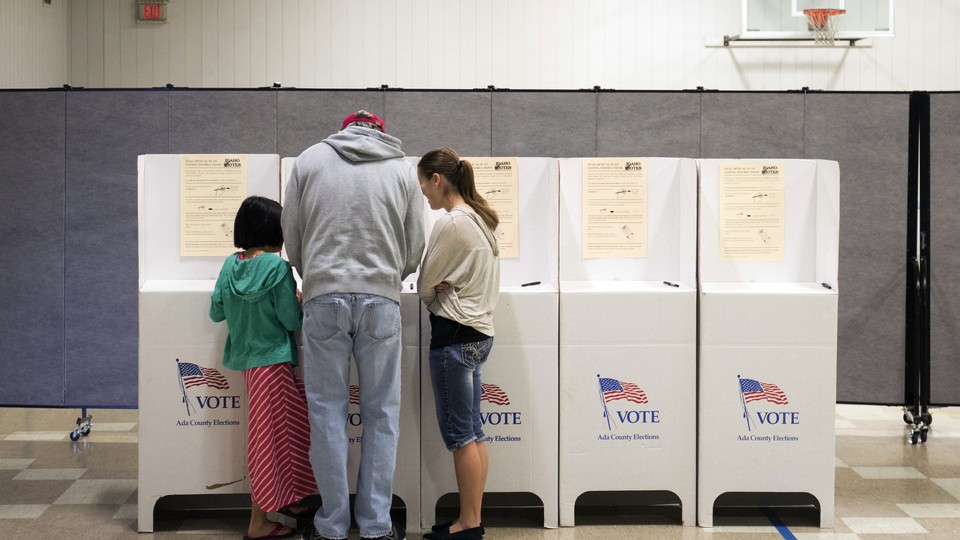 Today in One Paragraph
Presidential nominating contests are being held in Michigan, Mississippi, Idaho, and Hawaii. Ted Cruz's campaign announced that Neil Bush, the brother of former presidential candidate Jeb Bush, has joined Cruz's finance team. The oldest inmate at Guantanamo Bay made his case for parole during a government hearing. The United Nation's refugee agency criticized an agreement reached between the European Union and Turkey that would send refugees back to Turkey. And the Maryland Court of Appeals has ordered Baltimore Officer William Porter to testify against five other defendants in the Freddie Gray case.
---
Top News
Super Tuesday: Round 2. Voters of both parties are casting their ballots in Michigan and Mississippi, and Republicans are participating in the Hawaii caucus and Idaho primary. Candidates from both parties are vying for Michigan, where polls show Donald Trump and Hillary Clinton in the lead. Join us as we follow the contests in real time here. (The Atlantic)
Bush Brother Joins Team Cruz. Neil Bush, the younger brother of former President George W. Bush and former Florida governor Jeb Bush, has joined Ted Cruz's fundraising team, according to the Texas senator's campaign, which also announced  a handful of other adds. (Theodore Schleifer, CNN)
Oldest Gitmo Prisoner Gets Parole Hearing. After more than a decade behind bars, 68-year old Saifullah Paracha made his case for parole before a panel of government officials via video conference. According to the Pentagon, Paracha assisted al-Qaeda with financial and military transactions, but Paracha's lawyer, David Remes, says he is no longer a threat: "This is not the man who was seized 14 years ago. The board has to make a fresh assessment." (Ben Fox, The Associated Press)
EU, Turkey Deal Questioned. The proposal to send refugees back from the European Union to Turkey violates international law, according to the United Nations and rights groups. Turkey offered to accept the migrants in exchange for over $6 billion from the EU, but the Europe regional director of the UN High Commissioner for Refugees said that  "a blanket return of any foreigners to a third country is not consistent with European law, is not consistent with international law." (Al Jazeera)
Victory for the State. The Maryland Court of Appeals has ordered Officer William Porter to testify in the case against five of his fellow Baltimore officers charged with involvement in the 2015 death of Freddie Gray. Porter, who has pleaded not guilty, was the first to be tried, but his case ended in a hung jury. (David Graham, The Atlantic)
Tomorrow in One Paragraph. Bernie Sanders and Hillary Clinton are back on the debate stage in Miami at 9 p.m. ET. It'll be hosted by Univision and The Washington Post. Marco Rubio will be campaigning in his home state of Florida, Donald Trump is in North Carolina, and John Kasich will be on the trail in Illinois.
---
Follow stories throughout the day with our new Politics & Policy page. And keep on top of the campaign with our 2016 Distilled election dashboard.
---
Top Read
"Any candidate aside from Trump or Senator Ted Cruz has one big problem: GOP rules. The party requires that any candidate for the nomination has already won a majority of delegates in at least eight states. So far, only Trump has done that. Those rules can be changed, however, depending on how worried the party gets about the candidates remaining once the convention in Cleveland rolls around." Vice's Sarah Mimms on what a contested convention might look like—and what it would mean for Donald Trump.
---
Top Lines
Ignoring White Poverty. During Sunday's Democratic debate, Bernie Sanders failed to acknowledge the struggle of poor, white Americans, The National Review's Kevin D. Williamson argues, which is fueling the resentment felt by many of Donald Trump's supporters.
'A Nation of Second Chances.' Read how a once-homeless teenager from Maine went from serving time in a federal penitentiary to interning at the White House Office of National Drug Control Policy. (Juliet Eilperin, The Washington Post)
---
Top Views
'Today is Day One.' This New Yorker video follows Hla Oo, a 40-year-old Burmese refugee, as he arrives in the United States after seven years of waiting. (Sky Dylan-Robbins)
We want to hear from you! We're reimagining what The Edge can be, and would love to receive your complaints, compliments, and suggestions. Tell us what you'd like to find in your inbox by sending a message to newsletters@theatlantic.com.